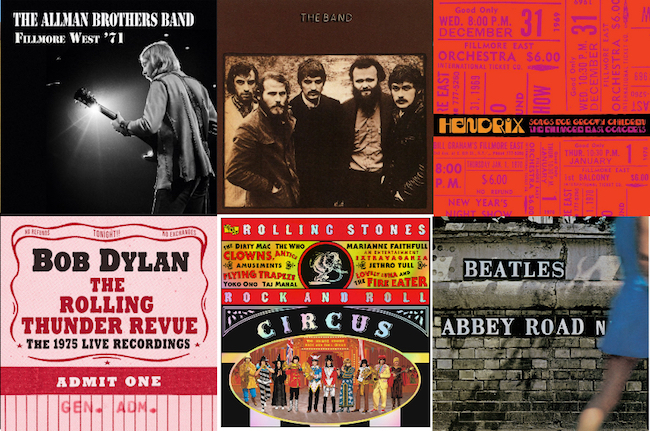 It's that time of year when thoughts turn to that list of stuff we've craved throughout the year—for ourselves and for those we love (if they have good taste)!
For us—and we're guessing for you too—that wish list is always topped by music.
In this first installment we round up the most essential boxed sets, reissues and other historical collections of 2019. In part two we make our suggestions for the best music books of the year, followed by best newly recorded albums by classic rock artists. In part four we will highlight the top new holiday music albums.
The list is arranged alphabetically by artist (record label in parentheses)—no rankings here because they're all worthy. Ordering links are at the bottom of the page.
Hope you find something you like! We sure did!
Allman Brothers Band—Fillmore West '71 (Allman Brothers Band)—These performances predate the shows that gave us At Fillmore East, inarguably one of the great live rock albums of all time. What that means, beside uniformly stellar performances, is a bit of repetition: there are three different takes of the show-opening "Statesboro Blues" and such staples as "You Don't Love Me" and "In Memory of Elizabeth Reed." And, of course, "Whipping Post," which closes each show. The four-disc collection also includes a 45-minute bonus track of "Mountain Jam" from a New Orleans show between the two Fillmores.
The Band—The Band 50th Anniversary Super Deluxe Edition (Capitol/UMe)—Reissued in several configurations, this upgrade of Band's self-titled sophomore LP, released in 1969, includes more than a dozen unreleased outtakes and alternate recordings. The collection also includes The Band's Woodstock performance, which has never been officially released before. The box also includes an exclusive reproduction of the Band's seven-inch vinyl single for "Rag Mama Rag"/"The Unfaithful Servant" in new stereo mixes and a hardbound book with an extensive new essay and classic photos by Elliott Landy.
The Beatles—Abbey Road Anniversary Super Deluxe (Apple Corps Ltd./Capitol/UMe)—The remaster of The Beatles' original final studio album, said our reviewer, "delivers sound quality that demonstrates how much technology has advanced over half a century." Then there are two CDs containing a total of 23 demos, outtakes and oddities, that "offer a second carrot for record buyers… this boxed set is the anniversary treatment that that album deserved."
Related: Our review of the Abbey Road Super Deluxe Edition
Big Star—Live on WLIR (Omnivore)—The Alex Chilton-led band recorded a radio session in 1974 at Ultrasonic Studios in New York for broadcast on the modern rock station WLIR-FM. Nearly two decades later, those recordings were issued as Live in 1992. Omnivore has reintroduced them, restored and remastered from the original tapes. Also released this year were a pair of Chilton recordings, Songs From Robin Hood Lane and From Memphis to New Orleans.
Booker T. and the MG's—The Complete Stax Singles Vol. 1 1962-1967 (Real Gone)—Not only did they serve as the backup band for many of the Memphis label's artists, but they had several huge hits of their own, starting with "Green Onions." As the title makes clear, all of their singles during their heyday are included  on this single-disc compilation.
Glen Campbell—The Legacy 1961-2017 (Capitol/UMe)—This box is an update of a package originally released in 2003. The first three of its four discs are identical to those of the original collection, tracing the late Campbell's career arc from his 1961 debut single "Turn Around, Look at Me" through the title track of his 1993 album Somebody Like That. In place of the original set's live fourth disc, the new release includes tracks recorded by Campbell in his final years.
Ray Charles—Modern Sounds in Country Music Vols. 1 & 2 (Concord)— Released on ABC-Paramount Records just shortly after the artist had broken away from Atlantic, the album soared to #1 on the Billboard chart, where it lodged for a remarkable 14 weeks. This new two-fer doesn't attempt to rewrite history—it simply collects the 24 tracks that originally populated the two LPs and leaves it at that.
Creedence Clearwater Revival—Live at Woodstock (Craft)—The long-delayed release of the band's set at the festival includes 11 of their best-known numbers, among them "Green River," "Bad Moon Rising" and, of course, "Proud Mary." The gig came during their most prolific year (three albums in 1969!), and was considered by many to be a highlight of the festival.
The Doors—The Soft Parade 50th Anniversary Deluxe Edition (Rhino)—Although it was commercially successful, some critics and fans felt that The Doors' fourth album was overly ambitious to the point of pretense, that the usage of strings and horns to enhance some of the tracks took the band too far from its roots. Rhino's reissue addresses some of those augmentation issues in its bonus tracks, most notably by wiping the embellishments from five songs that had the brass and strings on the original.
Bob Dylan—The Rolling Thunder Revue—The 1975 Live Recordings (Sony Legacy); Bob Dylan—Travelin' Thru, 1967-1969: The Bootleg Series, Vol. 15 (Sony Legacy)—Expanding upon an earlier Rolling Thunder release, the new set, wrote our reviewer, "runs well over 10 hours and fills 14 CDs. Released in conjunction with a Martin Scorsese Netflix documentary about the concert series, this box…incorporates three discs' worth of fascinating rehearsal tapes from October 1975; the tour's five professionally taped shows; and a disc filled with rarities, including audience recordings, a radio commercial for the tour and songs performed with unusual arrangements or in special settings. Travelin' Thru, meanwhile, shifts the setting to Nashville and compiles the recordings Dylan made there during his John Wesley Harding/Nashville Skyline period, including a full disc's worth of duets with Johnny Cash.
Related: Travelin' Thru reviewed
Rory Gallagher—Blues (UMe)—The career-spanning collection draws from the vaults of the Gallagher estate's tape archive, presenting rare and unreleased recordings of Gallagher playing his favorite blues material. Ranging from previously unreleased tracks to special guest sessions and lost radio sessions, Blues uncovers Gallagher's love of the blues throughout his solo career, from 1971 through 1994.
Marvin Gaye—You're the Man (Motown)— Conflicted over events in his life, Gaye canceled the release of this in-progress album. Some tunes found their way to various CD releases, but all but two have never been on vinyl until now (the new release is limited to vinyl and digital). That's a shame because You're the Man was a worthy followup to What's Going On; some of its tunes are equal to Gaye's other album tracks and singles of the period.
The Grateful Dead—The seemingly bottomless Grateful Dead archives gave forth Aoxomoxoa 50th Anniversary Deluxe Edition (Grateful Dead), which presents the original and remixed versions of their 1969 third studio LP and adds a disc's worth of live material from early that year. Of the new Dave's Picks releases, Volume 30—Fillmore East, New York, NY 1/2/70 (Rhino) is the must-have, recorded just months before Workingman's Dead. The massive, 14-CD Giants Stadium 1987, 1989, 1991 is self-explanatory, and mainly aimed at serious fans of the band's later years (Grateful Dead). And just out is Ready or Not (Grateful Dead), which compiles nine songs from the tail-end of the band's run that they never got around to including on albums.
Jimi Hendrix—Songs For Groovy Children: The Fillmore East Concerts (Sony Legacy)—This collection assembles all four debut concerts by Hendrix and the Band of Gypsys at the storied New York City venue in their original performance sequence. The five-CD or eight-LP vinyl set boasts over two dozen tracks that have either never before been released commercially or have been newly pressed and newly remixed.
The Kinks—Arthur or the Decline and Fall of the British Empire 50th Anniversary Deluxe Box Set (BMG/ABKCO)— Included are four CDs comprising 81 tracks, five of them previously unreleased (plus 28 previously unreleased versions). These include newly remastered versions of the original album, mono and stereo single versions, B-sides, alternate mono and stereo mixes, rehearsal tracks, BBC mixes and the lost Dave Davies' solo album, with bonus tracks. It also includes Ray Davies' medley of unreleased demo tracks, two new recordings of Ray Davies with the Doo Wop Choir, "Arthur & The Emigrants," including one previously unreleased track, three previously unreleased "The Come Dancing Workshop Ensemble" tracks, and new Ray Davies remixes of "Australia" and "Shangri-La."
Linda McCartney—Wide Prairie (Capitol)—Linda McCartney amassed a large enough body of work featuring her lead vocal and sometimes keyboard to merit a compilation album. Wide Prairie was released in October 1998, its contents going back to the Wings years of 1972-80 and beyond. It failed to make the Billboard charts at all, and remains the only album released under her own name.
Related: Our 2018 Gift Guide included sets from Tom Petty, the Beatles, the Moody Blues, and dozens more
Steve Miller Band—Welcome to the Vault (Capitol/UMe)—"Thirty-one of the album's 52 tracks date from 1973 to 1982, the band's heyday, when they scored major hits," wrote our reviewer. "Another 14 songs come from Miller's earlier years, when his accompanists included Boz Scaggs; only seven represent the more than three decades that followed the peak years. The alternate and live versions embrace all the aforementioned numbers as well as such other well-known songs."
Related: Our exclusive interview with Steve Miller on The Vault and more
Pink Floyd—The Later Years (Pink Floyd Records)—The 16-disc set (five CDs, six Blu-rays, five DVDs) covers the material created by David Gilmour, Nick Mason and Richard Wright from 1987 onward. That includes three studio albums—A Momentary Lapse of Reason, The Division Bell and The Endless River—as well as two live albums: Delicate Sound of Thunder and Pulse. With additional production from Gilmour and Andy Jackson, the set features over 13 hours of unreleased audio and audiovisual material, and also includes the 1989 Venice and 1990 Knebworth concerts.
Elvis Presley—Live 1969 (Sony Legacy); American Sound 1969 (Sony Legacy)—The Live set, said our reviewer, "presents 11 consecutive dinner and midnight performances from near the end of the 57-show stint at Las Vegas' International Hotel…in their entirety, one on each of 11 discs…Though most of this material has been available in bits and pieces, four of the 11 shows have not been previously released in full, and two have been almost entirely unavailable until now." The five-disc American Sound 1969, meanwhile, features over 90 tracks of rare and unreleased material from Elvis' American Sound Studio sessions of that year.
Related: Our review of Live 1969
Procol Harum—Broken Barricades (Esoteric)— This new three-CD edition of the British band's fifth studio LP, wrote our reviewer, "adds 36 bonus tracks (all but four of them previously unreleased) to remastered versions of the 1971 album's eight numbers. The first disc's bonus—raw and early renditions of all of the original album's songs—will probably appeal mostly just to the group's most rabid fans, but anyone who enjoys Procol Harum will want to hear discs two and three, which feature live 1971 performances  from new York and Sweden."
Ramones—It's Alive 40th Anniversary Deluxe Edition (Rhino)—Their 1979 concert LP, wrote our reviewer, "has the distinction of being the last record to feature all of the group's original members. Disc one of this numbered, limited-edition presents a remaster of that LP, which captures a Ramones gig at London's Rainbow Theatre on New Year's Eve in 1977. Three additional CDs contain previously unreleased recordings of shows performed in other U.K. cities just before the Rainbow gig. Also featured in this package are a pair of vinyl LPs that duplicate the material on the first CD."
Related: Our review of It's Alive
Keith Richards—Talk is Cheap Deluxe Edition (Mindless/BMG)—The 1988 solo album was made at a time when Richards and Mick Jagger were feuding over the direction of the Stones. The album was raw and gutsy—exactly what Jagger was trying to get away from. It includes six worth-hearing session outtakes (four with Chuck Berry's pianist, Johnnie Johnson), a pair of reproduced seven-inch singles, an 80-page hardcover and various odds and ends.
Rolling Stones—There was lots of activity on the Stones front in 2019. The group's 1968 Rock and Roll Circus TV broadcast was released in an expanded edition on Blu-ray and DVD, with several bonus tracks, and on a two-CD set (ABKCO). Bridges to Bremen (Eagle Rock) is an entire 1998 concert on two-CD or Blu-ray, while Bridges to Buenos Aires (Eagle Rock), from the same year, includes Bob Dylan joining the band for a rocking "Like a Rolling Stone." The deluxe 50th anniversary Let it Bleed reissue (ABKCO) comes in a magnificent package but offers no bonus material. And then there's Honk (Interscope), three CDs spanning nearly five decades of the group's catalog, starting with 1971's Sticky Fingers and continuing through 2016's Blue and Lonesome, an album of blues covers.
Linda Ronstadt—Live in Hollywood (Rhino)— Her first-ever live release is a 12-track collection, most of it previously unreleased, drawn from Ronstadt's 1980 HBO TV special. Backed by her band of virtuosic players, Ronstadt runs through one trademark hit after another: "Just One Look," "Blue Bayou," "Poor Poor Pitiful Me," "Willin'" and more. Unfortunately, Rhino chose not to include several tunes from the original concert, but what's here is terrific.
Various Artists—Country Music—A Film by Ken Burns: The Soundtrack (Sony Legacy)—Whether you watched the 16-hour history of the genre or not, this five-CD anthology of the music is a must-have for anyone who likes country music even just a little bit. It includes classic material from all of the greatest stars—from the Carter Family and Jimmie Rodgers up through Hank Williams, Bill Monroe, Dolly Parton, Johnny Cash, Kitty Wells, Merle Haggard, Willie Nelson and dozens more, wrapping up with contemporary practitioners like Vince Gill, Steve Earle and Rosanne Cash.
Various Artists—Motown: The Complete No. 1's (Motown/UMe)—The 11-CD set includes the label's biggest hits in one package, a replica of Motown's original Hitsville U.S.A. headquarters in Detroit. If you love Motown, your favorite songs are probably included in this set.
Various Artists—Woodstock—Back to the Garden: The Definitive 50th Anniversary Archive (Rhino)—If you ever wanted to hear every note played at the Woodstock festival, now you can (except for a missing few songs). It comes on 38 CDs and will run you over $800, but it's all here, even those artists that never went anywhere (hello, Quill!). Even the stage announcements (hello, "brown acid!"). There's also a more reasonably priced 10-CD version, Back to the Garden—50th Anniversary Experience, which should suffice for most fans.
The Yardbirds—Live and Rare (Repertoire)— The 70-track collection features live performances from across Europe, rare studio cuts and 21 previously unissued BBC off-air recordings. The band's career from its blues beginnings to the psychedelic hard rock that lay the foundation for Led Zeppelin is charted across five discs.
Neil Young—Tuscaloosa (Reprise)—An 11-track performance dating from 1973, taking place at the university in that Alabama city, the show featured Young's "other" band at the time, the Stray Gators. Young gives a country touch to songs deriving from his solo debut, After the Gold Rush, Time Fades Away and other albums.
Frank Zappa—The Hot Rats Sessions (UMe)—The six-disc box documents and compiles every composition recorded during several days in July 1969 when Zappa recorded Hot Rats and a wealth of other material that ended up being used throughout multiple releases during his lifetime. Also out this year was Zappa in New York 40th Anniversary Edition, a five-disc collection available for the first time since its debut. It includes three hours of unreleased live performances from the NYC Palladium concerts.
The Zombies—The Complete Studio Recordings (Varese Vintage)—This five-LP vinyl collection more than doubles the British band's original LP output. It consists of their two official albums, The Zombies (a.k.a. She's Not There/Tell Her No) and Odessey and Oracle, augmented by three others of checkered (or previously non-existent) history. Of those, I Love You is a compilation of mostly stray and recycled tracks initially released only in the U.K. and Japan, while Oddities & Extras consists of tracks plucked from EPs, singles and the band's soundtrack for the film Bunny Lake Is Missing.
ZZ Top—Goin' 50 (Rhino)—On three CDs or vinyl, the set spans the band's entire musical career, from its 1969 debut, and its multi-platinum zenith during the '80s, to its most-recent releases. This new retrospective includes an array from each of the 15 studio albums that guitarist Billy Gibbons, drummer Frank Beard and bassist Dusty Hill have recorded since 1970. Two bonus tracks, "Salt Lick" and "Miller's Farm," a single and B-side respectively, were recorded in 1969 by the original incarnation of ZZ Top. It includes all of the trio's radio hits, a selection of blues tracks and more.

Latest posts by Best Classic Bands Staff
(see all)