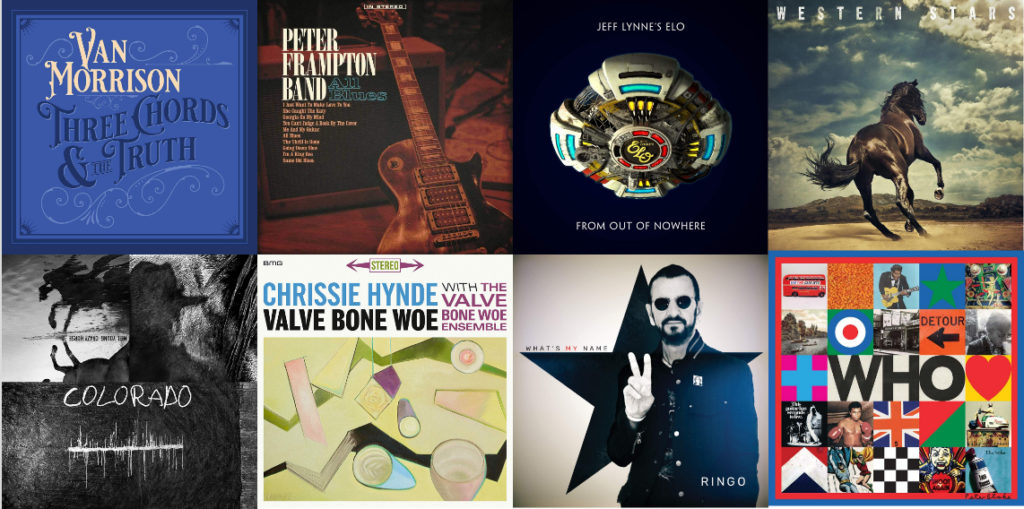 In part one of our four-part 2019 holiday gift guide, we looked at the best of the boxed sets, reissues and historical collections aimed at classic rock fans.
Part two focused on the year's best music books.
For this third part, we're focusing on newly recorded albums by classic rockers, including The Who, Santana, Neil Young and Crazy Horse, Bruce Springsteen, Van Morrison, Jeff Lynne's ELO, Peter Frampton, Chrissie Hynde and many others.
Part four will focus on new holiday music releases.
This list is arranged alphabetically by artist—no rankings here because they're all worthy. All of these are available on CD, many also on LP and digitally. All can be found via the handy ordering links at the bottom of this story.
Happy listening!
The Allman Betts Band—Down to the River
The eagerly awaited debut from the band fronted by the sons of Gregg Allman (Devon Allman) and Dickey Betts (Duane Betts) keeps the Southern rock tradition alive but also brings it into the present.
Gerry Beckley—Five Mile Road
The latest release from the co-founder of America ("Horse With No Name," "Sister Golden Hair") is about his personal journey. Beckley embraces his past—personally, professionally and creatively—nearly as much as he looks to the future.
Dickey Betts—Ramblin' Man Live at the St. George Theatre
The longtime Allman Brothers Band guitarist has had a rough time of it health-wise in recent years, but his new concert recording proves that he still has his chops. The album includes such ABB classics as "Blue Sky" and "Midnight Rider."
Related: Also out this year was a 4-CD collection of the Allman Brothers Band's 1971 Fillmore West recordings
David Byrne—American Utopia on Broadway Original Cast Recording
The critically lauded musical mixes new material and Talking Heads classics that have never sounded like this before: raw, visceral, exciting and completely contemporary. Even without the stunning visuals of the show it'd be hard not to get excited by this.
Allan Clarke—Resurgence
The former lead singer of the Hollies retired for more than two decades to take care of some personal matters, and then slowly started writing songs and recording them on his own. The result is a set of new music that feels instantly familiar yet not tied to his past.
Read our interview with Allan Clarke
The Cranberries—In the End
Arriving after the untimely death of singer Dolores O'Riordan, the album, said the band, "is not a valediction, it is a celebration, one that stands as a powerful testimony to the life and creative work of Dolores and her brothers in music."
Roger Daltrey—The Who's 'Tommy' Orchestral
Following the singer's 2018 solo tour performing the Who's classic album, and timed with the band's 2019 tour with orchestras, the new interpretation proves that Daltrey still has the goods—and that Tommy remains a compelling story 50 years later.
Read: Daltrey on Tommy, Woodstock and more
Don Felder—American Rock 'n' Roll
The former Eagle's third solo album, and first since 2012, features guest appearances by Sammy Hagar, Slash, Bob Weir, Alex Lifeson, Mick Fleetwood and Joe Satriani.
John Fogerty—50 Year Trip
There was a time when he wouldn't perform any Creedence material in concert but he's long over that. All but three of the tracks on this incendiary live album are familiar hits from the CCR catalog.
Peter Frampton—All Blues
Frampton recently performed his final live show, due to a muscle disease that will prevent him from playing guitar. The album is a collection of his favorite blues classics and was recorded with his longtime touring band.
Read an archival interview with Frampton
Hollywood Vampires—Rise
The band featuring Alice Cooper, Joe Perry and Johnny Depp returned with a new collection consisting mainly of original material. There are also three covers of classic rock songs originally written and recorded by David Bowie, Jim Carroll and Johnny Thunders.
Bruce Hornsby—Absolute Zero
The three-time Grammy winner's latest had its roots in a project the keyboardist-vocalist-songwriter did with director Spike Lee and grew from there. Several collaborators helped out, including the late Grateful Dead lyricist Robert Hunter, who co-wrote one tune on the album.
Chrissie Hynde—Valve Bone Woe
The Pretenders' singer delivered this stunning all-covers album featuring a wide variety of songs from Brian Wilson, Hoagy Carmichael, Ray Davies, John Coltrane, Nick Drake, and Rodgers and Hammerstein. She reveals a previously unexplored penchant for jazz singing on the album.
Joe Jackson—Fool
Said the singer-songwriter about his 20th studio album, "The songs are about fear and anger and alienation and loss, but also about the things that still make life worth living: friendship, laughter, and music, or art, itself. I couldn't have done this in 1979. I just hadn't lived enough."
Jeff Lynne's ELO—From Out of Nowhere
The maestro plays nearly every note of the music on guitars, bass, piano, drums, keyboards and vibes, as well as singing all of the lead and layered harmony vocals. The album follows a burst of live activity, including a headlining date at London's Wembley Stadium.
John Mayall—Nobody Told Me
For his latest, the grandfather of British blues, now 86 years old, invited along a handful of guests, including Todd Rundgren, Little Steven, Alex Lifeson of Rush, Joe Bonamassa and others.
Van Morrison—Three Chords & the Truth
His sixth album in four years—bearing a title coined in the 1950s to describe country music—the 14-song collection consists of new Morrison originals. He has said that when people listen to it, "It's like reading me."
Iggy Pop—Free
Describing the feel of his latest work, Pop said, "Free to recoil from guitar riffs in favor of guitarscapes, from twangs in favor of horns, from back beat in favor of space; and from the effluent of my own mind and problems, in favor of trying to interpret the poetry of others."
Robbie Robertson—Sinematic
The 13-song self-produced collection is the former Band guitarist-songwriter's first new studio album since 2011. Robertson drew inspiration from his recent film score writing and recording for director Martin Scorsese's eagerly anticipated organized crime epic The Irishman.
Related: Robertson reunites with The Band photographer Elliott Landy
Gregg Rolie—Sonic Ranch
The co-founder of both Santana and Journey invited former bandmates Michael Shrieve and Neal Schon to sit in on his first solo album in 18 years, as well as Toto's Steve Lukather. The album includes a remake of Journey's "Look Into the Future."
Read our interview with Gregg Rolie
Santana—Africa Speaks
Produced by Rick Rubin, the album is described as going "deeper and further than ever before to create one of [Santana's] most groundbreaking albums yet." Spanish singer Buika contributes what is described as "heavenly vocals" on several tracks.
Related: Listings for 100s of classic rock tours
Bruce Springsteen—Western Stars
A departure from his previous work, the new album, said our reviewer, "is strings-laden pop, complete with French horns, a flute, a bassoon and an oboe—reminiscent of the…late 1960s work" of Glen Campbell and the leading singer-songwriters of the 1970s. A second release featured songs from the film of the same name.
Read our review of Western Stars
Mavis Staples—We Get By
Produced by Ben Harper, the newest studio album by the former Staple Singers powerhouse features "10 songs of longing, strength, and spirituality, presented with simplicity, grit and sublime beauty," according to a description.
Ringo Starr—What's My Name?
One of the highlights of Ringo's latest is his cover of John Lennon's song "Grow Old With Me," with a guest vocal and bass line by none other than Paul McCartney. The album also features appearances by Joe Walsh, Edgar Winter, Dave Stewart, Benmont Tench, Steve Lukather and others.
Related: Ringo and an old friend reunited onstage this summer
Rod Stewart with Royal Philharmonic Orchestra—You're in My Heart
The album pairs classic vocal tracks from his most popular songs with new arrangements. Among the highlights are "Maggie May," "Stay With Me," "Tonight's the Night" and "The First Cut is the Deepest."
Stray Cats—40
Brian Setzer, Lee Rocker and Slim Jim Phantom—the founding members of the American band—recorded the album, their first in 25 years, in Nashville. Said Setzer, looking back on the band four decades after its formation, "Somehow we created a new and exciting sound."
Tedeschi Trucks Band—Signs
The 11-piece band's fourth studio album came after a three-year gap, during which they experienced what they describe as "equal measures of triumph, heartbreak, loss and change," including the loss of Derek Trucks' uncle Butch Trucks and Derek's bandmate Gregg Allman.
The Who—WHO
The band's first new studio album since 2006's Endless Wire features surviving founding members Pete Townshend and Roger Daltrey, as well as the band's longtime drummer Zak Starkey. A powerful and diverse collection, Daltrey said he considers it their best since Quadrophenia.
Ronnie Wood—Mad Lad: A Tribute to Chuck Berry
The album is the first in a trilogy to be recorded by Wood and his band, each paying tribute to Wood's musical heroes. He chose Chuck Berry for the first album as he has been a lifelong fan, has toured with him and also because Wood wanted to honor Berry's passing in 2017.
Read our 2015 interview with Ronnie Wood
Neil Young and Crazy Horse—Colorado
The first new music from Young and his longtime band since 2012's Psychedelic Pill, the album was recorded mostly live in the studio in the Rocky Mountains of Colorado. Young is joined by Nils Lofgren on guitars, vocals and pump organ; Ralph Molina on drums and vocals; and Billy Talbot on bass and vocals.

Latest posts by Best Classic Bands Staff
(see all)