Squeeze, Magnificent and Tighter Than Ever: 2019 Review
by Greg Brodsky
The lights grew dim and the familiar sound of Elmer Bernstein's theme from The Magnificent Seven could be heard. And one at a time the members of Squeeze were introduced over the PA system—seven of them in all—with the biggest applause reserved, naturally, for Chris Difford and Glenn Tilbrook.
The pair founded the group in London over 40 years ago and earned immediate chart success in the U.K. with such well-crafted songs as "Up the Junction" and "Cool For Cats." Inexplicably, American Top 40 programmers generally turned a deaf ear to the band. It wasn't until fellow Brit Paul Carrack joined them for one album—their fourth—in 1981, that they even so much as charted on the Hot 100. "Tempted" (with Carrack singing lead) reached #49, while earlier, worthy songs like "Goodbye Girl" and "Another Nail in My Heart" were completed ignored by the U.S. Top 40.
In 1980 and 1981, Squeeze released two personal favorites, Argybargy and East Side Story, filled with plenty of ear candy. Which brings us to their August 20, 2019, concert at Bergen PAC, in Englewood, N.J., a New York City suburb. Billed as "The Squeeze Songbook Tour," the performance featured no less than seven songs from the pair of albums.
Watch them perform "Tempted" at Bergen PAC
Squeeze's lineup, which saw turnover over the years, has settled in with several members that are now band veterans. Stephen Large on keys played with Tilbrook during some of the latter's solo career, and has now been an integral part of Squeeze for some time, as has drummer Simon Hanson.
They're joined by bass guitarist, Yolanda Charles, and percussionist Steven Smith, who both arrived a few years ago, and multi-instrumentalist Melvin Duffy, who returns for this tour.
If you knew "Hourglass" was the group's biggest U.S. single, reaching #15 in 1986, you're obviously a Squeeze aficionado. It's always a wonder to see Tilbrook singing the speedy verse: Take it to the bridge, throw it overboard, see if it can swim, back to the shore, etc. On the evening's third number, the entire band joined in on those challenging lyrics.
Watch them perform the song a few nights earlier
Back-to-back with "Pulling Mussels (From the Shell)," the songs have become great showpieces, the latter featuring a nifty solo from Tilbrook.
"In Quintessence," which begins East Side Story, allowed Tilbrook, who turns 62 later this month, to showcase his pleasing voice, still pure and sweet as it was decades earlier.
Later, with Difford's uniquely deep lead vocal, 1979's "Cool For Cats" offered another opportunity for the band to show how tight they are, and Large ended the song with a flourish. [Difford turned 65 on Nov. 4.]
Watch them perform the song on August 17, 2019
The night ended with seven Squeeze favorites in a row, including the bittersweet pairing of "Goodbye Girl" and "Up the Junction," "If I Didn't Love You" with its clever lyric (If I didn't love you, I'd hate you), and the evening's first encore, "Take Me I'm Yours," the group's debut single in 1978. Like its lyrics, Squeeze continues to offer "chills and thrills."
Watch them perform "Take Me I'm Yours" on August 19
Magnificent.
Squeeze continue to tour. Tickets are available here.
Related: Listings for 100s of classic rock tours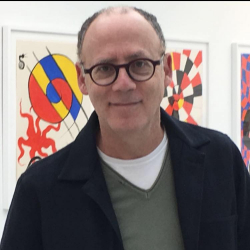 Latest posts by Greg Brodsky
(see all)