Linda Ronstadt Documentary Review: 'I Have to Sing'
by Jeff Tamarkin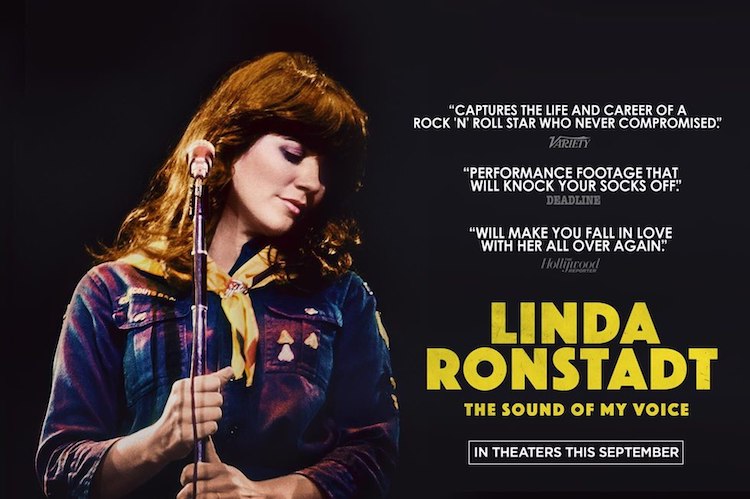 Linda Ronstadt doesn't think she was a very good singer. That is one of several revelations in Linda Ronstadt: The Sound of My Voice, the new documentary co-directed by Rob Epstein and Jeffrey Friedman. For all of the eye-openers the film presents—and we are treated to many of them during its 95 minutes—the most startling may be Ronstadt's lack of confidence and her reticence. Throughout all of those years that she ruled the charts and won our hearts, as so many of us were marveling at this singer's way with seemingly any song that came her way, she was never convinced.
Watch the trailer for The Sound of My Voice
Watching Ronstadt perform, it's impossible to agree with that self-assessment: During one stretch in the chronology, after she'd grown bored of singing pop and decided she needed to expand her musical range, Ronstadt slides effortlessly from singing opera off-Broadway (you've got to hear that to believe it—she was a natural) to teaming with the renowned arranger Nelson Riddle for a series of orchestral recordings of Great American Songbook standards, then to a country trio with Dolly Parton and Emmylou Harris, and on to exploring her Mexican heritage with the traditional songs of the country bordering on her native Arizona. If she hears a song she likes, Ronstadt says during one of the film's interview clips, "I have to sing it."
Related: Read our interview with Linda Ronstadt
And that's how it began for her. She came from musically inclined family on her father's side, influenced by a panoply of styles, and from childhood she displayed an innate facility. Moving to L.A. she had her first brush with success in 1967 with a Michael Nesmith-written folk-rock number, "Different Drum." An early manager saw her potential as a solo artist and ripped her away from the Stone Poneys trio, and although it took a while for the general audience to discover what charter fans like Jackson Browne, Ry Cooder and a couple of guys named Don Henley and Glenn Frey (they would form a band of their own that enjoyed a bit of success) knew from the beginning, Ronstadt was never not going to be a sensation—that much is made clear.
Once she took off, she really took off: hit after hit interpreting songs from all manner of sources, whether her friend and lover J.D. Souther, a vintage rocker by the Everly Brothers, Buddy Holly or the Stones, a Motown favorite or a Roy Orbison ballad. The media adored her and the camera did too—and who wouldn't? (You've seen her in that Cub Scout uniform, right?) Rolling Stone may actually have considered it risky putting her on its cover initially, but the mag's editors came back time and again as superstardom embraced her. Ronstadt seemed to have it all—playing arenas and stadiums, dating the governor of California—even as she continued to doubt her own abilities.
Watch a clip from the film featuring an interview with Ronstadt's one-time bandmate, Don Henley
The Sound of My Voice chronicles all of this in a relatively linear, straightforward manner, relying on the standard elements of the documentary form: flashbacks, vintage and contemporary footage, talking heads galore (record label boss David Geffen, manager/producer Peter Asher, journalist/filmmaker Cameron Crowe and fellow artists Bonnie Raitt and Harris among them). There are some downs to offset the ups, but they are relatively minor compared to those of most rock stars—a brief mention of problems with diet pills is quickly dismissed, as is a controversial appearance in South Africa while apartheid was still going strong.
Watch Harris and Parton reminisce about their Trio recordings
Nor does Ronstadt's greatest challenge—the onset of Parkinson's disease, which has caused her to cease singing—grab much screen time. The ravaging illness is mentioned at the beginning, brought up here and there and finally dealt with near the end, but it's clear the filmmakers didn't want to dwell on it. It's apparent Ronstadt is struggling when she does sing, in a trio setting with a cousin and nephew, toward the end of the film, but the heartbreak is minimal because, truly, she sounds just fine.
Linda Ronstadt: The Sound of My Voice is, mainly, a charming, jubilant portrait of a remarkable vocalist and a humble woman. That's all it purports to be and all it needs to be. Ronstadt was not one to do herself in or cause outrage or end up in rehab. It was, finally, only the natural course of life that got in the way of that voice.
Listen to the track after which the film is titled

Best Classic Bands Editor Jeff Tamarkin has been a prolific music journalist for more than four decades. He is formerly the editor of Goldmine, CMJ andRelix magazines, has written for dozens of other publications and has authored liner notes for more than 80 CDs. Jeff has also served on the Nominating Committee of the Rock and Roll Hall of Fame and as a consultant to the Grammys. His first book was 'Got a Revolution! The Turbulent Flight of Jefferson Airplane.' He is also the co-author of 'Shell Shocked: My Life with the Turtles, Flo and Eddie, and Frank Zappa, etc.,' with Howard Kaylan.

Latest posts by Jeff Tamarkin (see all)