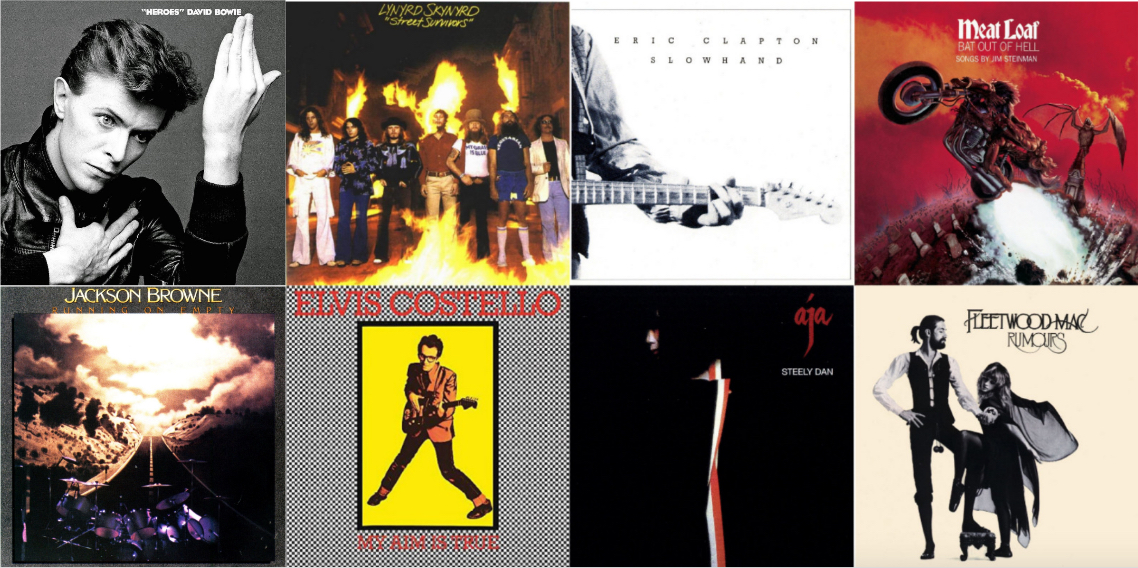 By the latter half of the '70s, rock had fragmented and flown off into several different directions; many fans debated whether this sub-genre or that was even rock. Some shunned the newly emerging punk and new wave artists while others welcomed the usurpers, happy to have some stripped-down sounds and fresh faces—the Clash, Talking Heads, Ramones, Elvis Costello, the Sex Pistols, etc.—placing the old guard on notice. Some preferred the expansive prog-rock, others embraced the increasingly harder heavy metal bands and others stood by their old heroes, many of whom were still producing quality work. Indeed, well-established names like Fleetwood Mac, Billy Joel, Steely Dan, Jackson Browne, Eric Clapton and Linda Ronstadt released some of their finest work in 1977—and enjoyed some of the year's greatest successes.
We looked back at hundreds of albums released in 1977 and whittled the list down to the 50 that we think represent the cream of the year's crop. Many of these titles remain cornerstones of any essential classic rock record collection, sounding as fresh now as when we first removed the vinyl from the shrink-wrapped album jacket.
We're not ranking them; they're arranged alphabetically by artist. How many of the 50 do you own?
AC/DC—Let There Be Rock—The Australian hard-rockers' career was practically stillborn in the U.S. when their record label rejected their previous recording. They squeaked into the charts with this one though, and within a few years were one of the biggest bands in the world.
Aerosmith—Draw the Line—After the massively successful Rocks, the Bostonians were, in their own admission, falling apart as a creative unit. But their fifth album has grown in stature over the years, and many fans now consider it one of their best.
The Beach Boys—Love You—After years of psychological problems that kept him from full involvement in the band, Brian Wilson returned to the fold with this idiosyncratic collection of newly written songs. Some fans thought it too bizarre (a tribute to Johnny Carson?), but others love Love You with a passion.
David Bowie—"Heroes"—Leaving Los Angeles to escape the drug culture that was consuming him, Bowie settled in Berlin. He recorded three albums during that period, starting with Low, in early 1977. "Heroes," arriving later that year, took Bowie's new experimental sound a step further, and is regarded as one of the strongest albums of his career.
Jackson Browne—Running on Empty—His biggest-seller, the album was slapped together from live tracks and tunes recorded in hotel rooms and on buses. For many it remains the definitive Browne, one of his most intimate and accessible works.
Related: Our Album Rewind of Browne's romance of the road
Jimmy Buffett—Changes in Latitudes, Changes in Attitudes—It's the album that presented "Margaritaville" to the world and it became his biggest seller to that time. From here the cult only grew, peaking in the '90s.
Cheap Trick—In Color—The boys from Rockford, Ill., were just starting to make their presence known. Their self-titled debut earlier in the year hadn't fared well but this sophomore effort put their brand of power pop on the map. "I Want You to Want Me" remains a classic of the genre.
Related: The inside story of Cheap Trick's rise
Eric Clapton—Slowhand—His professional and personal life had already gone through so much turmoil during the decade. This set, which includes the original "Lay Down Sally" and "Cocaine," ranks alongside '74's 461 Ocean Boulevard among his finest solo efforts.
The Clash—The Clash—It wasn't released in the U.S. for another two years (after their second LP) but their debut found a ready audience in the States as an import. It was, and remains, the perfect punk album, and proved that great songwriting and musicianship were valued within the genre, even if some haters thought otherwise.
Elvis Costello—My Aim is True—Produced by Nick Lowe, it featured the bespectacled singer-songwriter backed by members of the American band Clover. Although not punk, it dovetailed seamlessly with the new movement and introduced one of the most prolific and brilliant artists of the past four decades.
Related: The inside story of how Columbia Records launched Costello's career in the U.S.
Ian Dury—New Boots and Panties!!—A cornerstone of the British Stiff label, the debut by the British eccentric incorporates elements of pub-rock, disco, music hall, punk and more. His signature tune "Sex & Drugs & Rock & Roll" was added to the U.S. release the following year.
Dave Edmunds—Get It—He was still known in the States mainly for his 1970 cover of Smiley Lewis' "I Hear You Knocking," but the guitar whiz had been a core player in the back-to-basics movement in the U.K. all along. Although Get It didn't set the charts on fire, its rock 'n' roll purism helped kickstart the extraordinary band Rockpile.
Electric Light Orchestra—Out of the Blue—The seventh studio set by the British classic rockers was, of course, written and produced by Jeff Lynne and became their third top 10, eventually going multi-platinum. The group's formula didn't undergo any major shifts but tunes like "Mr. Blue Sky" and "Turn to Stone" became radio staples.
Related: "Mr. Blue Sky" like you've never seen it
Emerson, Lake & Palmer—Works, Vol. 1—The double album was arguably the trio's most ambitious to date, with each member taking control of one side and the fourth devoted to a rearrangement of Aaron Copland's "Fanfare for the Common Man" and the new piece "Pirates."
Fleetwood Mac—Rumours—By far the year's greatest success story, the followup to the new Buckingham-Nicks-centric configuration's first outing became one of rock's landmarks. The album, which introduced stone classics like "Don't Stop" and "Go Your Own Way," has sold tens of millions of copies.
Foghat—Live—The quintessential album by the British boogie kings captures them in all their churning glory. It's also their best-seller, going double platinum.
Foreigner—Foreigner—The debut by the hybrid British-American band established them as major players right out of the gate. The one-two punch of opening tracks "Feels Like the First Time" and "Cold as Ice" was custom-made for rock radio of the late '70s.
Peter Gabriel—Peter Gabriel—The former Genesis creative force named each of his first four solo albums eponymously, and they all have their strengths. The first one was meant to establish the artist as one with varied musical leaning. The single "Solsbury Hill" remains a fan favorite.
Marvin Gaye—Live at the London Palladium—The Motown veteran was in a transitional phase personally and commercially, and the British arguably appreciated him more at this point than his home country. Gaye gave his all on his greatest hits and more recent material, as soulful as ever.
Genesis—Seconds Out—The band (as it often was) was in flux at the time it recorded this second live set, with guitarist Steve Hackett having departed and drummer/singer Phil Collins taking an increasingly vital role. Features a side-long exploration of "Supper's Ready" and other proto-prog.
Billy Joel—The Stranger—It may seem that he was always popular during the '70s but the singer-songwriter-pianist really broke through with this, his fifth studio release. It just missed hitting the top spot but with songs like "Scenes From an Italian Restaurant" and "Just the Way You Are" it's never left the public consciousness.
Judas Priest—Sin After Sin—They were still a few years away from seriously establishing themselves as metal monsters, but this solid set, their major label debut, served notice that this was a hard rock act to reckon with.
Kansas—Point of Know Return—Arriving on the heels of their 1976 smash Leftoverture, this fifth studio collection from the American prog-rockers included "Dust in the Wind," Kansas' only top 10 single.
The Kinks—Sleepwalker—Although a perennially popular concert act, the British legends hadn't had strong album sales in many years. Sleepwalker, their first for Arista Records, drew them away from concept albums and gave them their highest-charter in over a decade.
Little Feat—Time Loves a Hero—One of the most consistently inventive and virtuosic American bands of the '70s, the funky Lowell George-led aggregation was finally getting the recognition it deserved when it released this gem. Sadly, two years later, George died.
Lynyrd Skynyrd—Street Survivors—They'd quickly established themselves as one of the reigning bands of the Southern Rock genre and had just released their fifth album when, only a few days later, a devastating plane crash took most of the members. Many consider the album their crowning achievement.
Bob Marley and the Wailers—Exodus—Although not his highest-charting album (that would be the preceding Rastaman Vibration), many consider this album, which contains the popular track "Jamming," to be the reggae great's finest work.
Meat Loaf—Bat Out of Hell—Everything about this major label debut screamed larger than life, from the arrangements to the Jim Steinman compositions to the artist himself. Tens of millions of sales later, the Todd Rundgren production remains a classic of '70s rock.
Steve Miller Band—Book of Dreams—The third massive hit in a row for the Bay Area group (following The Joker and Fly Like an Eagle) included the radio hits "Jet Airliner" and "Jungle Love."
Joni Mitchell—Don Juan's Reckless Daughter—The singer-songwriter was deep into her period of jazz-informed experimentation, using musicians from that genre such as Weather Report's Wayne Shorter and Jaco Pastorius.
Motörhead—Motörhead—Former Hawkwind mainstay Lemmy Kilmister promised that his new group would be louder, dirtier and heavier than anything that came before. Their debut lived up to the hype.
If you're a new reader of ours, we'd be grateful if you would Like our Facebook page and/or bookmark our Home page.
Ted Nugent—Cat Scratch Fever—It took a while for the former Amboy Dukes guitarist's solo career to find its footing, but with this set of hard-rocking anthems he was on his way toward arena rock stardom.
Pink Floyd—Animals—Coming after The Dark Side of the Moon and Wish You Were Here, this concept album presented a barbed critique of society and became hugely successful in its own right.
Iggy Pop—Lust for Life—The former Stooges frontman rehired David Bowie, who produced Pop's first solo album earlier in the year, and they cranked this one out in just several days. It dovetails perfectly with the punk ethos of the day, which, after all, Iggy had helped to create.
Queen—News of the World—If it had contained only "We Will Rock You" and "We Are the Champions," it would still have gone into the rock anthem hall of fame. But with other great tracks like "Sheer Heart Attack" and "Spread Your Wings," it qualified as a bona fine classic.
Ramones—Rocket to Russia—The New York punk institution's third studio set (following Leave Home earlier in the year) featured some of their most durable and fun tunes, including "Rockaway Beach," "Sheena Is a Punk Rocker" and "Cretin Hop." A half-hour of minimalist perfection.
Linda Ronstadt—Simple Dreams—Spending five weeks at #1, the singer's eighth album was a virtual survey of her interpretive gifts, featuring tunes like "Tumbling Dice," "Blue Bayou" and "Poor, Poor Pitiful Me."
Santana—Moonflower—The double album mixed live and studio tracks and returned the band to a more mainstream rock sound after Carlos Santana's forays into spiritual music and jazz fusion.
Sex Pistols—Never Mind the Bollocks, Here's the Sex Pistols—It was their only proper studio album, but they never needed another: this alone, one of the most controversial and polarizing albums in rock history, qualified them for permanent infamy.
Soundtrack—Saturday Night Fever—It's impossible to overstate just how huge this collection was. It revived the fortunes of the Bee Gees and almost singlehandedly made disco the dominant genre of the day. And although some rock fans shunned it, much of it is still loved today.
Soundtrack—Star Wars—John Williams' score for the first entry in the franchise was stirring and evocative. It's impossible to imagine some of those scenes without the attendant music. It reached #2 on the Billboard chart and went platinum.
Steely Dan—Aja—It racked up all sorts of awards and became their biggest seller, for good reason: Aja was everything that was innovative about Steely Dan wrapped up in one LP. For many, it was the consummate Dan.
Related: Our Album Rewind of Aja
Supertramp—Even in the Quietest Moments…—Although they wouldn't peak for another couple of years (with Breakfast in America), even prog-hating critics had to admit that these guys were very good at what they did, and knew how to create FM-staple earworms for the ages.
Talking Heads—Talking Heads: 77—They came out of the same downtown CBGB-centered scene as the Ramones, Blondie and Television, but they owed just as much to the art-rock of the day. David Byrne's quirky songs on this debut were brought to life by one of the most inventive and talented bands around.
Television—Marquee Moon—Many will still insist that no higher-quality music emerged from the NYC punk scene than this quartet's debut—even though they owed little to punk in retrospect. Marquee Moon was championed as much by intellectuals and artists as anyone who aspired to pogo.
George Thorogood and the Destroyers—George Thorogood and the Destroyers—All they really did was to return blues-rock to the basics, disposing of the over-the-top soloing and preening that had overtaken the genre. But in doing so they helped save blues-rock from terminal bloat.
Pete Townshend/Ronnie Lane—Rough Mix—Two friends who came out of the British Mod scene got together during a hiatus to see what they might be able to come up with. The result was an album that showcased some of the best songwriting of both principals—without sounding much like either the Who or the Faces.
Muddy Waters—Hard Again—Muddy Waters was already in his 60s but hadn't made a truly great new album in at least a decade. With disciple Johnny Winter producing, the blues legend and a hand-picked band of acolytes reminded everyone why the leader was considered a god of the blues.
Weather Report—Heavy Weather—With Joe Zawinul, Wayne Shorter and Jaco Pastorius still helming the group, Weather Report epitomized, on this set, all that could be exciting about the jazz-rock fusion experiment. Above all, it was always about great songwriting and ace musicianship.
Neil Young—American Stars 'n Bars—Young was (just as he still is) so prolific during the '70s that some of his output, by default, had to be more impressive than others. This set, assembled from stray tracks featuring various lineups, was mostly top-notch—for "Like a Hurricane" alone it deserves a thumbs up.

Latest posts by Best Classic Bands Staff
(see all)