'Running on Empty': Jackson Browne's Romance of the Road
by Sam Sutherland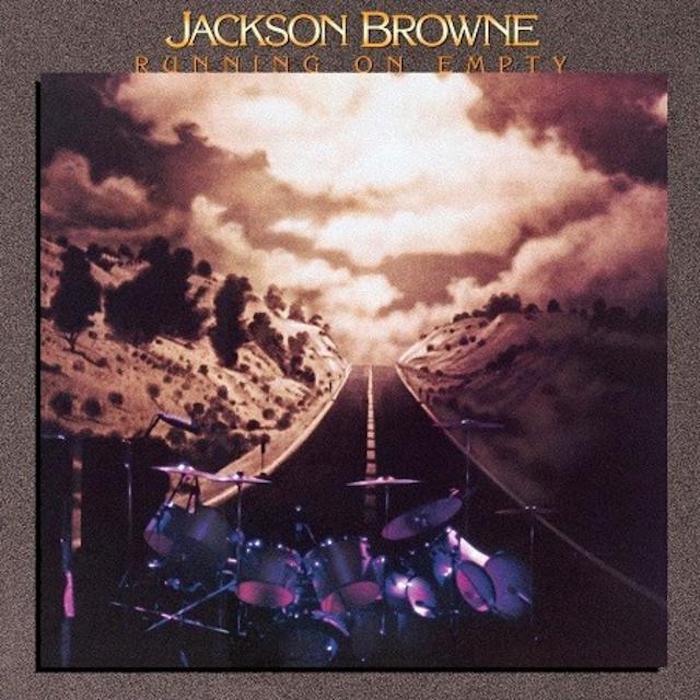 Running on Empty was Jackson Browne's most surprising, least typical album, a game-changer that updated his identity from folk-rock troubadour to rock headliner while upending the conventions of live albums. Instead of offering familiar Browne songs caught on stage, the album featured new material and mixed concert recordings with performances taped backstage, in hotel rooms and on the band's tour bus. The repertoire further broke from his past as an archetypal singer-songwriter by featuring four covers of other writers' works, while only two of the six remaining tracks were stand-alone Browne compositions. The rest were co-written with tour crew members or other songwriters.
As such, Running on Empty is less concert document than audio verité portrait of life on the road that reflects the communal bonds between musicians, crew and audience. In place of the first-person confessional mien of his earlier work, Browne explores the group dynamic of the tour experience from multiple perspectives—the artist on the marquee, the band traveling between shows, the fans beyond the footlights, the roadies humping amps, cables and instruments on stage and off.
The 1977 tour that provided the platform for the LP came as the perpetually boyish Browne was navigating through major personal and professional challenges. More than a decade into a career begun as a teen folk prodigy in the '60s, Browne was eager to flex more of the rock 'n' roll muscle used sparingly on his first three albums. That ambition was audible with 1976's The Pretender, his fourth album, produced by Bruce Springsteen's manager, Jon Landau, and marked by new strength in Browne's singing, if also darkened by personal tragedy: While working on the album, his wife, Phyllis Major, committed suicide, leaving Jackson Browne a widower and single parent to son Ethan, then just three years old.
Listen to the title track from Running on Empty
The tension between a newly muscular rock energy and harrowing life challenges is front and center on Running on Empty's title track, which opens the album with the ambient sound of the audience before the band kicks into gear as Browne establishes the concert trail as a metaphor for life itself:
Looking out at the road rushing under my wheels
I don't know how to tell you all just how crazy this life feels
I look around for the friends I used to turn to, to pull me through
Looking into their eyes, I see them running too…

The song's bridge offers cautious hope in the prospect of bringing joy to his audience, yet by its close, "Running on Empty" finishes in a draw between desperation and acceptance, "looking at the road rushing under my wheels" and struggling to find meaning in the journey. The song thus advances Browne's new rocker persona while tapping into apocalyptic undercurrents in his earlier works. Musically, the track showcases a crack band buttressed by Russ Kunkel (drums), Leland Sklar (electric bass), Craig Doerge (keyboards) and Danny Kortchmar (guitar), known collectively as the Section and already familiar as stage and studio support for James Taylor and Carole King. Doug Heywood and Rosemary Butler provide backing vocals, while Browne's longest-running stage and studio partner, David Lindley, adds keening fiddle and lap steel.
From there, Running on Empty briefly exits the stage for an intimate acoustic reading of Danny O'Keefe's "The Road," pared back to Browne's acoustic guitar and Lindley's mournful fiddle counterpart. Recorded in a Maryland hotel room, the song conveys melancholy weariness for its first two verses before gliding seamlessly into a concert performance featuring the full band, caught on tape 10 days later in New Jersey. It's a magical moment, the aural equivalent of Dorothy's first Technicolor glimpse of Oz in the 1939 movie classic.
Listen to "The Road"
O'Keefe's evocation of the wear and tear of touring, laced with knowing details ("Coffee in the morning, cocaine afternoons"), justifies Browne's decision to go beyond his own material. Another offstage track, this time taped in a Holiday Inn room in Illinois, offers a drowsy acoustic take of "Cocaine," updating Rev. Gary Davis' arrangement of a venerable blues that had been around since the early 1900s. Additional lyrics by Browne and Glenn Frey (with whom Browne had his first taste of rock glory as co-author of the Eagles' "Take It Easy") nod to the drug culture of the era. "I'm losing touch with reality and I'm almost out of blow/It's such a fine line, I hate to see it go," Browne sings, a punchline that may have won knowing smiles in 1977 but now evokes the "cocaine cowboys" tag that was already being attached to Asylum's cohort of L.A. rockers including the Eagles, J. D. Souther and Browne himself.
Another offstage recording and Browne co-write, "Rosie," depicts backstage competition between a crew member and a musician for a groupie's romantic favors, a triangle that also hasn't aged well in the era of #MeToo, if consistent with its era's mythology of macho rockers and compliant women.
Listen to "Love Needs a Heart"
More successful is Danny Kortchmar's "Shaky Town," another hotel recording, which rides a familiar parallel between the traveling musician and the long-distance trucker, while "Nothing But Time," another Browne co-write (this time with road manager Howard Burke) is a relaxed, good natured snapshot of killing time en route, recorded on the band's bus. Other live concert recordings split the balance between rocker (Browne's "You Love the Thunder") and ballad, with a rare collaboration between Browne, Little Feat's Lowell George and singer Valerie Carter, "Love Needs a Heart," a heartbreaking farewell from a lover fearful of commitment.
Related: We spoke to "Kootch" about the making of the album
Apart from the title track, Running on Empty's most familiar moment comes with its finale, a live medley that ends the album with Browne waiting for "The Load Out," when the stage will be cleared, the audience will dissipate and the band and crew will be headed "a thousand miles away from here" for their next show. A model of Browne's piano-based lyricism, it's a sentimental valentine that sets up the audience for an encore as the singer invites fans to hang around. Slipping into "Stay," the 1960 doo-wop classic by Maurice Williams and the Zodiacs, Browne's lyric tweaks personalize the invitation ("Now the promoter don't mind…") at the risk of trivializing a great rock 'n' roll song, but David Lindley's sweetly goofy falsetto vocal, followed by his own low-octave doo-wop refrain, rescues the moment.
Watch Browne perform "The Load Out" and "Stay" live in 1978
Running on Empty, released on Dec. 6, 1977, would bring Jackson Browne his biggest commercial hit, selling seven million copies and securing seemingly perpetual rotation on classic rock radio with the title song and the closing medley. Browne again projected a rock persona with 1980's Hold Out, which brought him his only #1 album despite its less compelling material. As that decade progressed, the artist's long-standing social activism increasingly informed his writing, restoring depth and nuance to his work while ceding commercial ground.
When Browne tours, tickets are available here.
Watch Browne perform "Running on Empty" live at the 2004 Rock and Roll Hall of Fame induction ceremony

Latest posts by Sam Sutherland
(see all)