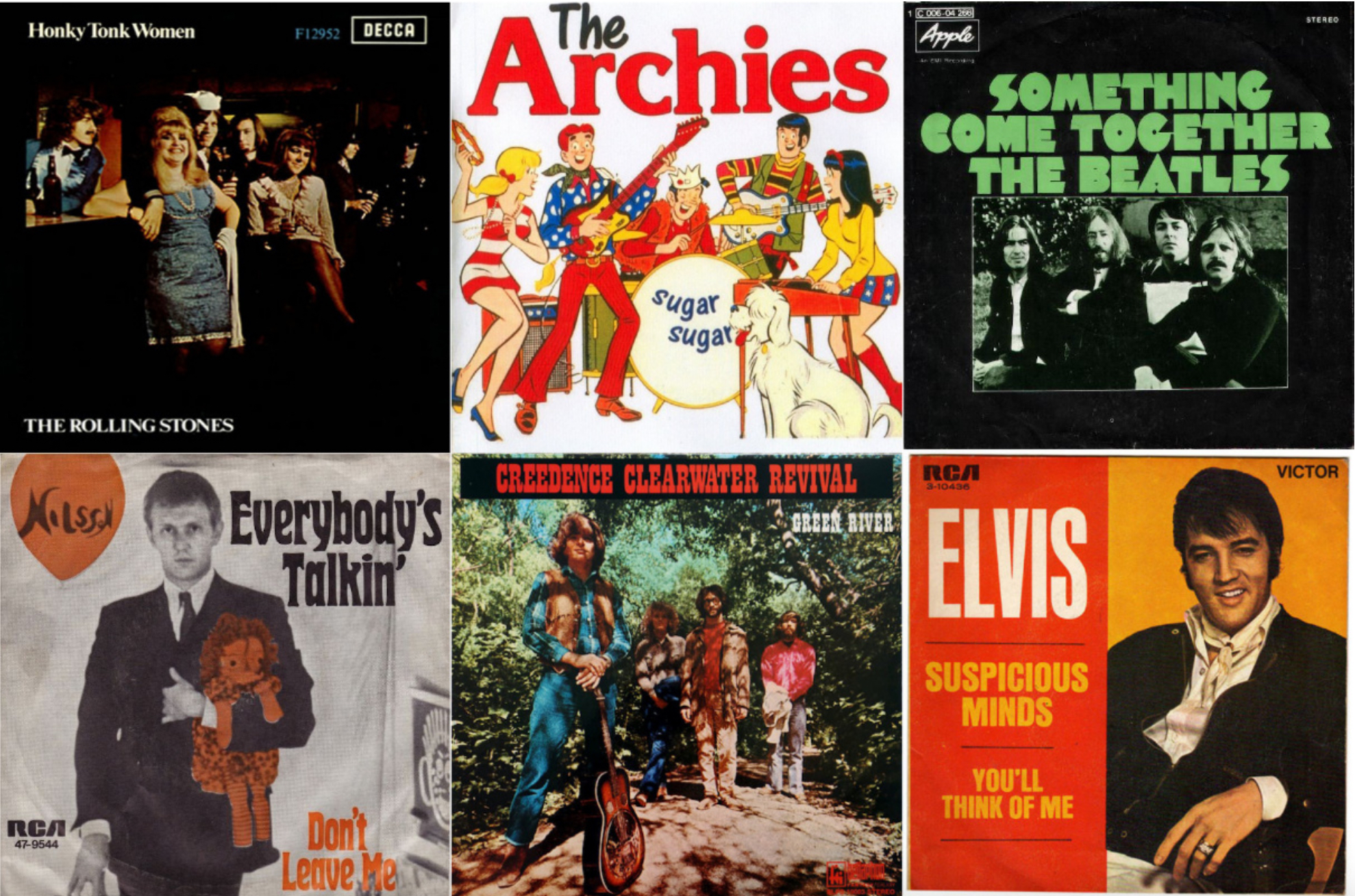 If you enjoy our weekly recap of various Top 40 radio charts, this one will certainly bring you back. Following a memorable summer when Neil Armstrong walked on the moon and Woodstock introduced many classic rock acts to music fans, the Mets were about to play in – and win – their first World Series.
And these were the songs WABC New York area listeners were enjoying.
Bubbling under and jumping from #39 to #30 on the survey was the group called Smith with their soulful cover of "Baby It's You." The song would eventually reach #5 on the Hot 100. (We wrote about it here.)
Entering the chart at #23 was "Something" by The Beatles. The song was written by George Harrison and was his only #1 as a member of the group.
Jumping from #33 to #20 was the Fifth Dimension's great "Wedding Bell Blues," written by singer-songwriter Laura Nyro. This, too, would reach the top of the chart. And if you knew that singer Marilyn McCoo was singing "won't you marry me, Bill" to fellow member (and future husband) Billy Davis, Jr.–whom she was engaged to when the song was recorded–raise your hand.
Moving up to #15 from #20 was Nilsson's "Everybody's Talkin'," also known as the theme from Midnight Cowboy. (The original from 1967 was written and recorded by Fred Neil.) Here's the song in the film's opening sequence with a very young Jon Voight…
One of our favorite Elvis Presley songs, "Suspicious Minds," took a huge leap this week, jumping all the way from #26 to #11. The song would ultimately reach #1, his final U.S. chart-topper.
At #10, Lou Christie had the last of his three Top 10 hits with "I'm Gonna Make You Mine." The so-called bubblegum song would also peak nationally at #10. (His "Lightnin' Strikes" was a #1 chart hit a few years earlier.)
In 1969, Creedence Clearwater Revival were in the midst of a remarkable string of pop chart successes. This week, less than two months after their appearance at Woodstock, "Green River" was at #9. Although the band never enjoyed a #1 single, "Green River" was one of five that hit #2, and in a span of just three years, they had no less than nine Top 5 singles.
Sly and the Family Stone also shared the Woodstock stage, and although it was already fall, "Hot Fun in the Summertime" was at #7 this week. The song peaked nationally at #2 (amidst the funk band's three #1 hits from 1968-69).
The Rolling Stones' "Honky Tonk Women" was at #3, one of their eight singles to hit #1 in the U.S.
Three Dog Night were at #2 with "Easy To Be Hard." This song from the musical Hair was the second Top 10 single from the band from Los Angeles.  (They enjoyed 11 Top 10 successes from 1969-1974.)
And at #1 this week? Well, we started the Top 10 with bubblegum, so we'll end it the same way. The short-lived pop music career of the Archies – a make-believe group from a TV cartoon series whose records were produced by Jeff Barry and cut by top studio players – was led by "Sugar Sugar," which was Billboard's 1969 Song of the Year.
Related: Which of these singles were among the biggest hits of 1969?
30. "Baby It's You" – Smith (Dunhill)
23. "Something" – The Beatles (Apple)
20. "Wedding Bell Blues" – The Fifth Dimension (Soul City)
15. "Everybody's Talkin'" – Nilsson (RCA)
11. "Suspicious Minds" – Elvis Presley (RCA)
10. "I'm Gonna Make You Mine" – Lou Christie (Buddah)
9. "Green River" – Creedence Clearwater Revival (Fantasy)
8. "I'll Never Fall In Love Again" – Tom Jones (Parrot)
7. "Hot Fun in the Summertime" – Sly & The Family Stone (Epic)
6. "I Can't Get Next To You" – The Temptations (Gordy)
5. "Jean" – Oliver (Crewe)
4. "Little Woman" – Bobby Sherman (Metromedia)
3. "Honky Tonk Women" – The Rolling Stones (London)
2. "Easy To Be Hard" – Three Dog Night (ABC/Dunhill)
1. "Sugar Sugar" – The Archies (Calendar)
(Chart courtesy: www.musicradio77.com)

Latest posts by Best Classic Bands Staff
(see all)