Dire Straits' 'Making Movies': Mark Knopfler's Widescreen Ambitions
by Sam Sutherland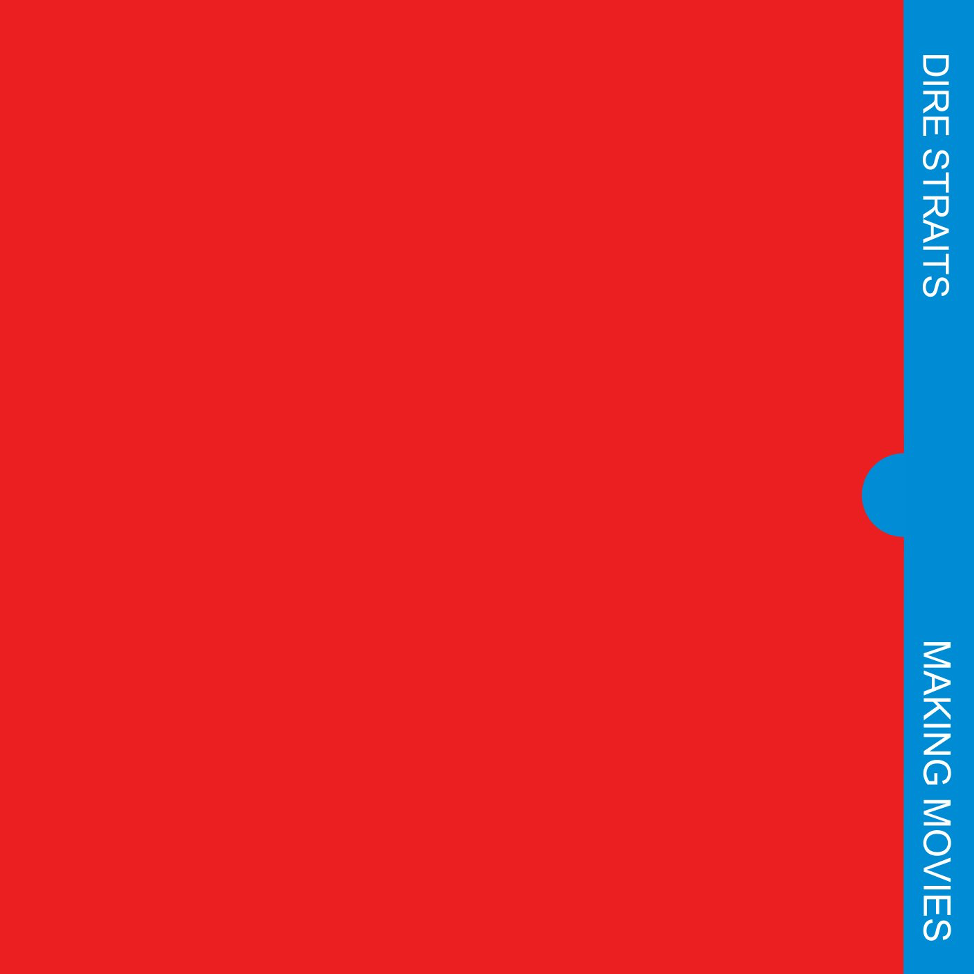 Dire Straits pulled the title for their third album from one of their songs, but Making Movies could have doubled as mission statement for Mark Knopfler, the band's singer, songwriter and lead guitarist, at an inflection point in the band's career. Two previous studio LPs had documented the British quartet's classic configuration of two guitars, bass and drums as introduced on Deptford club stages, where they plied a limber ensemble sound supporting Knopfler's virtuosic lead guitar and gruff vocals. The musicianship showcased on his literate, atmospheric songs lifted their self-titled 1978 debut album to top 10 album chart stature across Europe and in the U.S., where they reaped double platinum certification and two Grammy nods. By ignoring trends of the moment, they had crafted a maverick style both fresh and timeless.
The following year found them opening for Talking Heads, selling out 51 dates headlining their first North American tour, and releasing a sophomore album produced by the Atlantic Records honcho legendary Jerry Wexler and Muscle Shoals veteran Barry Beckett. Like its predecessor, Communique presented Dire Straits with little adornment beyond Beckett's spare piano on the title track, modeling pace and detail closely on the debut album with a consistency some fans and reviewers faulted as cut too closely from the same cloth as the debut. Even as Knopfler's star rose as a prominent guest on Bob Dylan's Slow Train Coming album (also produced by Wexler and Beckett), sales for Communique slowed after going gold—hardly a catastrophe, yet a substantial decline from the first full-length's lofty tally.
It's no surprise that Knopfler and producer Jimmy Iovine, whom Knopfler enlisted after hearing his work with Patti Smith, were motivated to navigate away from the modesty of the first two albums, trading verisimilitude for widescreen drama. When they began sessions at New York's Power Station on June 20, 1980, Iovine's stature as a producer was newly gilded by his success producing Tom Petty's Damn the Torpedoes, which erected epic soundscapes around the Heartbreakers' powerful playing, an aesthetic Iovine had refined engineering three Bruce Springsteen albums. Knopfler, meanwhile, had witnessed studio perfectionism on a Steely Dan session where hours of his playing were distilled to 40 seconds heard on Gaucho's "Time Out of Mind."
Making Movies begins its reinvention of Dire Straits' sound with the intro to its first track, "Tunnel of Love." Both prior albums had opened with Knopfler's sinuous, finger-picked Stratocaster, but here Springsteen's E Street stalwart Roy Bittan beckons listeners by quoting the graceful title waltz from the overture to Rodgers and Hammerstein's Carousel on organ and piano, then halts as the band kicks in, shifting tempo to an urgent four-square shuffle beneath Knopfler's terse, stabbing guitar accents. Lyrically, the song recalls a brief tryst in alternating waves of erotic need and romantic tenderness, filtered through amusement park imagery as feverish verses pause for a bridge that evokes childhood memories of the Spanish City, a venerable seaside amusement palace near Newcastle, where the Knopfler brothers grew up.
"Tunnel of Love" changes up Dire Straits' sound with more than majestic keyboards. Drummer Pick Withers steps beyond his economical playing on the earlier albums to bring drums center stage, his toms and kick drums given explosive force by Iovine's deep-dish production, locking with John Illsley's bass. Knopfler's signature Strat boasts a fatter tone on his fills, notably on a mid-song break that pits bursts of guitar against the rolling thunder of Withers' drums. The song also reflects Knopfler's evolution toward longer, more complex structures and his effective use of dynamics to heighten impact after he dials back the intensity of verses surveying a landscape of "carousels and …carnival arcades, …steeplechase to palisades."
Repeating the tender bridge ("And girl, it looks so pretty to me, like it always did…"), the arrangement strips down the rhythm section, then slowly rebuilds the song against the steady push of acoustic rhythm guitars as Knopfler's electric lead guitar climbs skyward and Bittan unleashes soaring piano arpeggios on an extended instrumental coda that stretches the running time to over eight minutes.
Related: The story behind the band's huge hit, "Sultans of Swing"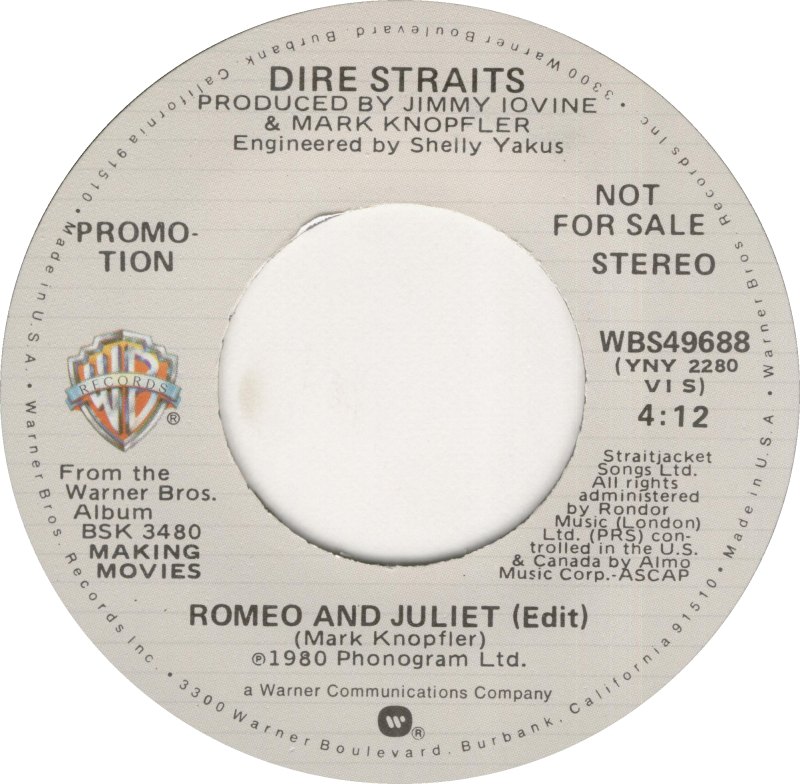 Knopfler's more expansive approach doesn't end with "Tunnel of Love," nor does emphasis on memory and romantic obsession, themes less central to Dire Straits' earlier material before and after this album. "Romeo and Juliet" namechecks Shakespeare's doomed lovers in its wry dialogue between two modern-day counterparts separated not by death but by motive. Spare opening verses are framed by Knopfler's elegant fingerpicking on a National steel resonator guitar as his "lovestruck Romeo" serenades the more cynical object of his affections, proposing, "You and me, babe, how about it?" that elicits a playful allusion to "My Boyfriend's Back." The tone darkens and the song's arrangement gathers force as the singer confronts abandonment, struggling to accept failure ("It was just that the time was wrong…"), then recognizing his betrayal in favor of "chains of silver" and "chains of gold," mourning their lost passion.
Just as the "Carousel Waltz" alludes to the doomed romance of its stage and film source, "Romeo and Juliet" nods to its reincarnation in Leonard Bernstein and Stephen Sondheim's West Side Story. It's likely that a young Mark Knopfler encountered both musicals on celluloid, where Carousel was only the second widescreen musical produced and West Side Story drew Baby Boom teens, prefiguring MTV in its kinetic sense of teen drama.
MTV itself would prove a key ally in boosting "Skateaway," the third track and another longer piece that completed the LP's first side. Released as a single, the song fell short of the top 40 but its companion music video fared considerably better, underlining the band's depth as an album act and providing the album's title in its vision of a woman roller skating on city streets, listening to rock 'n' roll on her headphones and "making movies" in her imagination.
The arrangement reinforces an evolution beyond Dire Straits' six-string DNA in its heightened use of dramatic percussion and keyboards, heralding a shift in personnel already underway. Rhythm guitarist David Knopfler had found himself chafing under his older brother's control, finally quitting in August, with Mark Knopfler re-recording the bulk of the rhythm tracks and an uncredited Sid McGinnss enlisted to complete the project. Shortly after the album's release on October 17, 1980, Dire Straits would formally add keyboards with the addition of Alan Clark and expand to a quintet with new rhythm guitarist Hal Lindes. Mark Knopfler exerted greater control over the band's sound while ceding his dominance as lead guitarist.
Front-loading Making Movies with side one's three consecutive classics came at a minor cost in its remaining four tracks. "Expresso Love" continued the set's preoccupation with romance in its most openly erotic track, an appropriately caffeinated celebration of sex in both lyrical metaphor and propulsive energy, "Hand in Hand" slowed the pace with a graceful ballad mourning the dissolution of a love affair, and "Solid Rock" provided a future concert staple in a sturdy if familiar shuffle that just escapes lapsing into generic cliché.
An otherwise respectable sequence stumbles in the homestretch with "Les Boys," a tableau set in a German "disco bar" that captures gay cabaret performers catering to tourists and businessmen. While not homophobic on its face, its inventory of gay imagery was too easily misread at a cultural moment at the dawn of the AIDS epidemic (much as a line in "Money For Nothing" would be five years later), ending the album on a dour, enervating note.
Making Movies fulfilled its mission critically and commercially, restoring the band's platinum stature with a more expansive style verging on prog rock while retaining retro accents of blues and rock 'n' roll. Mark Knopfler's cinematic ambitions would soon become literal with his soundtrack to 1983's Local Hero, the first of nine Knopfler film music projects.
Bonus Video: "Solid Rock" live at Wembley Arena with Eric Clapton

Latest posts by Sam Sutherland
(see all)