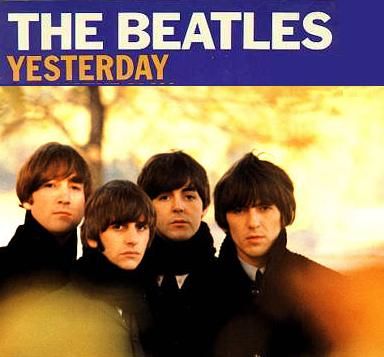 Pope Paul VI had just visited the U.S. and held a mass at Yankee Stadium, the Los Angeles Dodgers won the World Series, and protests against growing American involvement in the war in Vietnam were beginning to happen.
And the AM dial was the place to hear all the best pop and rock hits this week on Los Angeles' KHJ. Some all-time great classic rock tracks were well represented. Here we go…
Bubbling under at #14 was Otis Redding's "Respect." (The song peaked nationally on the pop charts at #35; two years' later, Aretha Franklin had a #1 smash.)
At #9 was "Rescue Me" by Fontella Bass. Did you know that a young Maurice White (later of Earth, Wind & Fire) played drums on it? Read about it here.
Also at #9 was the McCoys' cover of "Hang On Sloopy," a #1 Hot 100 smash for them earlier that month. True story: The McCoys were youngsters from Indiana led by a 16-year-old named Rick Zehringer, who would change his name to Derringer because of the Bang Records logo. You can't make this stuff up.
Herb Alpert & The Tijuana Brass' cover of "A Taste Of Honey" took a giant leap this week, climbing from #27 to #8. While we enjoy the TJB as much as the next guy… while the song would peak at only #7 nationally, it inexplicably won Record of the Year honors at the 1966 Grammy Awards besting, among others, another far more deserving song that's also on this week's chart (see below).
Moving up to #7 was the Byrds' "Turn! Turn! Turn!" The song, written by the legendary Pete Seeger, is largely based on words from the Book of Ecclesiastes. The Byrds version was one of two #1s the folk-rock group scored in 1965 (the other: "Mr. Tambourine Man").
Len Barry's "1-2-3" was at #6 this week (on its way to its #2 peak position). The American singer – born Leonard Borisoff – enjoyed another #2 as the 19-year-old lead singer of the Dovells' 1961 hit "Bristol Stomp." But we prefer "1-2-3" and it's simple lyrics: It's easy (it's so easy)/Like takin' candy from a baby.
Related: Len Barry died in 2020
At #3 was the Rolling Stones' "Get Off Of My Cloud." The song was the band's second U.S. #1, following "(I Can't Get No) Satisfaction" which reached the top earlier that year.
If you're a new Best Classic Bands reader, we'd be grateful if you would Like our Facebook page and/or bookmark our Home page.
Topping this week's chart? None other than The Beatles' "Yesterday." While it is one of the group's biggest hits – and one of the most covered songs ever – it is essentially a solo Paul McCartney performance. The song wasn't released as a single in the U.K. "We were a little embarrassed about it," says McCartney, "We were a rock 'n' roll band." It's also one of the songs that was bested by Herb Alpert's "A Taste Of Honey" for the Record of the Year Grammy. Go figure…
14. "Respect" – Otis Redding (Volt)
10. "Make Me Your Baby" – Barbara Lewis (Atlantic)
9. "Rescue Me" – Fontella Bass (Checker)
9. (tie) "Hang On Sloopy" – The McCoys (Bang)
8. "A Taste Of Honey" – Herb Alpert & The Tijuana Brass (A&M)
7. "Turn! Turn! Turn!" – The Byrds (Columbia)
6. "1-2-3" – Len Barry (Decca)
5. "You're The One" – The Vogues (Co & Ce)
4. "Keep On Dancing" – The Gentrys (MGM)
3. "Get Off Of My Cloud" – The Rolling Stones (London)
2. "A Lover's Concerto" – Toys (Dynovoice)
1. "Yesterday" – The Beatles (Capitol)

Latest posts by Best Classic Bands Staff
(see all)