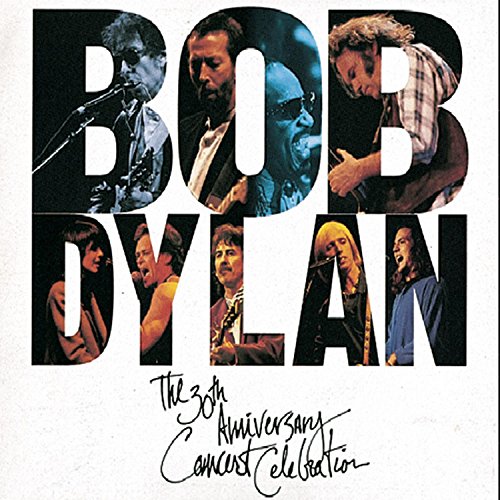 The list of artists at Bob Dylan's 30th anniversary concert on October 16, 1992 is a mile long, with dozens of A-Listers performing the Bard's songs that evening at New York's Madison Square Garden. The lineup played a 39-song setlist that given the classic rock legend's songwriting output barely scratched the surface.
Among the many stars (and their performances): Stevie Wonder ("Blowin' in the Wind"), Johnny Cash and June Carter Cash ("It Ain't Me, Babe"), Neil Young ("All Along the Watchtower"), Eric Clapton ("Don't Think Twice, It's All Right"), George Harrison ("If Not For You"), Tom Petty & the Heartbreakers ("Rainy Day Women #12 and #35")… you get the picture.
The concert's house band were Booker T. Jones, Donald "Duck" Dunn and Steve Cropper of Booker T. and the MG's, and drummers Jim Keltner and Anton Fig. Saturday Night Live's band leader at the time, G.E. Smith, served as the program's musical director.
Watch Johnny Cash and June Carter Cash
Tickets were priced at $35 to $80. Those who got shut-out in that pre-StubHub era relied on scalpers and other resources to get in, or could watch it at home on pay-per-view.
Watch Harrison's take on "Absolutely Sweet Marie"
Johnny Winter offered a spirited (is there any other way to perform it?) rendition of "Highway 61 Revisited."
Sinead O'Connor was appearing just two weeks after her controversial performance on Saturday Night Live when she tore up a picture of Pope John Paul II, to protest the silence of the Catholic church on sexual abuse. She was introduced by Kris Kirstofferson who described her as "an artist whose name has become synonymous with courage and integrity." She was met with a mix of cheers and boos as she gathered her composure. She ultimately signaled to the house band to stop playing and she gamely began to speak the words to Bob Marley's "War," while the booing continued. As she came off stage, visibly shaken, she was embraced by Kristofferson.
One of the amazing things to see in the video below are the empty seats directly behind the stage, known as "kills," because their views of the performers are blocked in some manner. For concerts without elaborate staging with screens, they are often the most coveted seats due to their proximity.
Dylan wrote "My Back Pages" in 1964 and it was included on his Another Side of Bob Dylan album from the same year. It's been covered many times, most notably by the Byrds, who released it as a single in 1967. Their version reached #30 in the U.S.
Related: A previously lost interview with Columbia Records' legendary exec John Hammond, talking about signing Dylan
Watch a rehearsal of "My Back Pages." Although the sound is compromised it's a unique opportunity to see the fraternity of so much talent enjoying each other's company.
Dylan's official video of the actual performance begins with a few seconds of the backstage rehearsal before we see the stars assembled on stage. Taking turns singing lead: the Byrds' Roger McGuinn, followed by Petty and Young. Clapton then does a guitar solo before going to the mic to sing the next verse. Next up is Dylan, followed by Harrison's beautiful, final verse.
The performance was the 37th song of the evening. The entire lineup then sang "Knockin' on Heaven's Door" before Dylan closed with "Girl From the North Country."
31 of the songs were included on Columbia Records' August 24, 1993 2-CD release.
Dylan concert tickets are available here and here.

Latest posts by Best Classic Bands Staff
(see all)