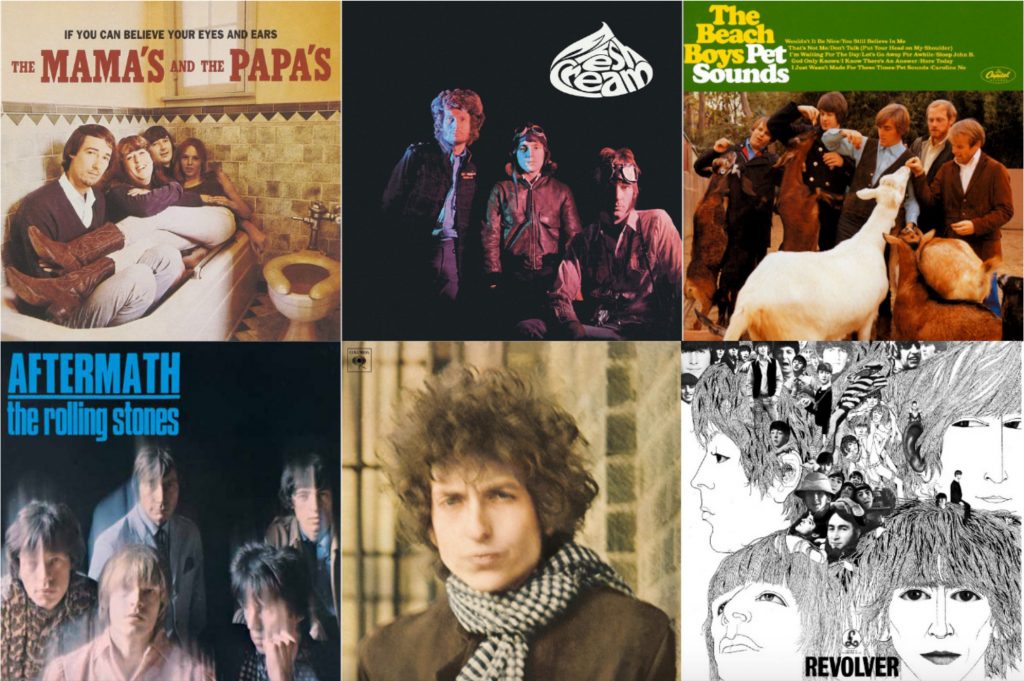 Until late 1965, rock was still all about the 45 RPM single. Kids rarely had the money to buy a full album so artists didn't put a lot of effort into them—quite often, a band's latest album would consist of a hit single or two and nine or so songs that no one ever really bothered to listen to.
Then came Rubber Soul. With their December 1965 release, the Beatles told the world that they had something to say in each and every song—whether it was destined for AM radio playlists was no longer a huge concern. Tunes like "Norwegian Wood" and "In My Life" were works of art that could not be ignored and the concept of filler was relegated to the dustbin.
From that moment on, the rock album became a statement in itself, a measure of significance. Other artists, naturally, took their marching orders from the leaders—henceforth, they would need to create entire albums that held together and didn't flag, not just a patchwork of two great songs and a bunch of forgettable ones. The era of the single was far from over, but it now had competition.
By early 1966, most of rock's major artists were looking at their new albums as unified works. Several of the greatest LPs ever created would be released during those 12 months. If 1966 had produced nothing of importance but The Beatles' Revolver, The Beach Boys' Pet Sounds and Bob Dylan's Blonde on Blonde, it still would have been a really big deal of a year. Of course, there were many others.
We looked back at hundreds of albums released in 1966 and whittled the list down to the 40 that we think represent the cream of the year's crop. Many of these titles remain cornerstones of any essential classic rock record collection, sounding as fresh now as when we first removed the vinyl from the shrink-wrapped album jacket.
Were there others? You bet! We welcome your input on what we should have included, and if you disagree with some of our choices, what we could have omitted.
We're not ranking them; they're arranged alphabetically by artist. How many of the 40 do you own?
13th Floor Elevators—The Psychedelic Sounds of the 13th Floor Elevators—The title spells it out for you: This is psychedelic music (Texas style), personified. Led by Roky Erickson, the band (which included an electric jug player) was as wild as it gets, and this, their debut, remains a startlingly original work.
The Animals—Animalism—The classic lineup of the band was about to splinter and would return with new members and a new direction. This album, along with the earlier Animalization, marks the end of their pure blues-rock phase, with hints of the experimentation to come.
The Beach Boys—Pet Sounds—There's a good reason why this album lands on top of so many all-time-greatest lists (or close to it). It's Brian Wilson's crowning achievement, both a sonic masterpiece and (with lyrics supplied by Tony Asher) a virtual guide to the emotional range experienced universally by the young. Pet Sounds remains a work of momentous depth and beauty.[/ot-video]
The Beatles—Revolver—The Beatles took a great leap with 1965's Rubber Soul and then outdid themselves the following year. Revolver was where they went from being a very talented pop group to showing us all that rock music could expand in directions previously unimagined. To think that they progressed from "She Loves You" to "Tomorrow Never Knows" in just three years is unfathomable even today. (In the U.S., they also released the fine collection Yesterday and Today in 1966, but it's a given that Revolver was the year's most important development in Beatledom.)
Blues Magoos—Psychedelic Lollipop—The New York-based group had a big hit with their single "(We Ain't Got) Nothin' Yet," but unlike many other bands that contributed to the proto-punk garage-band boom of the late '60s, they were able to turn out a debut album that was solid all the way through.
Blues Project—Projections—Based in New York City, this quintet of virtuosos quickly expanded beyond the blues of their name on their second LP (and only true studio album). Led by singer/keyboardist Al Kooper and guitarists/vocalists Danny Kalb and Steve Katz, they rocked like crazy on the tunes "I Can't Keep From Crying" and "Wake Me, Shake Me," but also slipped easily into cerebral folk ("Steve's Song") and a jazzy jam ("Flute Thing").
James Brown—It's a Man's Man's Man's World—The dramatic orchestrated ballad that serves as the title track is JB at his most charismatic and forceful, while several of the other tracks hint at the funk that would soon become his stock-in-trade. (Brown released several albums in 1966.)
Tim Buckley—Tim Buckley—The self-titled debut by this new singer-songwriter revealed him to be an artist whose hypnotic, ethereal voice was like no other. He would continue to find new avenues to explore on his increasingly complex followup recordings, but this first effort allowed him to establish himself as a standout amidst the swell of new, young folk-rockers.
Buffalo Springfield—Buffalo Springfield—They only released three albums in their brief lifetime as a band, and each one is stocked with keeper tunes. Neil Young and Stephen Stills dominate the songwriting here, and although both (as well as the third major writer/singer, Richie Furay) would go on to bigger things, it's always great being reminded of where it all began for them.
Paul Butterfield Blues Band—East-West—Before the term guitar hero entered the mainstream, Mike Bloomfield personified it. He shares lead guitar duties here with the also excellent Elvin Bishop, and with singer/harpist Butterfield up front the Chicagoans established themselves early on as the consummate American blues-rock movers and shakers. East-West, however, is something more. Here they went way beyond the blues, with the 13-minute, Eastern-mode title track and Nat Adderley's "Work Song" opening up new vistas; their ideas would soon influence bands in San Francisco, London and elsewhere.
The Byrds—Fifth Dimension—Just as they'd pioneered the new folk-rock sound a year earlier, the Byrds, on their third album, moved into psychedelia, space-rock and other previously unexplored places. Tunes like "Eight Miles High," "Mr. Spaceman" and the title track proved definitively that this was one band that had no intention of getting stuck in one musical corner.
Related: 50 classic rock albums of 1970
Judy Collins—In My Life—Since she first emerged earlier in the decade, Judy Collins proved that she had a good ear for a song, and that continues on In My Life. She not only makes the Lennon-McCartney title track her own but does wonders with Leonard Cohen's "Suzanne," Dylan's "Tom Thumb's Blues" and songs by Donovan, Randy Newman, Richard Fariña and others.
Cream—Fresh Cream—They didn't truly blossom artistically until the following year's Disraeli Gears, but the trio's debut is very impressive on its own merits. Fresh Cream owes more to the musicians' blues roots, but there's already a sense of playful experimentation at work on original tracks like "N.S.U." and "Toad."
Bobby Darin—If I Were a Carpenter—The singer whose hits had included a novelty rock 'n' roll song ("Splish Splash") and Vegasy big-band workouts ("Mack the Knife") came back after a lull in his career with a folk-rock gem heavy on the songs of Tim Hardin. He nailed this genre too.
Donovan—Sunshine Superman—The Scottish singer came off as a Dylan-esque folkie on his first couple of albums and then, like that other guy, he went electric. Donovan's own rock songwriting wasn't so much like Dylan's as inspired by it: sophisticated, charming, often whimsical and mystical, and easy to fall in love with.
Bob Dylan—Blonde on Blonde—Just a year earlier he'd made the big switch to rock, via "Like a Rolling Stone" and the albums Bringing It All Back Home and Highway 61 Revisited. Now, on this double album, he jumped in all the way. Blonde on Blonde was one masterpiece track after the other, with support from the best studio musicians New York and Nashville had to offer.
The Fugs—The Fugs—What in the world was this? Well-regarded poets, they were crude, brash, relentless, sloppy, insightful, literate, hilarious and more than a bit crazy. No other rock band, even the Mothers of Invention, had dared write songs like "Kill for Peace" or "Group Grope." (To be fair, the Fugs could also be tender, i.e., "Morning, Morning"). Like their equally startling debut the year before, few picked up on the Fugs' sophomore release, but those who did knew that from now on there would be no such thing as taboo in rock music.
Tim Hardin—1—There was so much promise embedded in this first collection by the newest folk-rock poet on the scene. Some of these songs—"Misty Roses," "Reason to Believe"—would be covered by dozens of artists, but there's a naked beauty and, quite often, a pain, in these original renditions that other versions couldn't match.
Jefferson Airplane—Jefferson Airplane Takes Off—Grace Slick wasn't a member yet (neither was classic-lineup drummer Spencer Dryden), but both the power and romanticism were already in place on this debut that took folk-rock to a higher level. Singer Signe Anderson, whose allegiance to the blues also colored the music, disappeared from the music scene after this, but fans of the band treasure her lone contribution.
The Kinks—Face to Face—The British band's fourth album followed a string of hit singles that began two years earlier with "You Really Got Me." Finally, on this one, all of the songs are original Ray Davies compositions, including the classic protest song "Sunny Afternoon," and while they would soon go on to create much more complex works (Something Else, Village Green Preservation Society), this transitional LP should not be overlooked.
Love—Da Capo—The interracial Los Angeles band was ruling the Sunset Strip when they released both their self-titled debut and this followup in '66. The debut already painted Love as a unique new entry in the post-folk-rock scene, but Da Capo, which seamlessly married their ornate arrangements ("Orange Skies") with blistering psychedelia ("7 and 7 Is"), placed them a notch above. And their masterpiece, Forever Changes, was still a year away.
The Lovin' Spoonful—Hums Of the Lovin' Spoonful—Following their earlier 1966 release Daydream, Hums… is arguably the Spoonful's most perfectly realized collection. And a random collection it is—no two of the songs were alike, yet as a whole the album presented a cross-section of John Sebastian's diverse songwriting—from the jug band music of "4 Eyes" and "Henry Thomas" to the lovely ballad "Rain on the Roof" and the blistering "Summer in the City"—and the band members' highly skilled musicianship.
Related: Our Album Rewind of the Spoonful's Hums
The Mamas and the Papas—If You Can Believe Your Eyes and Ears—They seemed to have arrived out of nowhere the previous fall with "California Dreamin'," as perfect a folk-rock staple as any, and then, just to prove it (and the followup "Monday, Monday") was no fluke, they released this near-perfect compilation of John Phillips originals and intriguing, imaginatively rearranged covers.
Related: The #1 singles of 1966
John Mayall—Blues Breakers with Eric Clapton—The guitarist, Eric Clapton, was already familiar to rock fans via his work with the early Yardbirds, and those who were plugged in to the British blues scene knew that John Mayall was one of its leading practitioners. But who could have anticipated that together they would concoct such a killer LP? Clapton would leave after this brief collaboration to form Cream. Mayall, now in his 80s, is still going, and the bassist, a guy named John McVie, also did OK for himself.
The Monkees—The Monkees—There was no question that they were a "made-for-TV" rock band; no one was denying that. But now that they had a smash album and hit singles, were they a legitimate rock band? Who cares?! There are so many great pop-rock songs on this debut that it doesn't matter who played on them or that professional songwriters penned them.
The Mothers of Invention—Freak Out!—Like their East Coast peers the Fugs, Frank Zappa's Mothers of Invention were nothing less than shocking right out of the box. But unlike the Fugs, Zappa was a skilled, classically astute composer with a wide knowledge of everything from jazz to doo-wop. Toss in an over-the-top, sardonic sense of humor, some righteous indignation, killer instincts as a bandleader, and an eagerness to break rules, and there was no way that they wouldn't get noticed.
Phil Ochs—In Concert—One of the top folk singers of the time, Phil ochs didn't wait long to release a live album. This was only his third album, but it was timed right because he was all about communicating his take on contemporary topics directly to his audience. Other than the gentle "Changes," most of the tunes here could have been lifted from the day's newspapers, yet surprisingly several of them are just as relevant today.
Wilson Pickett—The Exciting Wilson Pickett—The adjective "exciting" barely does him justice—Pickett was a ball of fire on stage, and although his hit soul singles, like "In the Midnight Hour," gave some indication of his furious approach, it wasn't until his third album that the Wicked Pickett, as he was called, really laid it all out. His take on "Land of 1,000 Dances" alone is definitive.
Otis Redding— Complete & Unbelievable: The Otis Redding Dictionary of Soul—The tragically curtailed career of Otis Redding was still on the ascendant when he released his fifth studio album, the last to be released during his lifetime. It came just months after the equally stunning The Soul Album—the two sets, taken together, confirm that Redding was one of the most dynamic performers alive. For further proof, watch his timeless Monterey Pop performance of "Try a Little Tenderness," a track on Dictionary….
Paul Revere and the Raiders—Midnight Ride—Not only were they busy putting out hit singles and playing on countless TV programs, but the Pacific Northwest band also managed to release no less than three albums in '66: Just Like Us, Midnight Ride and The Spirit of '67 (released in late November). All have their moments but the middle one is where they really began branching out, holding on to their garage-band drive while testing the waters on more expansive material.
The Rolling Stones—Aftermath—With the exception of the in-concert set Got LIVE If You Want It, the Stones' sole album release this year was Aftermath. The U.S. and U.K. editions had somewhat different track listings (three more in the U.K.), but both included classic tunes like "Under My Thumb" and "Lady Jane," along with sleepers like "Flight 505" and the ballad "I Am Waiting." The highlight of both, however, is the haunting 11-minute "Goin' Home," which proved the Stones could do open-ended jamming with the best of them.
Tom Rush—Take a Little Walk With Me—Like most folk singers of the era, Tom Rush went electric once Dylan did, and for this release he brought along some of the hippest studio cats in town, among them Al Kooper, Harvey Brooks and Bruce Langhorne. They positively rock out on covers of Bo Diddley's "Who Do You Love" and Chuck Berry's "Too Much Monkey Business," as well as Rush's own "On the Road Again."
Simon and Garfunkel—Parsley, Sage, Rosemary and Thyme—Early in 1966, Paul Simon and Art Garfunkel released the Sounds of Silence album to capitalize on their breakthrough hit single. A stunning work, it included some of Simon's best early compositions, but the followup, released that fall, was a great advance in terms of songwriting, production and performance. Nearly every song is a thing of beauty, including "Cloudy," "A Poem on the Underground Wall," "The 59th Street Bridge Song (Feelin' Groovy)" and "The Dangling Conversation."
Small Faces—Small Faces—This is where it all began for the British group with the heavyweight lineup that included Steve Marriott, Ronnie Lane, Ian McLagan and Kenney Jones. Aligned with the same Mod movement that gave us the Who, Small Faces were more unabashedly pop in their approach, with tracks like "Sha-La-La-La-Lee" and "Whatcha Gonna Do About It" hinting at better things to come.
The Supremes—The Supremes A' Go-Go—Motown's biggest hitmaking group churned out one chart-topping single after another, and weren't really known for their albums. But that doesn't mean they were toss-offs either, and A' Go-Go was one of their best, featuring the trio's worthy interpretations of period hits by the Isley Brothers, the McCoys, Nancy Sinatra and labelmates the Temptations and the Four Tops.
Related: Our Album Rewind of the expanded A' Go-Go
Ike & Tina Turner—River Deep—Mountain High—Producer Phil Spector was reportedly so dismayed by the failure of the title track to do better on the charts that he basically quit the business (he'd resurface soon enough, working with no less than the Beatles). Of course that title track is still considered a stone classic, but the rest of the associated album is seriously smokin' too. Tina Turner, even then, was one dynamic and mesmerizing frontperson, and there's no discounting Ike's skills as bandleader.
The Ventures—The Ventures Play the "Batman" Theme—The most successful instrumental group in rock history was so incredibly prolific that they routinely turned out three or four albums a year. You can choose just about any if you want to hear some of the most influential guitar work in rock, but this one, featuring various TV theme songs and other tunes that could have been, is one of the most fun.
The Who—A Quick One—This entry is a bit of a cheat because the album called A Quick One in the U.K., released in December 1966, wasn't released in the U.S. till the following April, retitled Happy Jack after their latest hit. In any case, the band's sophomore effort gave fans of the British Invasion a hint of what the Who were capable of: the nine-minute suite that serves as the title track (actually, "A Quick One, While He's Away") was an early look at how far Pete Townshend would go when he wanted to tell a story, and the quality of the playing, and Roger Daltrey's vocals throughout, is already something to behold.
The Yardbirds—Yardbirds (a.k.a. Roger the Engineer)—The first album by the British band to include all self-penned material, and the only one to feature Jeff Beck on guitar on all tracks, this album (formally titled Yardbirds in the U.K. and Over Under Sideways Down in the U.S., with slightly altered track listing) found the group in a highly experimental mood, veering into jazz and African-inspired rhythms, serious psychedelia, balladry and more. Beck's playing is off the charts throughout.
The Young Rascals—The Young Rascals—One of the most exciting new American bands on the scene, they already had a #1 single with their cover of "Good Lovin'," an old R&B hit. The album offered up more of the same raucous Hammond-centric soul-rock, including definitive covers of garage staples "Mustang Sally" and "Slow Down." They'd soon start writing their own material, but for now they were simply one of the world's best bar bands.
Related: What were the top radio hits of 1966?

Latest posts by Jeff Tamarkin
(see all)