'Hums of the Lovin' Spoonful' & The Evolution of Their Good-Time Music
by Jeff Tamarkin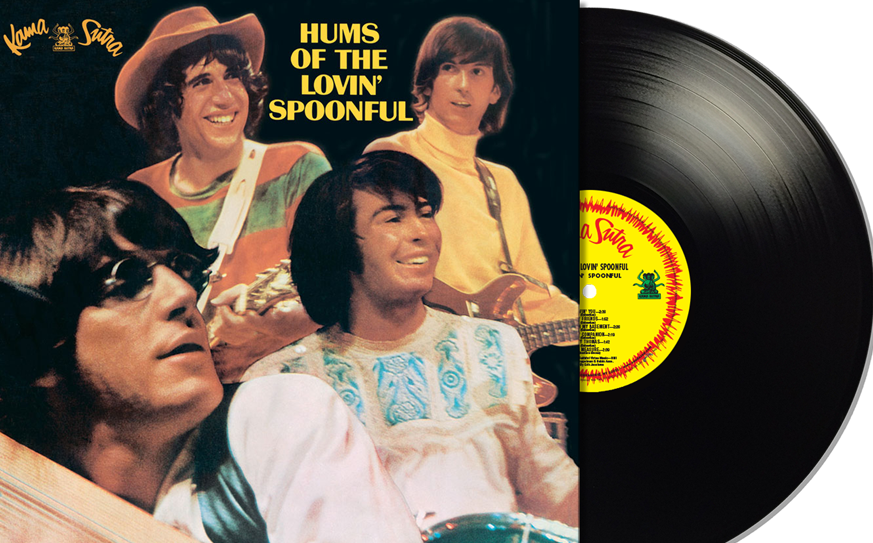 By the spring of 1966, The Lovin' Spoonful was one of the biggest bands in America. In under a year, they'd slammed into the Billboard top 10 with four consecutive singles: their debut: "Do You Believe in Magic" (released in July 1965), followed in quick order by "You Didn't Have to Be So Nice," "Daydream" and "Did You Ever Have to Make Up Your Mind?," the latter two each peaking at #2. John Sebastian, Zal Yanovsky, Steve Boone and Joe Butler were all over the TV, the teen mags and the radio. They were huge.
They were influential too—many an American band was modeled after them, and their reach was said to extend across the Atlantic, where the Beatles were among their greatest admirers. Unlike the teenybopper bands, the Spoonful appealed to both the younger listeners who'd just come aboard the rock 'n' roll train in '64 with the British Invasion and to somewhat older fans who frequented nightclubs and dance concerts. Yanovsky was a guitarist of great skill and diversity—his economical, lyrical playing owed allegiance to no single tone or style, and he was equally at home in an R&B-rooted rocker, a folksy jug-band tune or a sensual ballad. The rhythm section of Steve Boone (bass) and Joe Butler (drums) was artful and enterprising, and flexible enough to put an individual stamp on any song the band created.
But it was their frontman, John Sebastian, who gave the Spoonful their identity. In chic "Granny" glasses and wearing a perpetually beatific smile, he always seemed just so happy to be wherever he was. The son of a well-known classical harmonica virtuoso of the same name, Sebastian played that instrument with great expertise himself, as well as guitar and—unique among popular rock bands of the day—the autoharp. His singing voice was a salve, the aural equivalent of that smile. When he commanded you to "believe in the magic of rock 'n' roll," you didn't need coaxing—he'd already made a believer out of you.
Related: An interview with John Sebastian
The Lovin' Spoonful called their sound "good-time music"—they'd even recorded a song of that title, for an Elektra Records compilation LP called What's Shakin'. What was shakin' as 1966 came into focus was the Lovin' Spoonful.
They'd released two proper albums, each titled after one of their hits—Do You Believe in Magic and Daydream—for Kama Sutra Records, the same label that was releasing their singles. The first only reached #32 but the followup had made it all the way to #10. Clearly, the band had momentum, the ability to transcend the singles market with strong album material that offered plenty of variety. Do You Believe in Magic had drawn from the folk and jug band traditions ("Blues in the Bottle," "Wild About My Lovin'"), alongside a handful of Sebastian originals, notably "Younger Girl," a ballad that would just miss the top 40 in a lovely cover by the Critters.
For Daydream, the band dug its heels in and began concentrating more on composition, with all four of the musicians joining chief song craftsman Sebastian in the writing. In addition to the title song and "You Didn't Have to Be So Nice," highlights included the uptempo tribute to "Jug Band Music" and the group-penned "Butchie's Tune."
Both albums were produced in stellar fashion by Erik Jacobsen, a contemporary of the band with his own roots in the '60s folk scene. Jacobsen went for a crisp, uncluttered approach that allowed all of the instrumental nuances to be heard clearly, while simultaneously putting Sebastian's unique voice right up front so that his words—and seductive delivery of same—were easily absorbed by the listener.
Related: In February 2020, the three surviving band members reunited for a good cause
Daydream had been recorded during the latter half of 1965 and was released in March 1966. The band also put its talents to use by recording the soundtrack for the directorial debut of comedian Woody Allen, What's Up, Tiger Lily? With those commitments out of the way, it was time to start thinking about their third proper album. The Spoonful knew one thing before diving in: it had to be their best.
The year was already shaping up to be a monster. Before it would end, the Beatles would release Revolver, the Beach Boys Pet Sounds, Bob Dylan Blonde on Blonde. The Spoonful had to take their music to the next level, showcase their diversity and maturity as songwriters and players. Calling upon Jacobsen to produce again, and with Roy Halee (best known for his work with Simon and Garfunkel) engineering, the quartet got busy putting together the songs that would comprise Hums of the Lovin' Spoonful.
Their goal: no two songs should sound the same.
The result: no two songs sounded the same.
Eschewing cover songs entirely, Hums consisted of eight tunes written exclusively by Sebastian, one by Sebastian and Boone, another by Sebastian and Yanovsky and one that would team Sebastian and Boone with Mark Sebastian, John's younger brother. That last one—"Summer in the City"—would become the Lovin' Spoonful's biggest hit single, their only #1. Two other songs—"Rain on the Roof" and "Nashville Cats"—would make it to the top 10, while a fourth, "Full Measure," with a lead vocal by drummer Butler, scraped the chart at #87.
Related: The #1 songs of 1966
Taking it from the top, though, is the only proper way to listen to this song-for-song-perfect gem of an LP. Hums of the Lovin' Spoonful begins with "Lovin' You," as pure a country tune as anything coming out of Nashville at the time. It was, in fact, recorded in Los Angeles—the only track not cut in New York—and featured twangy guitars accompanying a down-homey vocal lead by Sebastian in which the singer marvels at the creature before him: "I'm just sittin' here lovin' you, close my eyes and lovin' you," he sings, and if he weren't he'd be "walkin' on the avenues findin' you." It doesn't get any purer than that. (Bobby Darin had a #32 cover of the song in 1967.)
"Bes' Friends" delivers early on the promise of range. With Sebastian playing a harmonium and Yanovsky plucking the banjo—and future rock photographer extraordinaire Henry Diltz filling in melodic lines on the clarinet—the song sounds right off the bat as if it could have been lifted off of an old 78 RPM record found in a dusty thrift shop somewhere in Appalachia. "Well I've heard about the quarrels, and how it always ends, and how a couple loses edge and never make amends/And how they weave a false cocoon and how the web extends, but I've never heard of lovers that could be best friends," he sings, and then goes on to expound on that theme, ultimately advising, "If you want to find a lover gonna love you 'til the end/Go on and find yourself a lover that can be your best friend."
"Voodoo in My Basement" gives off precisely the vibe you'd expect from a song called "Voodoo in My Basement": part spooky, a bit silly, sort of dangerous. This one features a snarling lead vocal by Yanovsky, who also provides the stabbing, blues-soaked lead guitar line that snakes throughout the track. Midway, and then later again, there's a mini-drum and bass duet of sorts, adding to the tune's voodoo-ness.
"Darlin' Companion" is nothing less than one of the all-time great Spoonful numbers, joyful and ebullient, even more country than "Lovin' You"—so country, in fact, that Johnny Cash and June Carter Cash later covered it. Sebastian puts on his most authentic Nashville-by-way-of-Greenwich-Village voice for the lead, is joined in harmony on occasion, and provides enough melody for several layers of Yanovsky guitar—each one trying out a different tone for size—to draw circles around him.
The title of "Henry Thomas," the next song, was inspired by the same-named blues singer who flourished briefly in the 1920s, later discovered by everyone from Taj Mahal to Canned Heat to…the Lovin' Spoonful. Dylan recorded one of his tunes ("Honey, Just Allow Me One More Chance"), Canned Heat turned his "Up the Country" into their Woodstockian anthem "Going Up the Country" and the Spoonful themselves covered his "Fishin' Blues" on their debut. "Henry Thomas" is one of the wildest tunes on Hums, introduced by an out-of-control slide whistle played with abandon by Yanovsky, and featuring actor Larry Hankin on the jew's harp. Performed in a speedy bluegrass style (with Yanovsky also raging on the banjo), but also drawing on the jug band tradition of the early 20th century that the Spoonful loved so much, it gives urbanite Sebastian the opportunity to do his best impression of a hayseed in overalls. There is only passing reference to a character named Henry, who would seem to have nothing to do with the musician: "Ooh-wee my dear Henry, dig the dog the cat dragged in," sings Sebastian, "Ooh-wee my dear Henry, dig the dog the cat dragged in."
Side one of the original vinyl wraps with "Full Measure," written by Sebastian and Boone but sung by Joe Butler. A piano leads the way (most likely played by Boone), and Sebastian mans an ocarina (that elusive instrument that also features prominently on the Troggs' "Wild Thing" that same year), but for the most part it's a straightforward pop-rock beaut, almost orchestral in its breadth. Butler's vocal is full-throated and bold, quite different from Sebastian's style, and he gives the love song a tender, sympathetic reading.
Flipping the record over, we go right to one of the Lovin' Spoonful's signature ballads, "Rain on the Roof." Has a warmer, cozier love song ever been written? Sebastian is at his vocal peak here, soft and yearning—double-tracked for added body—and surrounded by a panoply of Yanovsky's and Sebastian's own acoustic and electric guitars. "You and me were gabbin' away, dreamy conversation sittin' in the hay/Honey, how long was I laughing in the rain with you, 'cause I didn't feel a drop 'til the thunder brought us to," Sebastian sings, and suddenly you wish it would rain right where you're standing. The single went to #10 upon its release and remains one of the group's most beloved recordings.
"Coconut Grove," co-written by Sebastian and Yanovsky, keeps that mellow vibe going. An ode to the solitude of love among the waves and the dunes, it's titled after a Miami neighborhood that served as an artist community frequented by the folk singer Fred Neil, a favorite of Sebastian's and many other folk-rock artists of the day. "Don't bar the door, there's no-one comin'/The ocean's roar will dull the drummin' of any city thoughts or city ways." If "Rain on the Roof" made you long for the pitter-patter, this one will put dreams of a toasty beach right into your head.
The next big hit off of Hums, and another song that is to this day considered a '60s classic, is "Nashville Cats," Sebastian's tribute to the city that, even then, was synonymous with country music. Informing us that there are 1,352 guitar pickers—and an equal number of guitar cases—in Nashville, as well as 16,821 mothers who are eager to allow their kids to play music, the band picks the song in a quasi-rockabilly style that was intended to bring them recognition in the subject city. It didn't quite work out that day—they were viewed as just another band of long-haired hippies—but the track was sure a favorite of the rock crowd, which made it a #8 single in late 1966/early '67. (One little bit of funny business in the lyrics has always bothered purists: Sebastian sings about buying "yellow Sun" records "from Nashville," referring to the label that gave the world Elvis, Johnny Cash, Jerry Lee Lewis and other giants. Sun Records was, however, based in Memphis. Sebastian has said he was well aware of that fact but the line suited the song better.)
"4 Eyes" is one of the most eclectic songs in the Spoonful canon, and quite unique in its subject matter. As a wearer of eyeglasses, Sebastian was aware of certain prejudices against the sight-impaired, so he wrote a song about it. One of the hardest rocking tunes on Hums, it finds a pumped-up Sebastian pleading with the parents of young glasses wearers to allow their kids to chew on the frames: "Please recall that after all the wears them on his face," he sings in this trippy, electrified jug band tune, reminiscent of Spoonful contemporaries the Holy Modal Rounders.
The LP ends with the song that not only stands as the album's best known, but the group's biggest-ever hit. "Summer in the City," with its honking horns and jackhammers dominating its instrumental break, is, appropriately, a sizzler. It was the idea of Mark Sebastian, 14 years old at the time—the teen showed his older brother what he'd composed, and John Sebastian and Steve Boone polished it up.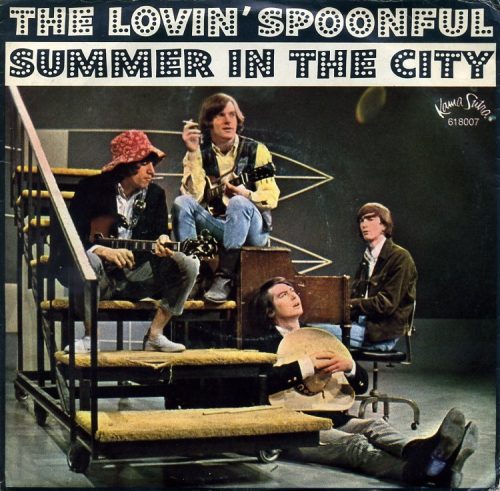 In the studio they then turned it into a churning anthem to the sweltering days and evenings in the urban jungle. "But at night it's a different world, go out and find a girl/Come on, come on and dance all night, despite the heat it'll be alright/And babe, don't you know it's a pity the days can't be like the nights in the summer, in the city, in the summer, in the city." With the highly regarded arranger Artie Schroeck adding electric piano, the recording was released as the first single from Hums and rocketed to the top of the charts, where it remained for three weeks.
Hums of the Lovin' Spoonful itself, released in November 1966, peaked at #14.
Their joy would be short-lived, however. In the early stage of the album's creation, in May 1966, it seems that group members Yanovsky and Boone had been arrested for marijuana possession while in San Francisco. In those days, many rock artists were targeted by police and spent a night or two in the pokey only to be released back into the wild, but the Spoonful's saga was more dire. As Yanovsky was a Canadian national, he was threatened with deportation unless, the cops told the scofflaws, they gave up their source. Accounts of who said what about whom still vary, but all agree that the musicians did name a name, a definite no-no among the world of dopers. Once word got out, the Spoonful were shunned, called "narcs," "rats" and whatever other word would make it plain they were no longer cool.
The effect was such that Yanovsky was sacked from the band in 1967, to be replaced by Jerry Yester, a former member of the Modern Folk Quartet (the group that had also included Henry Diltz). The Spoonful continued for some time and made a fine fourth album, Everything Playing, as well as another sublime soundtrack, You're a Big Boy Now. By 1968 though, Sebastian was ready to go out on his own, and while Butler and Boone (with Yester) attempted to carry on, making a decent but largely ignored album in 1969 titled Revelation: Revolution '69, the era of the Lovin' Spoonful—and all of its attendant magic—was effectively over.
Watch the Spoonful lip-sync "Summer in the City" (with Sebastian on piano) in 1966

Latest posts by Jeff Tamarkin
(see all)