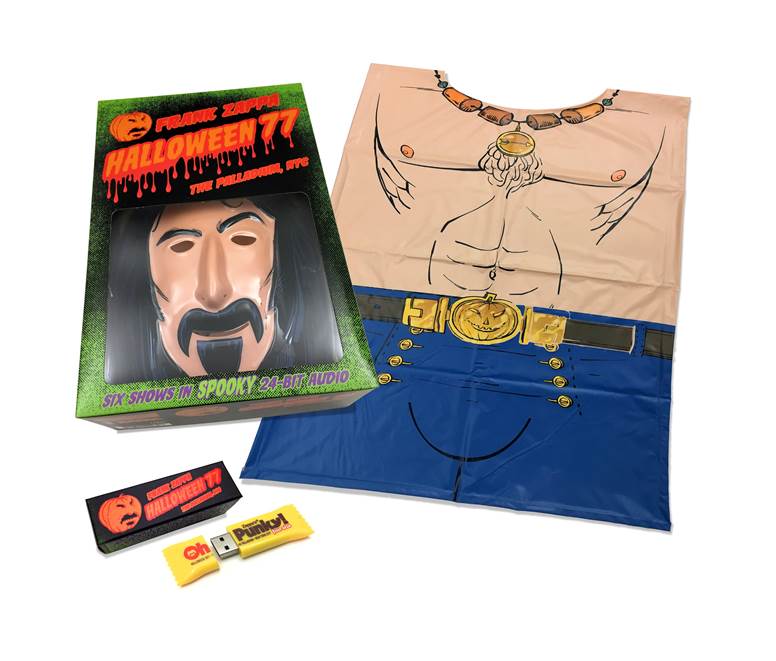 The Zappa Family Trust and Universal have announce that Frank Zappa's Halloween residency of 1977 will be released for the first time in its entirety on October 20 via Zappa Records/UMe, just in time for the 40th Anniversary of these shows. The Halloween 77 boxed set will include all six concerts with 158 tracks (mixed in 2016 from original vault masters) loaded onto a "Zappa's Oh Punky" candy bar-shaped USB drive in 24-bit WAV audio. The package will also include a 28-page digital booklet featuring never-before-seen photos and liner notes from Joe Travers, co-producer of the box alongside Ahmet Zappa, and personal firsthand accounts from many of Zappa's bandmates, crew and fans who were there, including guitarist Adrian Belew, percussionist Ed Mann, keyboard tech Thomas Nordegg, tour manager Phil Kaufman, and fan Janet "The Planet" Walley.
In the spirit of Zappa's favorite season, the specially designed, limited-run box will include a retro Halloween mask and costume of the maestro himself. In addition to the boxed set, a 3-CD version will also be available featuring the entire Halloween night show plus select tracks from the October 30 gig. Fans looking for a specific show will be able to purchase the concert of their choice digitally on release day.
Related: Frank Zappa is "touring" via hologram
By 1977, Frank Zappa's Halloween shows were already the stuff of legends. While the shows began in the late '60s, around 1972 these performances would become annual events, initially in Passaic, N.J., and Chicago before moving to New York City in 1974, where they'd remain. NYC (and its audience) had become a special place for Zappa and the synchronization of Halloween in NYC proved to be the perfect match. From October 28-31, 1977, Zappa and his band played six historic shows at the 3,000-capacity Palladium. All the performances were recorded with four being filmed, resulting in Zappa's film project, Baby Snakes.
Preorder Halloween 77 box set
Preorder Halloween 77 3-CD
Originally scheduled for four shows from October 28-31, 1977, Zappa added two more shows due to intense popular demand, with the final total tallying six shows in four days. The full residency is presented as it happened with no overdubs or additional tinkering. The audio was remixed from scratch using fresh transfers from the master multi-track tapes, which all had to be heat treated for transfer by Travers.
Watch Frank Zappa and band perform "Black Napkins" on Halloween 1977
The 1977 lineup of the band featured Terry Bozzio on drums, Tommy Mars and Peter Wolf on keyboards, Adrian Belew on guitar and vocals, Ed Mann on percussion and Patrick O'Hearn on bass. Over the six shows, the ensemble averaged 25 songs per night with improvisations and audience participation from "New York's Finest Crazy Persons" at every show, making each uniquely different. At these shows Zappa really got into the spirit with Halloween antics including bringing tech Thomas Nordegg on stage to perform some magic tricks and the band's tour manager, the "Road Mangler," Phil Kaufman, performing as the human trombone. Original Mothers bassist Roy Estrada also joined the festivities.
The songs performed at this musical marathon spanned Zappa's then 11-year career with tracks from Hot Rats, Over-Nite Sensation, Bongo Fury, One Size Fits All, and his most recent album at the time, Zoot Allures. Many of the songs played were previously unreleased and would go on to be recorded for Zappa's 1979 album, Sheik Yerbouti, including "Flakes," "Broken Hearts Are for Assholes," "Jones Crusher," "Bobby Brown Goes Down," "City of Tiny Lites," "Tryin' to Grow a Chin" and "Wild Love." The October 30 show notably featured the world premiere of the Grammy-nominated disco satire "Dancin' Fool," and the one and only performance of Zappa's infamous "Jewish Princess." The basic tracks from this performance were used on Sheik Yerbouti's controversial studio version, which ultimately attracted attention from the Anti-Defamation League, who asked the FCC to ban the record from being played on the air.
Halloween 77 also includes many rare and unreleased performances and arrangements. This box set includes the first official release of the instrumental version of "Conehead." These five versions are vastly different than the song that would be included on Zappa's 1981 record, You Are What You Is. The rarely played "Läther" was performed at all six shows and immediately followed by the equally rare "Wild Love," which became a solo workout each night. This was followed by the comedic song "Titties 'N Beer," ultimately released on Zappa In New York, made especially memorable each time for the caustic improv dialog Zappa spewed about a then ongoing legal battle with Warner Bros. Other highlights include six extended guitar workouts of "The Torture Never Stops" and the combustible Halloween night finale of "Black Napkins."
Watch "City of Tiny Lites" from the Halloween '77 show
Continuing the Zappa Family Trust and UMe's Zappa ongoing vinyl initiative, Zoot Allures will be reissued on 180-gram vinyl on October 20. Zoot Allures features two of Zappa's signature guitar pieces, "Black Napkins" and "Zoot Allures." The album became a fan favorite since its release in 1976. Originally conceived as a double-disc, Zappa re-edited it to a single record after pressure from his record company. This 180-gram reissue was mastered and cut directly from the analog tape master by Bernie Grundman in 2017.
Frank Zappa Halloween 77 (Costume) Boxed Set
10-28-77 Show 1
1. 10-28-77 Show 1 Start/Introductions 3:28
2. Peaches En Regalia 2:42
3. The Torture Never Stops 13:05
4. Tryin' To Grow A Chin 3:37
5. City Of Tiny Lites 6:04
6. Pound For A Brown 8:05
7. Bobby Brown Goes Down 4:33
8. Conehead (Instrumental) 9:19
9. Flakes 4:03
10. Big Leg Emma 1:47
11. Envelopes 2:29
12. Terry's Solo #1 4:42
13. Disco Boy 3:53
14. Lather 3:36
15. Wild Love 24:05
16. Titties N Beer 7:16
17. Audience Participation #1 :48
18. The Black Page #2 3:02
19. Jones Crusher 2:48
20. Broken Hearts Are For Assholes 3:52
21. Punky's Whips 9:43
22. Encore Audience #1 1:21
23. Dinah-Moe Humm 4:55
24. Camarillo Brillo 3:35
25. Muffin Man 4:36
10-28-77 Show 2
1. 10-28-77 Show 2 Start/Introductions 3:13
2. Peaches En Regalia 2:42
3. The Torture Never Stops 12:33
4. Tryin' To Grow A Chin 3:37
5. City Of Tiny Lites 8:00
6. Pound For A Brown 9:19
7. Bobby Brown Goes Down 5:36
8. Conehead (Instrumental) 9:18
9. Flakes 4:10
10. Big Leg Emma 1:48
11. Envelopes 2:33
12. Terry's Solo #2 4:17
13. Disco Boy 3:54
14. Lather 3:42
15. Wild Love 26:01
16. Titties N Beer 7:50
17. Audience Participation #2 2:37
18. The Black Page #2 3:14
19. Jones Crusher 2:58
20. Broken Hearts Are For Assholes 3:54
21. Punky's Whips 9:51
22. Encore Audience #2 2:13
23. Dinah-Moe Humm 4:01
24. Camarillo Brillo 3:36
25. Muffin Man 6:20
10-29-77 Show 1
1. 10-29-77 Show 1 Start/Introductions 4:06
2. Peaches En Regalia 2:42
3. The Torture Never Stops 12:59
4. Tryin' To Grow A Chin 3:34
5. City Of Tiny Lites 7:15
6. Pound For A Brown 8:26
7. Bobby Brown Goes Down 6:06
8. Conehead (Instrumental) 5:50
9. Flakes 3:53
10. Big Leg Emma 1:52
11. Envelopes 2:42
12. Terry's Solo #3 3:51
13. Disco Boy 3:57
14. Lather 3:40
15. Wild Love 22:51
16. Titties N Beer 6:01
17. Audience Participation #3 2:42
18. The Black Page #2 3:05
19. Jones Crusher 2:53
20. Broken Hearts Are For Assholes 3:50
21. Punky's Whips 9:18
22. Encore Audience #3 1:46
23. Dinah-Moe Humm 5:12
24. Camarillo Brillo 3:29
25. Muffin Man 5:09
10-29-77 Show 2
1. 10-29-77 Show 2 Start/Introductions 4:21
2. Peaches En Regalia 2:42
3. The Torture Never Stops 11:30
4. Tryin' To Grow A Chin 3:36
5. City Of Tiny Lites 7:01
6. Pound For A Brown 9:05
7. Bobby Brown Goes Down 9:12
8. Conehead (Instrumental) 6:29
9. Flakes 3:28
10. Big Leg Emma 1:49
11. Envelopes 2:52
12. Terry's Solo #4 4:07
13. Disco Boy 3:54
14. Lather 3:56
15. Wild Love 27:33
16. Titties N Beer 8:12
17. Audience Participation #4 5:02
18. The Black Page #2 2:57
19. Jones Crusher 2:49
20. Broken Hearts Are For Assholes 3:48
21. Punky's Whips 9:36
22. Encore Audience #4 2:23
23. Dinah-Moe Humm 6:19
24. Camarillo Brillo 3:30
25. Muffin Man 6:02
10-30-77 Show
1. 10-30-77 Show Start 1:40
2. Stink-Foot 7:45
3. The Poodle Lecture 5:10
4. Dirty Love 2:32
5. Peaches En Regalia 2:40
6. The Torture Never Stops 12:53
7. Tryin' To Grow A Chin 3:32
8. City Of Tiny Lites 7:36
9. Pound For A Brown 10:03
10. I Have Been In You 8:35
11. Dancin' Fool (World Premiere) 4:50
12. Jewish Princess (Prototype) 4:41
13. King Kong 8:45
14. Terry's Solo #5 5:07
15. Disco Boy 4:01
16. Envelopes 2:19
17. A Halloween Treat with Thomas Nordegg 6:17
18. Lather 3:47
19. Wild Love 25:19
20. Titties N Beer 7:01
21. Audience Participation #5 8:28
22. The Black Page #2 2:59
23. Jones Crusher 2:53
24. Broken Hearts Are For Assholes 3:52
25. Punky's Whips 12:36
26. Encore Rap 1:11
27. Dinah-Moe Humm 6:06
28. Camarillo Brillo 3:27
29. Muffin Man 5:18
30. San Ber'dino 6:20
10-31-77 Show
1. Halloween 1977 Show Start/Introductions 3:11
2. Peaches En Regalia 2:42
3. The Torture Never Stops 13:54
4. Tryin' To Grow A Chin 3:35
5. City Of Tiny Lites 8:17
6. Pound For A Brown 13:40
7. The Demise Of The Imported Rubber Goods Mask 8:33
8. Bobby Brown Goes Down 3:49
9. Conehead (Instrumental) 8:21
10. Flakes 3:04
11. Big Leg Emma 1:58
12. Envelopes 2:25
13. Terry's Halloween Solo 4:38
14. Disco Boy 3:55
15. Lather 3:58
16. Wild Love 30:11
17. Titties 'N' Beer 7:24
18. Halloween Audience Participation 7:04
19. The Black Page #2 2:55
20. Jones Crusher 2:58
21. Broken Hearts Are For Assholes 3:52
22. Punky's Whips 11:23
23. Halloween Encore Audience I 2:07
24. Dinah-Moe Humm 6:41
25. Camarillo Brillo 3:24
26. Muffin Man 5:21
27. San Ber'dino 5:01
28. Black Napkins 9:19
Frank Zappa
Halloween 77
3CD
Disc 1
1. Halloween 1977 Show Start/Introductions
2. Peaches En Regalia
3. The Torture Never Stops
4. Tryin' To Grow A Chin
5. City Of Tiny Lites
6. Pound For A Brown
7. The Demise Of The Imported Rubber Goods Mask
8. Bobby Brown Goes Down
9. Conehead (Instrumental)
10. Flakes
11. Big Leg Emma
Disc 2
1. Envelopes
2. Terry's Halloween Solo
3. Disco Boy
4. Lather
5. Wild Love
6. Titties 'N' Beer
7. Halloween Audience Participation
8. The Black Page #2
9. Jones Crusher
10. Broken Hearts Are For Assholes
Disc 3
1. Punky's Whips
2. Halloween Encore Audience
3. Dinah-Moe Humm
4. Camarillo Brillo
5. Muffin Man
6. San Ber'dino
7. Black Napkins
Bonus Section:
8. King Kong 8:17
9. A Halloween Treat With Thomas Nordegg 6:15
10. Audience Participation #5 7:46
11. The Black Page #2 2:59

Latest posts by Best Classic Bands Staff
(see all)