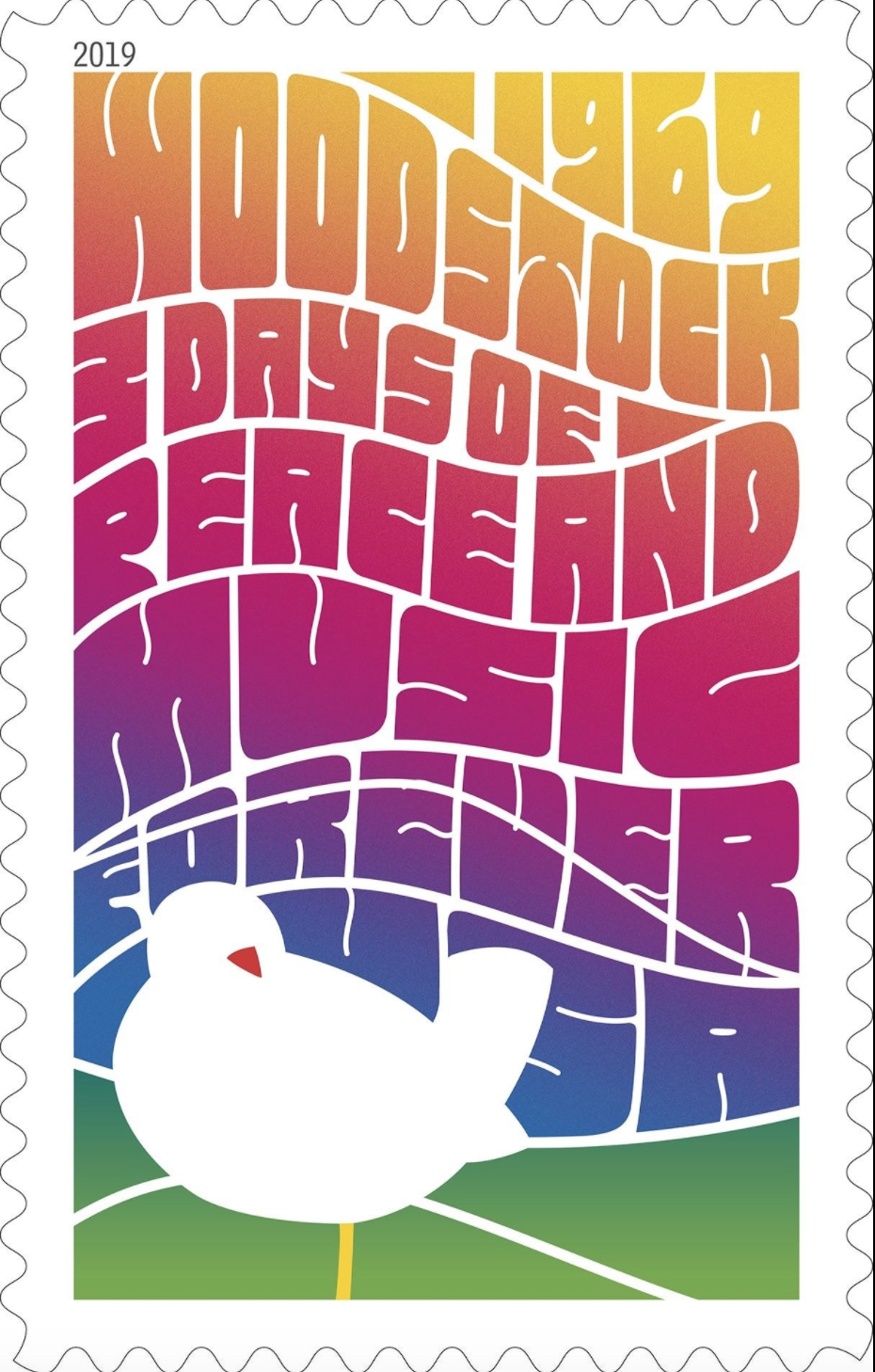 Oh, the irony! The ultimate counter-culture event of the '60s has gotten in bed with "the man"! The U.S. Postal Service held a First Day of Issue on August 8 for a stamp celebrating the 50th anniversary of the Woodstock festival. The dedication ceremony was held at the Metropolitan Museum of Art in New York, attended by the Woodstock 1969 festival co-creators and concert producers, Joel Rosenman and Michael Lang.
"It's an honor and an inspiration to be commemorated by the Postal Service. The USPS Woodstock Forever Stamp is an official acknowledgment of something we have felt for 50 years: Woodstock is 'Forever,'" said Rosenman.
Lang also shared his thanks to the Postal Service "for helping to deliver Peace, Love and Music."
News of the stamp was revealed on November 20, 2018, the same day the USPS announced that Marvin Gaye would be the newest addition to its Music Icons series. 1969's Woodstock Music and Art Fair – known to all, simply, as Woodstock, now has a Forever stamp, in recognition of the festival's 50th anniversary.
From the original November 20 announcement: "This stamp issuance celebrates the 50th anniversary of the Woodstock Music and Art Fair, held in the small farming community of Bethel, New York, in August 1969. It was the most famous rock festival in history and an expression of the youth counterculture of the 1960s.
"The stamp art, designed by art director Antonio Alcalá, features the image of the dove from graphic artist Arnold Skolnick's promotional 1969 poster for the festival along with some of the poster's words: '3 Days of Peace and Music.' In the stamp art the words are stacked in the background in brilliant colors along with the year 1969, USA, and Forever (the value of the stamp). The white dove stands in the foreground."
Best Classic Bands has been celebrating the 50th anniversary of the Woodstock festival with a variety of features and interviews. Included in the series: interviews with all of the members of Jefferson Airplane and their somewhat different memories of their experience there; our feature on Joni Mitchell's iconic song; our interview with Melanie, who was a relative unknown 22-year-old when she arrived at the festival, and left as a star; and our interview with Santana drummer, Michael Shrieve, just 20 when he had his big moment there.
Related: The Woodstock 50 debacle: No Peace. No Love. No Music

Latest posts by Best Classic Bands Staff
(see all)