Wavy Gravy—The Hippie Icon Who Fed the Crowd at Woodstock
by Jeff Tamarkin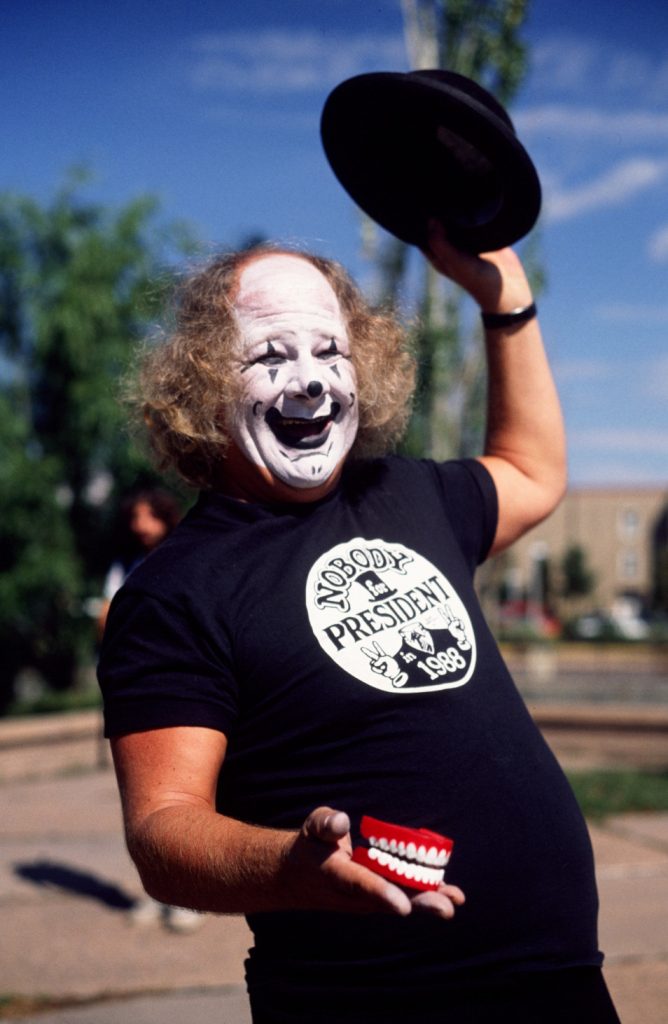 He's a former comic and poet turned clown, a peace activist and hippie icon. As figurehead for the Hog Farm commune, he made announcements from the stage of the 1969 Woodstock festival. He even had a flavor of ice cream named after him.
He calls himself Wavy Gravy.
He was still known by his birth name of Hugh Romney—born May 15, 1936, in East Greenbush, N.Y.—when he told the assembled crowd at the era-defining upstate New York event, "What we have in mind is breakfast in bed for 400,000." The Hog Farm, a ragtag collective formed in the mid-1960s in California, then made good on its promise, distributing meals to any hungry concert attendee, free of charge.
Watch Romney's "breakfast in bed" announcement from the Woodstock stage
Romney became Wavy Gravy just two weeks after Woodstock, when blues great B.B. King reportedly bestowed the nickname upon him at the Texas International Pop Festival. He later changed his name legally.
Throughout his life, Gravy has taken on many roles, among them founder of two vital aid institutions: the Seva Foundation, a nonprofit health organization specializing in the treatment of blindness; and Camp Winnarainbow, a performing arts camp for children. Gravy has often appeared as a clown, and in fact was named the "official clown of the Grateful Dead," a band with which he often collaborated on philanthropical benefits. The late writer Paul Krassner called Gravy "the illegitimate son of Harpo Marx and Mother Teresa."
Related: Which Woodstock festival performers are still alive?
Hugh Nanton Romney Jr. grew up in the Northeast, living in New Jersey and Connecticut at various times during his childhood. He served briefly in the Army and upon his discharge he studied theater and began reciting his poetry in public in New York, where he also served as the entertainment director of the Gaslight Café in Greenwich Village. (Bob Dylan, reportedly Romney's roommate for some time, is said to have borrowed Romney's typewriter to write the opening lines to "A Hard Rain's A-Gonna Fall.") Romney was briefly managed by Lenny Bruce and, having abandoned formal poetry to become an improvising storyteller/standup comic, opened concerts for jazz greats such as John Coltrane and Thelonious Monk, as well as folkies Peter, Paul and Mary.
Romney, along with his wife Bonnie—who later became Jahanara Romney— moved to California in 1965, launching what became the Hog Farm soon after. The commune eventually evolved into something of a hippie traveling circus, traversing the country in a caravan of converted school buses and hosting concerts by psychedelic bands such as Jefferson Airplane, Cream and the Grateful Dead.
The organizers of Woodstock asked Romney to coordinate security at the festival, where he dubbed his helpers the Please Force, in order to eliminate the threat that would have been caused by the presence of real police. Romney made announcements from the stage, among them his offer to feed the throng—cups of granola were then distributed to all who wanted one. (Gravy also appeared at the two Woodstock anniversary events, and at countless other concerts and festivals.)
Watch Wavy Gravy discuss Woodstock security and other subjects
In subsequent years Gravy and his cohorts have often participated in antiwar demonstrations and other high-profile countercultural events. After the Hog Farm relocated to Berkeley in the '70s, Gravy often took on his trademark clown persona, cheering up children at hospitals and at various gatherings. His omnipresent red nose can be seen in countless photos taken during the past few decades.
In support of the Seva Foundation, Gravy has often organized benefit concerts featuring such artists as Jackson Browne, Joan Baez and members of the Grateful Dead.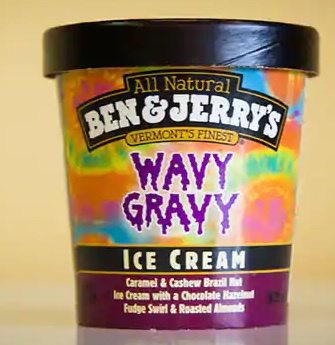 In 1993, Ben & Jerry's honored him with an ice cream flavor simply called Wavy Gravy—caramel cashew brazil nut ice cream with a chocolate hazelnut fudge swirl and roasted almonds—but it was retired by the company after several years.
He also hosted two radio programs, ran a "Nobody for President" campaign in 1980, created collages, and appeared in numerous films. The 2009 documentary Saint Misbehavin': The Wavy Gravy Movie recounted his life story.
Watch the trailer for Saint Misbehavin': The Wavy Gravy Movie

Latest posts by Jeff Tamarkin
(see all)