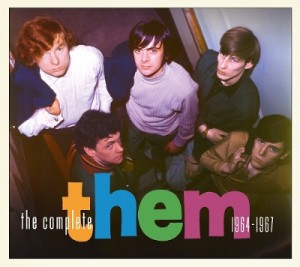 You know Them as the band that launched Van Morrison's musical career. Now seasoned fans can ensure they know Them completely with the most thorough collection of Morrison's early studio and live performances ever assembled – a new three-CD box set entitled The Complete Them 1964-1967 available December 4th.
Morrison hired the Gamblers out of East Belfast when he was just 18 and in need of a band to play with at his newly established R&B club. He took on singing, harmonica and saxophone duties, and before long, the group changed their name to Them, after the 1954 sci-fi horror film. They scored a record deal with Decca in mere months, yielding Top 40 hits like "Mystic Eyes" and "Here Comes the Night." And of course the immortal "Gloria," which was inducted into the Grammy Hall of Fame in 1999.
The band may have been short-lived, but its influence on Morrison – and beyond – is undeniable. (They did soldier on post-1967, but without the same kind of commercial success, eventually breaking up in 1972.) The set includes all recorded material for the first two Them albums, The Angry Young Them (1965) and Them Again (1966), as well as a host of singles, demos, live sessions, alternative takes and rarities from that fruitful three-year span. All 70 tracks have been remastered, and the 16-page booklet that accompanies the collection contains liner notes penned by Morrison himself.
The Complete Them 1964-1967 Track List:
Disc One
1. "Don't Start Crying Now"
2. "One Two Brown Eyes"
3. "Baby Please Don't Go"
4. "Gloria"
5. "Philosophy"
6. "Here Comes the Night"
7. "All for Myself"
8. "One More Time"
9. "How Long Baby"
10. "Mystic Eyes"
11. "If You And I Could Be As Two"
12. "Little Girl" (album version)
13. "Just a Little Bit"
14. "I Gave My Love a Diamond"
15. "You Just Can't Win"
16. "Go On Home Baby"
17. "Don't Look Back"
18. "I Like It Like That"
19. "I'm Gonna Dress In Black"
20. "Bright Lights, Big City"
21. "My Little Baby"
22. "(Get Your Kicks On) Route 66″
23. "(It Won t Hurt) Half As Much"
Disc Two
1. "Could You Would You"
2. "Something You Got"
3. "Call My Name" (album version)
4. "Turn On Your Love Light"
5. "I Put a Spell On You"
6. "I Can Only Give You Everything"
7. "My Lonely Sad Eyes"
8. "I Got a Woman"
9. "Out of Sight"
10. "It's All Over Now, Baby Blue"
11. "Bad Or Good"
12. "How Long Baby"
13. "Hello Josephine"
14. "Don't You Know"
15. "Hey Girl"
16. "Bring 'Em On In" (album version)
17. "Richard Cory"
18. "Friday's Child"
19. "The Story Of Them, Part 1″
20. "The Story Of Them, Part 2″
21. "Times Getting Tougher Than Tough"
22. "Stormy Monday Blues"
23. "Baby What You Want Me To Do"
Disc Three
1. "Don't Start Crying Now" (demo)
2. "Gloria" (demo)
3. "One Two Brown Eyes" (demo)
4. "Stormy Monday Blues" (demo)
5. "Turn On Your Love Light" (alternate version)
6. "Baby Please Don't Go" (Take 4)
7. "Here Comes The Night" (Take 2)
8. "Gloria" (Live on BBC's "Saturday Club")
9. "All for Myself" (Live on BBC's "Saturday Club")
10. "Here Comes the Night" (Live on BBC's "Saturday Club")
11. "Little Girl" (version one)
12. "Go On Home Baby" (Take 4)
13. "I Gave My Love a Diamond" (Take 8)
14. "(It Won't Hurt) Half as Much" (Take 2)
15. "My Little Baby" (Take 1)
16. "How Long Baby" (Take 1)
17. "One More Time" (Take 14)
18. "Gloria" (Live on BBC's Saturday Club)
19. "Here Comes the Night" (Live on BBC's Saturday Club)
20. "One More Time" (Live on BBC's Saturday Club)
21. "Call My Name" (single version)
22. "Bring 'Em On In" (single version)
23. "Mighty Like a Rose"
24. "Richard Cory" (Alternate Version)

Latest posts by Best Classic Bands Staff
(see all)