Van Morrison
Duets: Re-Working The Catalogue
(RCA)
In A Word: Sing!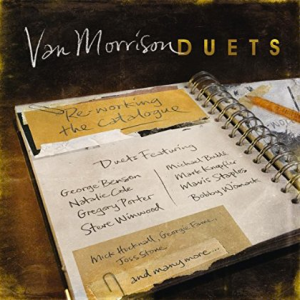 These albums that pair classic artists with others singers can too often be dodgy propositions best left tossed into the "more marketing than musical tactic" dustbin. Leave it to Van the Man, however, to make it work masterfully.
One key to this disc's considerable appeal is that it digs deeply into his songs and eschews the hoary hits. The likely best-known number here is the not-all-that-well-known "Real Real Gone," on which the biggest current name who guests, Michael Bublé, acquits himself rather nicely, albeit by channeling Van's style, which can never hurt a singer and always shows chops. The line-up here is hardly about marquee names; to wit, "Whatever Happened to P.J. Proby" features… P.J. Proby heartily trading and doubling lines with Morrison on a slinky jazz combo workout that tempts listeners to discover the answer to that question.
Rather than rope in marquee names as a sales ploy, Morrison brings in fellow singers who can really sing. The results yield wondrous moments like Van and Mavis Staples dynamically working off and around each other on a gospel-flavored "If I Ever Needed Someone" and what sounds like it could and should be a hit when Morrison teams up with Steve Winwood to interweave their voices (over Winwood's trademark Hammond B-3 organ) on "Fire In The Belly." When Natalie Cole and Van sing together ("These Are The Days") they strike delectably perfect harmony; it sounds like he and Georgie Fame, his tour and recording mate of recent years, are having a ball on the '50s-styled rocker "Get On With The Show;" his track with daughter Shana Morrison, "Rough God Goes Riding" offers an interesting genetic blend as well as tonal contrast.
George Benson and Mark Knopfler both also bring their guitars. And Morrison favors the British Isles as a source of many singers here: Fellow blue-eyed soul shouters like Mick Hucknall and Chris Farlowe, Joss Stone and jazz singers Clare and Gregory Porter – their peppy workout on "The Eternal Kansas City" (with a tres cool jazzy middle break) is one of the peak moments among the disc's 16 tracks and introduced me to a voice I want to hear more of. From one of Bobby Womack's last recordings on the smooth soul opening number, "Some Peace Of Mind," to some spooky blues with Taj Mahal on the closer, "How Can A Poor Boy?" (another stand-out number), there's nothing even close to a duff track on here. As one would expect with producer Don Was, a man of exceptional taste and musicality, overseeing the whole affair.
The best thing about this album? The singer that outshines everyone is Morrison, which comes as no surprise to this longtime admirer of his skills. Hence Duets: Re-Working The Catalogue is a worthy addition to his estimable catalog, and underscores how Van's pipes and how he uses them are a true gift from God.

Latest posts by Rob Patterson
(see all)