Todd Rundgren's 'Hello, It's Me': Wild Success Story
by Marc Nathan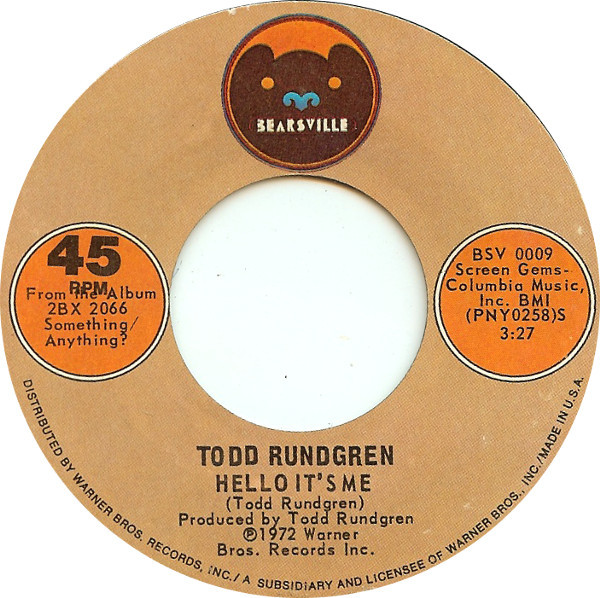 Todd Rundgren has a long list of credits as a producer (notably Meat Loaf's Bat Out of Hell and Grand Funk's We're an American Band), engineer (The Band's Stage Fright), recording artist, songwriter, video pioneer and much more. He was nominated (for the third time) for the Rock and Roll Hall of Fame's Class of 2021 and was finally selected for induction, though he chose not to attend. (That he was not already a member is considered a sin by many.) His greatest hit, "Hello, It's Me," was culled from his tour-de-force double LP, Something/Anything?, released in early spring of 1972.
The lead single, "I Saw The Light," reached the top 20 nationally, but the follow-up, "Couldn't I Just Tell You," now a power-pop staple in many rockers' musical diets, could only muster a couple of weeks at the bottom of the Hot 100.
A year later, with Rundgren and his label, Bearsville, set to release his fourth solo album, A Wizard, A True Star, it was thought that the Something/Anything? project was put to bed. But a savvy radio programmer in Cincinnati had other plans.
WKRQ was a new FM Top 40 station in Cincy. Up to this point, pop music was heard predominantly on the AM band, and the move to FM was just underway. To give his station an identity, WKRQ Program Director Bill Todd decided to employ a secret weapon record. He had programmed an AM Top 40 a few years earlier and had success with "Hello, It's Me" by Rundgren's previous group Nazz. The Nazz single, originally a B-side, had become a regional hit in various markets across the U.S. but barely made an impact nationally, peaking at #66.
Related: Our Album Rewind of Rundgren's A Wizard, A True Star
Bill Todd knew the song was a hit, and knew that Rundgren was the leader of Nazz, and had re-recorded it for Something/Anything? He decided it would be a perfect song to set him apart from his competition, the AM Top 40 WSAI.
Todd contacted Ted Cohen, the Warner-Elektra promotion man in the market, and told him of his plan. When Cohen alerted Paul Fishkin, president of Bearsville Records, of the situation, Fishkin decided to support Cohen and had 1,000 copies of "Hello, It's Me" manufactured on 45 RPM vinyl, and direct-shipped to Cohen's home for "seeding" of area stores. (They were literally given to the stores for free in exchange for prominent positioning in their racks.)
At just 18 years old, I was Bearsville's National Promotion guy. I flew to Cincinnati to meet up with Ted and we spent a day putting singles in the stores.
As the weeks went by, the song became a popular request item at WKRQ, and album rocker WEBN began to play the track in rotation as well. Stores were selling the initial "seeding" copies, but WSAI continued to turn a blind eye to the song. Soon, a third Cincinnati pop station, WJDJ, picked it up, and Fishkin went into action by calling upon old friend and veteran radio programmer Buzz Bennett, then working at top 40 station 13Q in Pittsburgh.
Buzz was another person who had played Nazz to huge success in New Orleans four years earlier. He listened to Fishkin's pitch about the Rundgren version, and the success that was developing in Ohio. Bennett agreed he would help the cause, and promised he'd play the record.
Imagine our surprise when the radio "adds" came in the following week, and I bounded into Paul's office to tell him "13Q added Nazz!!!" Buzz, who "enjoyed one" from time-to-time, had spaced out and when the time came to make the decision to put "Hello, It's Me" on the air, he chose the original Nazz version over Rundgren's remake.
Fishkin scrambled to make the call to his friend to correct the situation, and fortunately got it done. The single finally debuted on the national charts on Oct. 6, 1973.
Listen to the album version of the song
The song went on to become a gold single, and rejuvenated the Something/Anything? album, propelling it to gold status as well. On December 15, 1973, "Hello, It's Me" climbed to #5 on the Hot 100, becoming Rundgren's biggest hit.
Listen to an interview and studio concert that Rundgren did for his friends at Cincinnati's WKRQ later that year
"Hello, It's Me" may well have gone higher, and perhaps even #1, but an over-zealous Warners promotion man decided to give a lesser-rated Detroit radio station an exclusive on a new Alice Cooper song called "School's Out." In retribution, CKLW, the Detroit powerhouse Top 40 that influenced many stations, pulled all Warner product off its playlist for a few weeks and this came at the crucial time when we were fighting to climb toward that coveted #1 spot in Billboard.
Watch Rundgren perform the song on The Midnight Special
I've since worked many hit records over the decades, but Something/Anything? was my first gold album, and "Hello, It's Me" my first gold single. Paul Fishkin and Ted Cohen are still in my life, as is Todd R.
Related: Our Album Rewind of Something/Anything?
Tickets to see Rundgren perform are available here.

Latest posts by Marc Nathan
(see all)