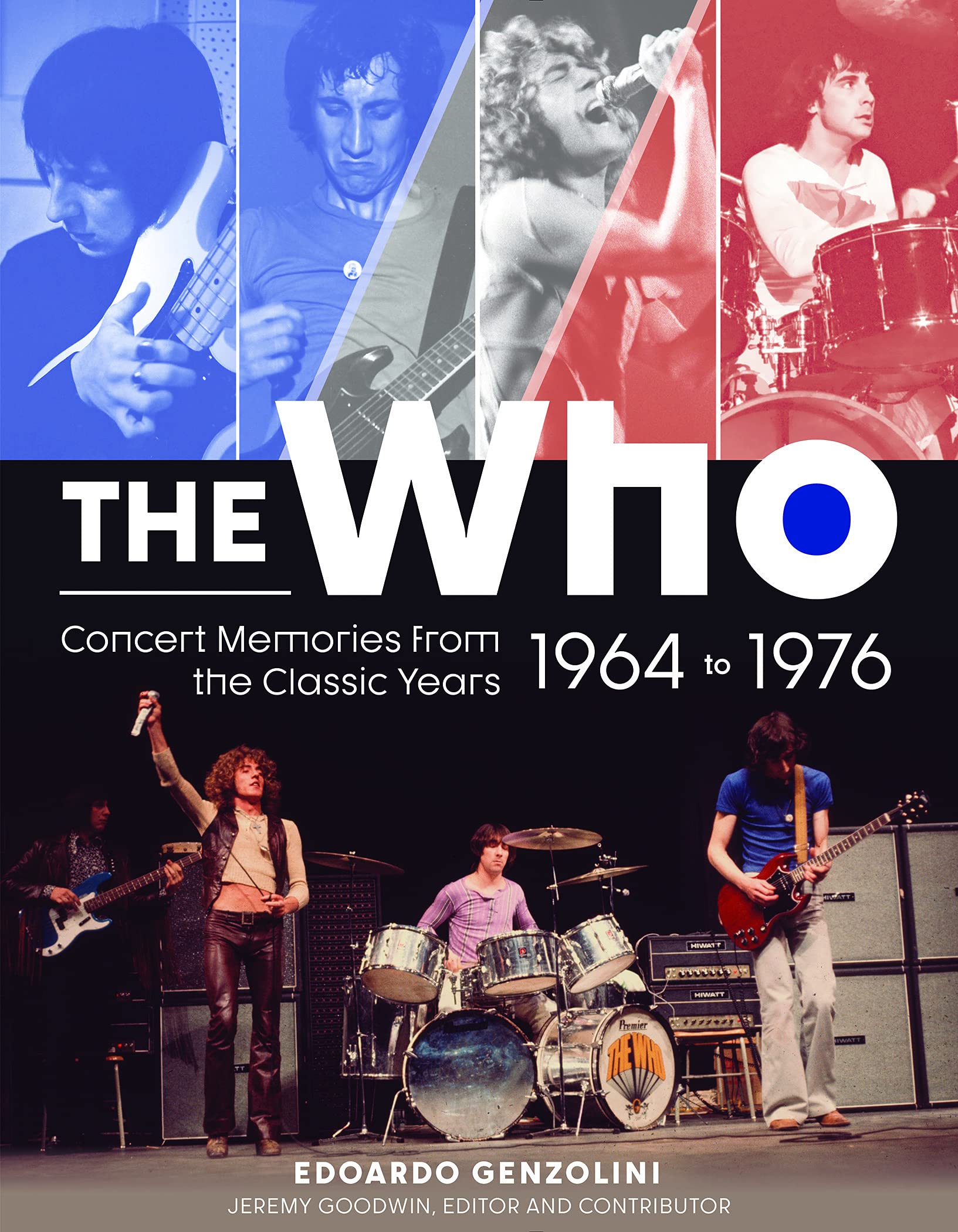 The Who's legendary stage performances have been celebrated with a new book that features previously unpublished photographs and untold stories. The Who: Concert Memories from the Classic Years, 1964-1976 from author Edoardo Genzolini, arrived Oct. 18, 2022, in the U.S. (and Dec. 18 in the U.K.), via Schiffer Publishing. Pete Townshend describes it as "extremely insightful." Scroll down to see several photos from the book.
From the publisher's announcement: Most know that the legendary English rock band The Who performed concerts at ear-splitting volume, smashed their instruments, and became one of the world's most influential groups. Their period from 1964 to 1976 saw the creation of such classic songs as "My Generation," "Pinball Wizard," and "Won't Get Fooled Again," as well as the Tommy, Who's Next, and Quadrophenia albums. But how many know the stories of those fans affected by their music and live performances, or the angst and insecurities that drove Pete Townshend to new heights during this time?
Who saw Townshend handing his guitar from the stage to a grateful fan, and what happened next? Who has seen photos of bassist John Entwistle being anything but the "Quiet One"? What happened backstage at Woodstock and the Monterey Pop Festival? The reader will be thrown into untold stories, hundreds of previously unpublished photographs, and uncirculated recordings clarifying the misinformation, myths, and legends. It's a labor of love from a fan for fans that gives voice to a collective consciousness that might otherwise fall silent over time.
In an April 8, 2020 email sent to the book's editor and contributor Jeremy Goodwin, Townshend wrote, "Edoardo's book looks wonderful. The photos are very special. His take on The Who, and on me, is intriguing and extremely insightful. I wasn't always a pleasant person to be around in the early days. It's good to see that sometimes I managed to do some decent things for fans."
Author Genzolini discovered The Who at age 13 by watching Woodstock and became devoted to the research of uncirculated archival material, most of which is displayed in this book. He is also a bass player and filmmaker mainly interested in found footage, and his first two films, Buonavisione (2017) and Eraserhead: Safe Removal (2019), have earned awards at Italian film festivals and screened at universities.
Related: The Who's 2022 tour continues
[As an Amazon Associate, Best Classic Bands earns revenue from qualifying purchases.]

Latest posts by Best Classic Bands Staff
(see all)