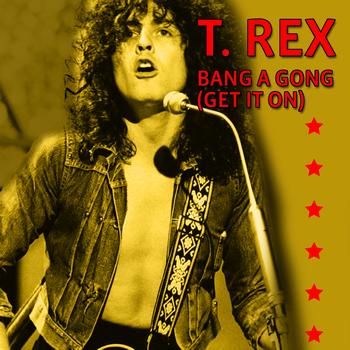 The pioneering glam rock band T. Rex (originally Tyrannosaurus Rex) could do no wrong in their native England. From 1970 to 1973, they had an astonishing ten Top 5 singles, including four #1's. (Yes, you read that right.) The band was formed in 1967 by guitarist Marc Bolan, who was not quite 20 years-old at the time, and he teamed with producer Tony Visconti to shape the group's records, a relationship that would continue for eight albums.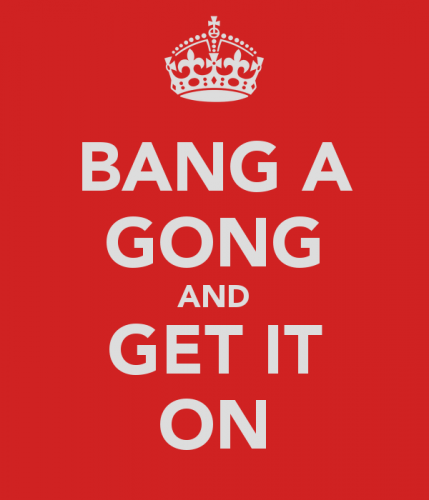 In 1971, Visconti and Bolan were in Los Angeles to record. "When I first heard ["Get It On"], only the day before we recorded it," wrote Visconti in his book, Tony Visconti: The Autobiography: Bowie, Bolan, and the Brooklyn Boy, "it sounded like a hit to me. The next day we drove… to Wally Heider Studios and recorded [the song] in one evening, complete with overdubbed backing vocals from Flo and Eddie – we knew we had our next single." That's King Crimson's (and later Foreigner's) Ian McDonald on saxophone.
Their British label, Fly, released "Get It On" and it became the band's second consecutive #1 chart hit on July 24. Their U.S. record label changed the name of the song to "Bang a Gong (Get It On)" to avoid confusion with a song also called "Get It On" that was released that same year by a jazz rock band named Chase.
American radio programmers never warmed to the band. Only four of their singles even made the pop charts and "Bang a Gong (Get It On)" peaked at just #10. It's one of those cases where the song simply took on a life of its own it years later and became to be appreciated only well after it was released.
"'Get It On' took them to an altogether different place," wrote Visconti. It became universally the most popular T. Rex song."
Their British label released over a dozen more singles and their Top 5 string continued. But in the U.S., the influential band was essentially "one and done" on the pop charts. 1973's terrific "20th Century Boy" never even charted in America.
On September 16, 1977, just two weeks shy of his 30th birthday, Bolan – who never learned to drive – was a passenger in a car driven by his girlfriend, the American singer Gloria Jones, after a night out. The vehicle crashed, killing Bolan. Many prominent classic rock giants attended his funeral including Visconti, David Bowie, Eric Clapton, Rod Stewart and Les Paul.
Just try to not tap your foot while watching our Classic Video. We've done extensive testing and we've determined that it's impossible not to…
Bolan was born September 30, 1947. Of his bandmates from what is considered their core era of 1970-1973, bass guitarist Steve Currie died in 1981, also in a car crash; and percussionist Mickey Finn died in 2003. Drummer Bill Legend is the sole surviving member.
And the studio version…
T. Rex were inducted into the Rock and Roll Hall of Fame's Class of 2020. Bolan and the band are the subject of recent tribute album, Angelheaded Hipster: The Songs of Marc Bolan and T. Rex, with 26 songs performed by such artists as U2 feat. Elton John, Joan Jett, Todd Rundgren, Perry Farrell, and more.

Latest posts by Best Classic Bands Staff
(see all)