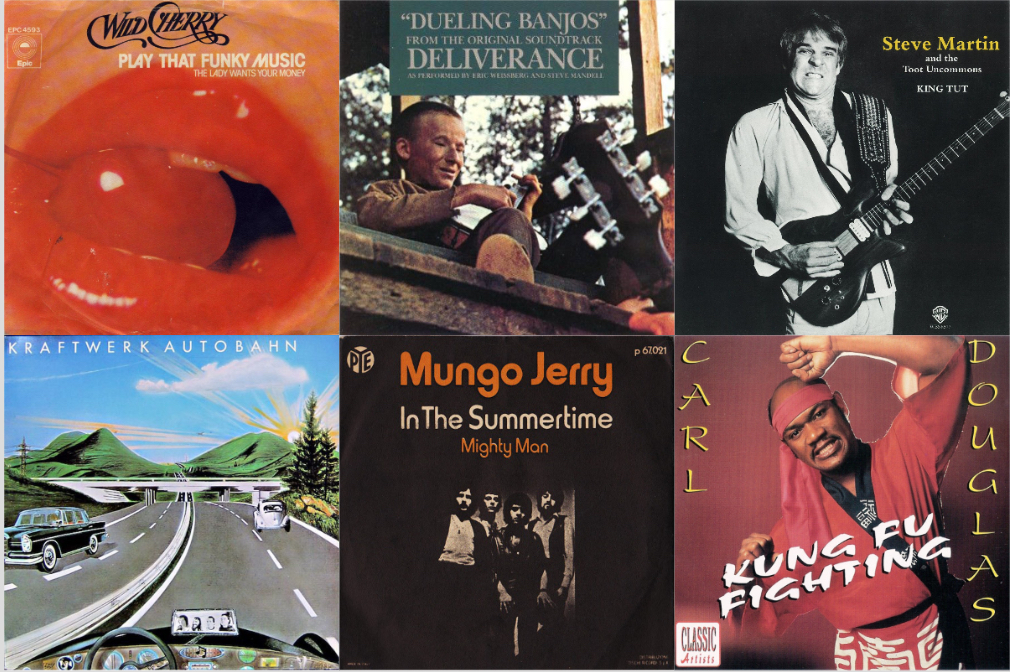 As we noted in our original lists of 11 surprising radio hits of the 1970s, when rock music was still being embraced by Top 40 radio, it was commonplace to hear artists from multiple genres being played side-by-side on the AM dial.
Of the literally thousands of songs that charted in that decade, not all were traditional songs that shouted "Hit!" when first played by radio programmers.
Part 4 of our series offers another 11 songs from the 1970s that surprisingly became radio hits. Many will, no doubt, leave you shaking your head, wondering "What were the program directors thinking?" Note: all chart numbers are for the U.S.
11) "King Tut" by Steve Martin
The actor-comedian took advantage of the acclaim received by the touring show of the treasures of the Egyptian boy king, Tutankhamun, by recording this novelty song for his A Wild and Crazy Guy album. Though the song (thankfully) only reached #17 on the Hot 100, the album rose to #2, selling over two million copies, thanks to Martin's popularity. Bonus points: He premiered the song on April 22, 1978, in an episode of the third season of the must-watch Saturday Night Live.
10) "Play That Funky Music" by Wild Cherry
When the group from Ohio formed in 1970 it started out as a rock band. Once I was a boogie singer playin' in a rock and roll band… But when disco started to get popular, one member relates that a concert attendee yelled, "Are you white boys gonna play some funky music?" This inspired their frontman, Rob Parissi, to grab a pen and start writing. The song was released in April 1976 and took a long climb up the chart, ultimately reaching #1 on the pop and soul charts. And just like that, rock band had become funk-rock band. Bonus points: The catchy lyric: Yeah they was dancin' and singin' and movin' to the groovin'…
9) "Joy" by Apollo 100
This instrumental, based on music from composer Johann Sebastian Bach, was released in 1971 and reached #6 in 1972. Bonus points: The founder of the studio group, Tom Parker, was briefly (in 1966) a member of the Animals.
8) "Pop Musik" by M
New York, London, Paris, Munich… And pretty much everywhere else was taken in by this oddball new wave hit, one of the last #1 songs of the 1970s. "M" was actually British musician Robin Scott and a rotating group of other performers. Bonus points: the single's success didn't translate to album sales. New York, London, Paris, Munich peaked at just #79.
7. "Chick-A-Boom (Don't Ya Jes' Love It)" by Daddy Dewdrop
If you look up "one-hit wonder" in the dictionary, you'll see the name "Daddy Dewdrop," the nom de plume of a songwriter named Dick Monda. "Daddy" talks his way through the song about a dream he had of a girl in a black bikini. His performance helped the song reach #9 in 1971.
6. "In the Summertime" by Mungo Jerry
OK, a good argument can be made that this song doesn't belong on the list. And I'm fine with that. This 1970 skiffle-style debut from the British rock band hit #1 in over a dozen countries, peaking at #3 on the Hot 100. Bonus points: No, the hirsute frontman is not actually named Jerry. He's Ray Dorset, the group's founder.
5. "Oh, Babe, What Would You Say?" by Hurricane Smith
Smith was really Norman Smith, the longtime Beatles engineer and producer of several early Pink Floyd albums. He adopted the name Hurricane and in 1972 recorded this song, written by his wife. Right around the time Smith turned 50 years old, the song reached #3 in 1973. Bonus points: Smith performed the song on The Tonight Show Starring Johnny Carson. Watch it here….
4. "Breaking Up is Hard to Do" (1975) by Neil Sedaka
Sedaka reached the pinnacle of his career with this 1962 #1 uptempo smash. A year later he had the final Top 20 single of a very successful career. And though he kept recording and releasing singles, Top 40 radio was finished with him. Then, in 1974, he released a confidently titled album, Sedaka's Back, and a single, "Laughter in the Rain," shot to #1 and began a significant comeback. A year later, he re-recorded a completely different version of his first hit, turning the song into a ballad. Though it didn't match the original's success, it did reach #8.
3. "Autobahn" by Kraftwerk
If you're traveling on the highway, motorway or autobahn, how great is it to listen to your favorite driving songs? The German electronic band, formed by Ralf Hütter and Florian Schneider in 1970, obviously felt the same way, producing an entire album to the joy of driving on their country's controlled-access highway system. The title cut's 22:43 takes up the album's entire Side 1 and was reduced to a taut 3:28 for its 1975 U.S. single which, er, stalled at #25 on the Hot 100. Bonus points: The lyrics of the song's chorus "Wir fahren fahren fahren auf der Autobahn" are often mistaken for an English-language translation: "Fun, fun, fun on the autobahn."
Kraftwerk received a Lifetime Achievement Award from the Recording Academy in 2014. As of 2020, they had been nominated for the Rock and Roll Hall of Fame six times, failing each time to be selected.
2) "Dueling Banjos" by Eric Weissberg and Steve Mandell
It's impossible to hear this song without visualizing the scene in which it's used in the powerful 1972 film Deliverance, when actor Ronny Cox is seen playing guitar opposite the inbred banjo player. (And from there, the mind wanders to what occurs on the ill-fated canoe trip… yikes!) The phenomenal song reached #4 in 1973, where it stayed for four weeks. Bonus points: the film's producers neglected to license the song and omitted its 1955 composer in the credits… oops! He sued, he won.
1. "Kung Fu Fighting" by Carl Douglas
The first few notes sound like 1974 soul music. And then Douglas sings the song's first lyrics and you know this isn't the Spinners. The song arrived during the Kung Fu craze that included a hit TV series and numerous Bruce Lee films. The song made the Jamaica-born Douglas a classic one-hit wonder. But what a hit it was! "Kung Fu Fighting" reached #1 and is said to have sold a smashing 11 million copies worldwide.
Part 1 of our series, with songs like "My Sweet Lord," "Short People" and "Disco Duck," is here; Part 2, featuring hits by Chuck Berry, Warren Zevon and Cher, is here; and Part 3, which includes Focus, Maria Muldaur and "Mr. Jaws," is here. Part 5 features one with a singing nun; no, not that one. And Part 6 features yet another oddball collection.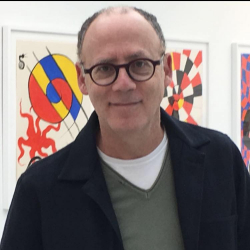 Latest posts by Greg Brodsky
(see all)