Steely Dan's Sophisticated 'Countdown to Ecstasy' @50
by Sam Sutherland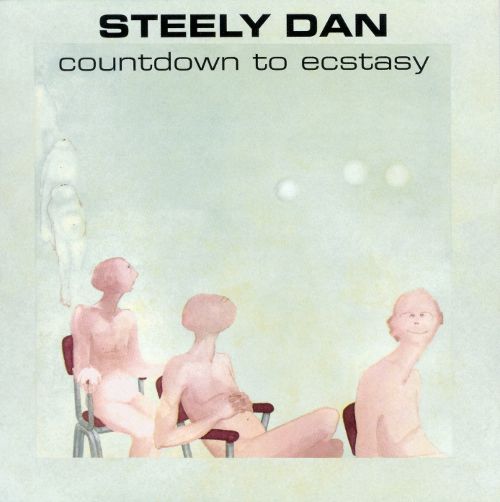 With the success of their 1972 debut album Can't Buy a Thrill and single hits "Do It Again" and "Reelin' in the Years," Walter Becker and Donald Fagen were compelled to transform Steely Dan from studio construct to working band. To record Can't Buy a Thrill, the duo and producer Gary Katz had assembled a sextet to get the two songwriters' original material on tape. Now they were pushed onto the concert trail to cash in on back-to-back hits while facing parallel pressure to deliver a sophomore set that could add to their career momentum.
Stage and studio thus became crucibles for the original lineup, which consisted of other East Coast musicians: guitarists Denny Dias and Jeff "Skunk" Baxter and drummer/vocalist Jim Hodder augmented Fagen's keyboards and vocals, with Becker moving to bass, ceding his own chops as a guitarist in favor of the Dias-Baxter front line. Fagen's lack of self-confidence as a singer had prompted the addition of putative lead singer David Palmer, but during sessions for …Thrill it became apparent that Palmer's light, lyrical tenor was ill-suited to the darker corners of Steely Dan's lyrics.
"He was a good singer for us early on," Fagen would later recall, "but he didn't really have the attitude to put the songs over. So, I started doing it myself, much to my chagrin. It seems to have worked out." By the time the band finished the second full-length, Countdown to Ecstasy, Palmer would be gone.
Shuttling from tour dates to sessions at the Village Recorder in Santa Monica, Becker and Fagen found themselves on a just-in-time delivery cycle, beginning tracking on some songs before lyrics were finished. If the songcraft displayed on the first album reflected their Brill Building apprenticeship with Jay and the Americans, the new material proved more open-ended—and more sophisticated. Precocious nerds from suburban New York and New Jersey, the two musicians had bonded over their shared love of jazz, blues and the Beat poets after meeting at Bard College in 1967, and their shared "East Coast beat sensibility" had winked beneath the complex chord voicings and sardonic lyrics on …Thrill. The songs that would comprise Countdown to Ecstasy, released in early July 1973, brought those influences closer to the foreground while being tailored specifically to the band's core quintet.
The crack of Hodder's snare launches "Bodhisattva," the opening track, into a Zen boogie that lampoons New Age mysticism while showcasing the band's two guitarists, who veer from harmonized twin-leads to a round robin of solos, Dias reeling off pure bebop figures before handing off to Fagen's circular keyboard riff, followed by Baxter's darting, double-time rock solos. The song's cynical take on chic spirituality suggests its authors' ambivalence toward West Coast cultural pretentions they were finding in their new Southern California theater of operations.
Related: Our look at another Steely Dan classic, Aja
A tension between past and present surfaces in "Razor Boy," which downshifts to a loping, Latin-tinged ballad that balances a lovely, lonely melody against Fagen's pessimistic, second-person warning against the wages of pleasure:
"I guess only women in cages
Can play down the things they lose
You think no tomorrow will come
When you lay down you can't refuse"
The oblique narrative confers both intimacy and mystery, making the listener complicit as an eavesdropper with hints but few facts about the relationship at hand. Victor Feldman's gleaming vibes and Ray Brown's supple acoustic bass underline the track's jazz sensibility, which continues with "The Boston Rag," a darker reminiscence of wasted nights "back in Nineteen Sixty-Five," dropping references not only to Beantown but also to Queens ("Lady Bayside") and Manhattan's Seventh Avenue as the music prowls the frontier between blues, rock and jazz.
Having ventured this far beyond mainstream rock three songs in, Steely Dan then crosses the border further into jazz through the angular guitar and keyboard phrasing, dissonant accents and key change head fakes of "Your Gold Teeth," the album's most adventurous track.
Latin rhythms, yet another oblique accusation hinting at sexual power plays, and a reference to avant-garde mezzo-soprano Cathy Berberian locate us far from Main Street U.S.A. and the Top 40. By top loading the album with such complex music, Steely Dan sacrifices some of the commercial accessibility generated with their debut, yet those gambles further advance and define their style's marriage of seductive musical ideas with often jarring narrative themes.
That Becker and Fagen hadn't forgotten how to sharpen a hook is illustrated deftly with the back-to-back punch of the second side's would-be hits and future catalog staples, "Show Biz Kids" and "My Old School," which further deepen the East-West, past-present thematic poles.
On "Show Biz Kids," guest Rick Derringer adds gritty slide guitar riffs that leer between lyrics offering a prescient indictment of entitled decadence, "show biz kids making movies of themselves" that "don't give a fuck about anybody else." Apart from predicting the Kardashian scourge awaiting us 30 years in the future, the song also anticipates the gilded age of merch: "They got the Steely Dan t-shirt" couldn't have been more ironic when written, long before the Dan themselves surrendered to that revenue stream. Whether its late arrival in the sequence or the FCC-baiting f-bomb undermined its fate as the first single, stalling at #61 on the Hot 100, "Show Biz Kids" was still an album high point and a future classic rock staple, as well as another signifier to Becker and Fagen's jaundiced view of Hollyweird and Lost Wages in particular, and celebrity culture in general.
Even less successful in its release as the album's second single was "My Old School," a caustic romp with autobiographical roots in a Bard drug bust that had landed its writers in jail. Like "Reelin' in the Years," "My Old School" deconstructs school-day memories into an ebullient anthem of liberation. The track soars through staccato guitar solos and a bravura Jimmie Haskell arrangement that marshals four saxophones to culminate in a sonic punchline: When Fagen's vow to never return to his college town hinges on a Doomsday scenario, "California tumbles into the sea," the sax chorus ends with a swan-diving baritone sax note funnier than the lyric itself.
A lovestruck valentine to a New Orleans hooker ("Pearl of the Quarter") and a white-knuckle, post-nuclear distress call ("King of the World") completed the album, maintaining the high bar already set, but July 1973's Countdown to Ecstasy would see the poorest sales of any of Steely Dan's albums from '72 through '80. Seen against the longer arc of their evolution, however, its musical advances only strengthened the foundations of Becker and Fagen's wily, whip-smart music.
Related: 1973 in 50 classic rock albums
Fagen continues to tour as Steely Dan. They'll be serving as the opening act for Eagles' final tour. Tickets are available here and here.
Related: Our Album Rewind of their follow-up, 1974's Pretzel Logic

Latest posts by Sam Sutherland
(see all)