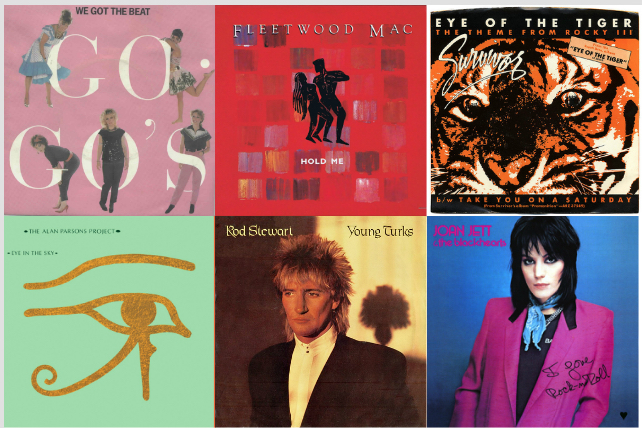 In 1982, a device by the so-called Unabomber exploded in a computer science room at Vanderbilt University, Cal Ripken Jr. began his MLB record consecutive games played streak (and no one noticed), a movie called ET: The Extra Terrestrial was released, and the compact disc made its debut.
As Best Classic Bands looked back at the top hits for 1982, we were as surprised at the number of legit classic rock tracks that were on New York's WABC Top 40 radio hits of the year.
At #40 was the Alan Parsons Project's "Eye in the Sky" with a great vocal from Eric Woolfson. It's the group's biggest U.S. hit.
One of two #1 hits for Men At Work–"Who Can it Be Now"–was at #39 for the year. The Police's biggest single up until that time, "Every Little Thing She Does is Magic," weighed in at #38.
Toto had two huge hits off their Toto IV album. "Rosanna" was the year's #34 biggest. At #29 was "We Got The Beat," one of two singles from The Go-Go's debut LP. Just look at that hair!
Lindsey Buckingham's first solo single, "Trouble," was also his biggest. It was #25 for the year.
One of three career #1s for the Steve Miller Band–"Abracadabra"–was 1982's #22 for the year.
If you were wondering what the highest-charting hit of Journey's career was, look no further than "Open Arms," which reached #2 on the Hot 100. It was WABC's #26 biggest of the year. They also had the year's #21 hit with "Don't Stop Believin'."
At #20, Rick Springfield had his third and final Top 10 hit with "Don't Talk To Strangers." The Australian rocker has enjoyed a bit of an acting renaissance in recent years with roles in HBO's True Detective and the feature film Rikki and the Flash.
Rod Stewart's string of huge hits continued; "Young Turks" was #16 for 1982.
At #15, The Cars enjoyed their biggest hit up to that point with the title track to their album Shake It Up. Fleetwood Mac scored their biggest hit since 1977's "Dreams." "Hold Me" was the year's #14 single.
Survivor's monster hit, "Eye of the Tiger," was #1 for six weeks. At #12 for the year, it arguably remains the biggest classic rock hit of 1982. It's still synonymous with the Rocky franchise.
A fellow then known as John Cougar enjoyed two big hits. His "Jack and Diane" was #19 and "Hurts So Good" was #10. Just in front of it at #9 was Joan Jett and the Blackhearts' anthem "I Love Rock 'n' Roll." She was just 23 years old.
Stevie Nicks' duet with Don Henley, "Leather and Lace" was at #8. At #6 was "Harden My Heart," the debut single by Quarterflash, which started as Seafood Mama before they signed to a major label. (The name change…. good career move…)
Jumping ahead to #4 was Hall and Oates' "I Can't Go For That (No Can Do)," one of 12 Top 10 hits the duo scored in a 3+ year period, one of the all-time great chart runs.
Foreigner would have to wait two more years to score their first #1 hit but their 1982 ballad, "Waiting For a Girl Like You," was WABC's #3 song for the year.
At #2, Olivia Newton-John's "Physical." (Billboard had it at #1 for the year.)
The J. Geils Band had two huge hits in 1982. The title cut from Freeze-Frame was at #30. The #1 single for the year on WABC? The band's "Centerfold."
Chart courtesy of musicradio.com
40. "Eye in the Sky" – Alan Parsons Project (Arista)
39. "Who Can it Be Now" – Men at Work (Columbia)
38. "Every Little Thing She Does is Magic" – Police (A&M)
37. "Make a Move on Me" – Olivia Newton-John (MCA)
36. "Chariots of Fire" – Vangelis (Polydor)
35. "That Girl" – Stevie Wonder (Tamla)
34. "Rosanna" – Toto (Columbia)
33. "The Girl is Mine" – Michael Jackson and Paul McCartney (Epic)
32. "Heart Attack" – Olivia Newton-John (MCA)
31. "Oh No" – Commodores (Motown)
30. "Freeze-Frame" – J. Geils Band (EMI America)
29. "We Got the Beat" – Go-Go's (I.R.S.)
28. "Up Where We Belong" – Joe Cocker and Jennifer Warnes (Island)
27. "Hard to Say I'm Sorry" – Chicago (Columbia)
26. "Open Arms" – Journey (Columbia)
25. "Trouble" – Lindsey Buckingham (Asylum)
24. "Why Do Fools Fall in Love" – Diana Ross (RCA)
23. "Comin' In and Out of Your Life" – Barbra Streisand (Columbia)
22. "Abracadabra" – Steve Miller Band (Capitol)
21. "Don't Stop Believin'" – Journey (Columbia)
 20. "Don't Talk To Strangers" – Rick Springfield (RCA)
19. "Jack and Diane" – John Cougar (Mercury)
18. "Hooked on Classics" – Royal Philharmonic Orchestra (RCA)
17. "The Sweetest Thing" – Juice Newton (Capitol)
16. "Young Turks" – Rod Stewart (Warner Bros.)
15. "Shake It Up" – The Cars (Elektra)
14. "Hold Me" – Fleetwood Mac (Warner Bros.)
13. "Truly" – Lionel Ritchie (Motown)
12. ""Eye of the Tiger" – Survivor (Scotti Brothers)
11. "Turn Your Love Around" – George Benson (Warner Bros.)
10. "Hurts So Good" – John Cougar (Mercury)
9. "I Love Rock 'N' Roll" – Joan Jett and the Blackhearts (Boardwalk)
8. "Leather and Lace" – Stevie Nicks (Modern)
7. "Let's Groove" – Earth, Wind and Fire (ARC/Columbia)
6. "Harden My Heart" – Quarterflash (Geffen)
5. "Ebony and Ivory" – Paul McCartney and Stevie Wonder (Columbia)
4. "I Can't Go For That (No Can Do)" – Hall and Oates (RCA)
3. "Waiting For a Girl Like You" – Foreigner (Atlantic)
2. "Physical" – Olivia Newton-John (MCA)
1. "Centerfold" – J. Geils Band (EMI America)
Related: The biggest hits from 1972… 10 years' earlier

Latest posts by Best Classic Bands Staff
(see all)