Steely Dan Delivers Bite-Sized Gems on 'Pretzel Logic'
by Sam Stone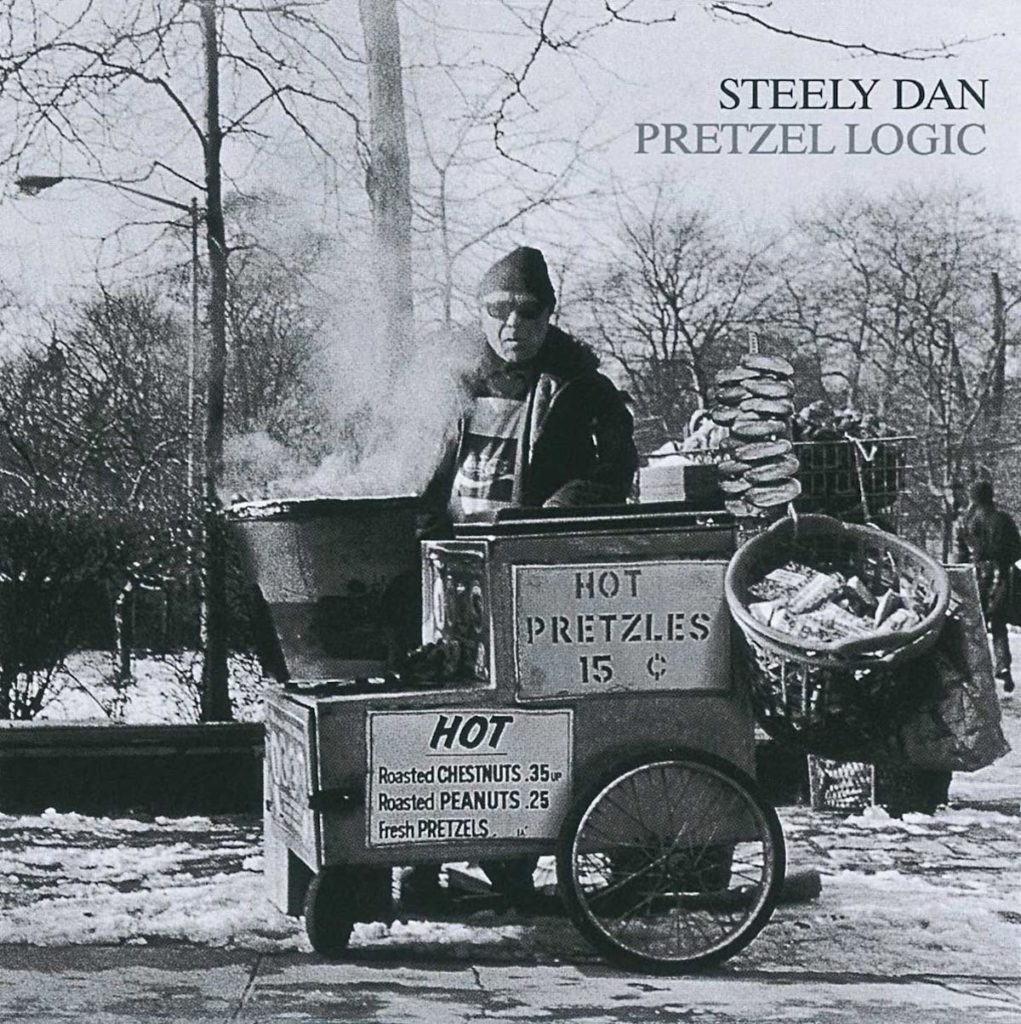 Its introduction is unlike any other. Silence. Waiting. Turning up the volume to see if anything is coming out, waiting some more. Then those gurgling low notes, followed finally by a catchy piano figure, pristinely captured, perfectly balanced. Just like that, Steely Dan has invited—no, wrangled—you into their world of freaks, creeps, lost love and suspended time.
Steely Dan was three years into their professional career when Pretzel Logic hit shelves on February 20, 1974. They'd made a name for themselves with Can't Buy a Thrill, gone from studio band to touring outfit with Countdown to Ecstasy, and found chart success along the way. For their next move, the band retreated into Village Recorder in L.A. with Gary Katz again presiding over the sessions. There they tracked what might be the most concise album of their career.
Listen to the title track from Pretzel Logic
On Pretzel Logic, Steely Dan honed their wryly humorous lyrics; perfected their luscious arrangements that straddle rock, pop, jazz, blues, carnival music and everything in between; and they'd set aside the lengthy jams. The classic lineup was still intact and with backing from L.A.'s best session musicians, there was no way it wouldn't be sonic perfection. The core duo of Walter Becker and Donald Fagen had progressed as writers, too. They introduce us to even more beguiling characters—Charlie Freak, Buzz and many that went unnamed. But the world of Pretzel Logic begins with Rikki.
"We hear you're leaving, that's okay," Fagen sings, a certain resignation in his delivery. Our narrator speaks of a romance cut short, but is it really OK? It seems as if he's faking it. He wryly lists off activities the pair could do in an effort to win her back, followed by a flippant, protective "I don't know." But by the middle he lets his true intent show: "You tell yourself you're not my kind/but you don't even know your mind/and you could have a change of heart." Will she? He knows she's leaving, and it's not OK, but what can he do, really?
It's unexpected to see this role reversal in pop storytelling. It wasn't often that a '70s pop record would center around a man's fight to retrieve lost love, especially with such a "whatever" attitude. It's a dejected, resigned cousin of those old "how do I make him love me?" pop successes of the previous decade. Here, the solution isn't in a kiss, in telling him you're never gonna leave him or in wishing and hoping. Rikki is moving on, though their little wild time had only just begun, and all our narrator can do is leave behind his number and hope she'll come back around.
"Rikki Don't Lose That Number," which became Steely Dan's highest-charting single, reaching #4 in Billboard, was more than the opening salvo of the album, it's a tightly packed, four-minute hit single that demonstrates the band's shift into bite-sized yet filling song-craft. It also introduces another theme—loneliness and social isolation.  The bulk of Pretzel Logic, which itself peaked at #8 on the Billboard LP chart,  deals with outcasts. Whether in the rube town in "Night By Night," or the other side of the tracks in "Barrytown," we're dealing with people who know they're trapped in a certain social or economic status within a disorderly world, wishing to "cash in their 10-cent life for another one."
Underpinning the story on "Night By Night" is a tight and funky arrangement featuring a young Jeff Porcaro on drums. He'd go on to fame with Toto in the decade to follow, but here he was covering for Jim Gordon, the Wrecking Crew member and one-time Domino who features on the rest of the album. Add to it the syncopated chop of the rhythm guitar courtesy of Denny Dias, the alternately swirling and stabbing horns and Jeff "Skunk" Baxter's note-perfect shredding solo, and you get all the ingredients that make Steely Dan great.
Related: Our Album Rewind of Countdown to Ecstasy
But while the Dan prove they can rock on "Night By Night," "Any Major Dude Will Tell You" (released as the B-side to "Rikki") shows a gentler, more comforting side, supported by a fluid electric guitar riff and bridged with a memorable country-inspired guitar solo.
A similar breeziness makes its way to "Barrytown," with its jangling pedal steel, guitar and tambourine combo. This commentary on class and social differences is a clear Dylan pastiche, from the "Times They Are A-Changin'" reference to Fagen's nasally drawl. Yet it's also a careful meditation on belonging, prejudice and the challenge of adjusting to surroundings. The narrator concedes in the beginning, "I'm not one to look behind, I know that times must change." Yet, the folks over in Barrytown represent a shifting tide—their hair and their clothes just aren't proper. For all the acceptance he claims to have at the start, the narrator "likes things like they used to be." His love interest? More progressive and clearly from Barrytown. She's got that "special lack of grace," he says, and she won't be treated kindly in the world outside of the Barrytown bubble. Whether she represents a societal change he can't handle or simply a threat to his street cred, he has to break off their relationship.
Sides one and two are bridged by convincing odes to jazz. "East St. Louis Toodle-Oo" revamps the old Duke Ellington/Bubber Miley composition. Skunk Baxter's pedal steel takes the place of the original trombone, Becker's wah-wah guitar emulates the muted trumpet line and Fagen not only shows off his stride piano chops, but also contributes saxophone.
The jazz nods continue with "Parker's Band," a tribute to legendary saxophonist Charlie Parker. The angular backing, weaving chordal movement and the jabbing horns take a page from bebop, while Fagen sings of "Groovin' High," a song Parker performed, and "Relaxing at Camarillo," Parker's jazz-blues standard inspired by his stay at a Ventura mental hospital.
The time-hopping continues on the title track. With a snarling vocal once again by Fagen, horn jabs galore, a ferocious guitar solo and some of the most abstract lyrics on the album, "Pretzel Logic" remains a fan favorite and a staple of live shows over the decades. While the original recording smokes, recent live performances with Steve Winwood on vocals bring the song to another level.
"Charlie Freak" and "Through With Buzz" see Becker and Fagen returning to character studies, delivering observations on unsavory people.  Buzz seems to have no redeeming qualities: "He takes all my money, he's not very funny," Fagen declares before switching tenses once again and revealing what's really bugging him: "I remember when he stole my girl/Drug her all around the world/You know I'm cool, yes I feel alright/'Cept when I'm in my room and it's late at night."  That sense of paranoia lingers on through the murder ballad "With a Gun" and "Charlie Freak," a tale about a desolate man with instrumentation so sinister you can almost see him walking alone on a winter's night.
The album wraps with another highlight, "Monkey in Your Soul" propelled by a slinky horn line and a brief tale of leaving love behind. It might just be the funkiest song on the album.
After Pretzel Logic, Steely Dan would effectively escape the fishbowl of concert touring (at least until 1993) and retire into their playground, the recording studio. They went on to create more examples of slick, jazzy pop that would bring them even more acclaim. But here on Pretzel Logic, the band managed to synthesize all the things that made them great—observant storytelling, humor, inventive instrumental breaks and sleek production—all in a digestible, radio-friendly package that no doubt helped make their later experiments possible.
Listen to a live performance of "Rikki Don't Lose That Number" from London, 1974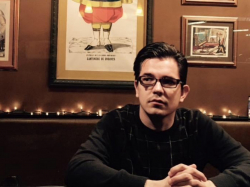 Latest posts by Sam Stone
(see all)