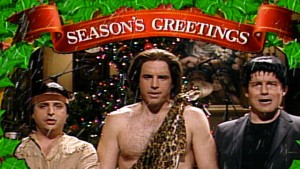 If you think the David Bowie-Bing Crosby pairing on "Little Drummer Boy" was unusual, what to make of a trio of three fictional characters from literature: Tarzan, Tonto and Frankenstein?
This grouping became a recurring comedy sketch on Saturday Night Live in the late '80s and featured Kevin Nealon as Tarzan, Jon Lovitz as the Lone Ranger's sidekick and the late Phil Hartman as Frankenstein. That none of the characters was known for his verbal skills made their broken English and grunts even funnier.
Lovitz was a SNL cast member from 1985 – 1990. Among his other notable characters were the Master Thespian, Tommy Flanagan – The Pathological Liar ("yeah, that's the ticket!") and Hanukkah Harry.
Nealon joined the cast in 1986. In his nine seasons, the versatile comedian portrayed such roles as the Subliminal Man and as part of the duo Hanz and Franz, with Dana Carvey ("we're going to… pump… you up!").
The much-beloved Hartman also joined SNL in 1986, remaining for eight seasons, performing a wide range of characters from Bill Clinton to Ed McMahon ("you are correct, sir!") to the Anal Retentive Chef. On May 27, 1998, Hartman was murdered by his wife. He was just 49 years old.
Related: Holiday music gift guide
Watch this Classic Video that originally aired on December 17, 1988, where the trio "sing" "Deck the Halls"
Related: Our story on the Bowie-Crosby "Little Drummer Boy" classic

Latest posts by Best Classic Bands Staff
(see all)