When soul giant Sam Cooke was gunned down at age 33 in downtown Los Angeles, on December 11, 1964, at the Hacienda Motel, it was front-page news all over the U.S.
Sam Cooke: Legend, a documentary from ABKCO Films, was reissued on DVD in 2021. Over the past few decades I've spoken with several of Cooke's close friends, musical associates, record producers and engineers who worked with him in the studio, plus others who encountered him.
Record label owner Bob Keane (who died in 2009) initially heard Cooke singing in the Soul Stirrers gospel group in 1957. Cooke, under the name Dale Cook, had released "Lovable," a pop version of his earlier gospel song, "Wonderful." (The nom de disque had been an attempt to keep Cooke's voice and identity from the sanctified music community.) Not long after, Cooke earned a pop hit with "You Send Me," on the Keen label. By the end of December '57, the record had sold close to two million copies.
In 1960, Cooke, born January 22, 1931, moved to RCA Records, and budding songwriters Lou Adler and Herb Alpert wrote their first song for him, "All of My Life." After that, they collaborated with Cooke to compose "Wonderful World." The single reached #12 on the Billboard pop chart in 1960.
"Herb and I started writing 'Wonderful World,' and then I finished it with Sam at the Knickerbocker Hotel in Hollywood," said Adler, who went on to become a highly successful producer and record label entrepreneur (the Mamas and the Papas, Carole King). "Sam taught me how to communicate with musicians when you're not a musician. He gave me a body language for working in the studio. I went out with him as kind of a road manager with the Soul Stirrers—that included Lou Rawls. Herb and I produced Rawls' first pop record.
Listen to Cooke's Civil Rights anthem "A Change is Gonna Come"
"Sam also introduced me to a Black world in Los Angeles, because I roomed with him for about eight months, including at the Knickerbocker," added Adler. "I learned more about the music and the people than I'd ever known, and I never experienced one bit of racial intolerance. People took me in because I was with Sam. Sam sang at my wedding [to actress Shelley Fabares in 1964].
"As a vocalist, he influenced Jackie Wilson and Otis Redding. He was the voice of that era, a tremendous vocalist. Also, he had a tremendous charisma that just spewed out of him in the recording studio, the stage, wherever he was."
"When Sam went to RCA, Radio Recorders was the de facto studio in Hollywood," said producer/engineer Bones Howe. "I worked with Sam and ran the tape machines on one of his RCA albums. He was a sweetheart of a guy. He was a singer and a songwriter. He brought in a lot of his stuff. In the beginning, RCA was throwing stuff at him. Sam did so many of the things he wrote, and they started to be hits. At that point, you don't mess with success."
Bobby Womack first came to prominence in the 1950s as part of the Womack Brothers, a gospel group comprising his siblings Cecil, Harry, Curtis and Friendly. Impressed with the group, Cooke encouraged them to come to Los Angeles, where he signed them to his SAR label. They made the transition from gospel to R&B, when they recorded as the Valentinos, scoring with "Lookin' For a Love" and "It's All Over Now," written by Bobby and his sister-in-law Shirley Womack. The song was covered by the Rolling Stones and produced by their manager Andrew Loog Oldham.
"I came out to Hollywood in 1960 with Sam Cooke," Bobby Womack volunteered in a 2008 interview. [Womack died in 2014.] "Sam was a very likable guy and he knew everybody. 'Hey, Nat [King Cole], I want you to meet Bobby Womack. He's gonna be big one day.' They were talking like they knew each other for a hundred years. 'Pleasure meeting you, man.' I walked away thinking about it. 'Man, I just met Nat King Cole…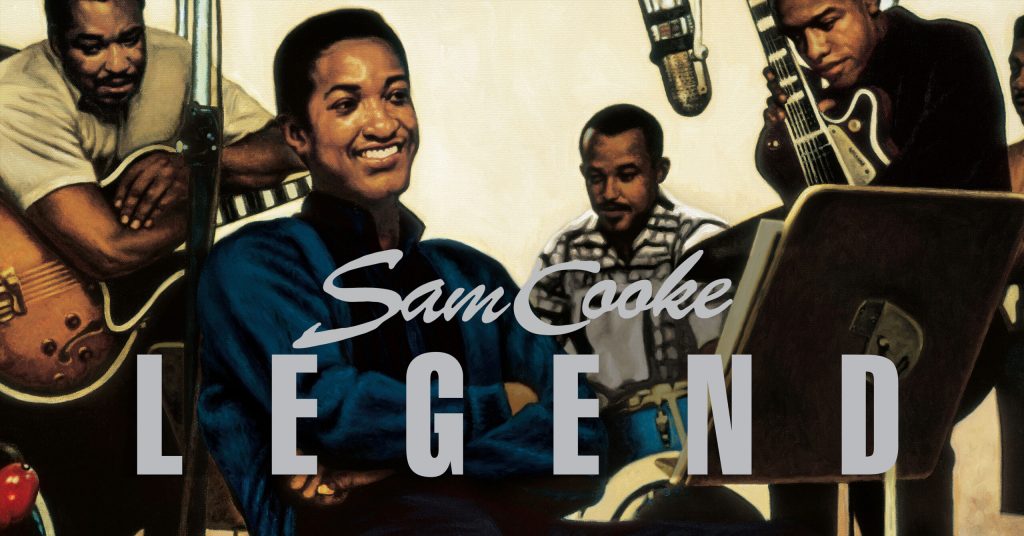 "Sam had a big influence on anybody," added Womack. "I mean, to me, cancer would be good if Sam gave it out. I'm serious. Damn, I've seen artists who have their own styles, but if they hung around Sam a minute, they are gonna make some of his runs. Just rubs off on you. Sam was a natural.
"He would always say, 'Bobby, you could listen to a person talk and know what they sound like. They sound the same way they talk. Listen to Louis Armstrong. Listen to Jackie Wilson. Listen to Ray Charles. All these guys have different styles and don't try and sound like each other. When you are born a certain way, you can't even think about tryin' to sound like somebody else. It would be hard to do.'
"I'd always regarded Sam Cooke and Elvis Presley, and later Bob Dylan, as the real self -producing artists of the era," said Oldham. "Sinatra and Bing Crosby had to be the guv'ners. Keith Richards and I got to watch Mr. Sinatra record in Hollywood at United Western studios on Sunset Blvd. That was an education in form and producing thyself. It's an art that Julio Iglesias and Lionel Richie mastered in the '80s—to know thyself and how to dress yourself in sound, song and polish every word so that it belongs. It places you above anything that can be deemed the A&R domain. You have that uncanny period of time where you are at one with the audience.
"You only have to listen to the Sam Cooke studio chatter and Sam's instructions to know this was the reality of Sam Cooke. He wore the band like a glove. He knew what fit his hand and his command was spot on."
Sam Cooke was inducted into the Rock and Roll Hall of Fame in 1986, a member of the very first "class."
Watch the trailer for Sam Cooke: Legend
Related: Sam Cooke is a featured character in the 2020 film One Night in Miami
Latest posts by Harvey Kubernik
(see all)