Update (November 14): The film will return to theaters for one additional showing, this Thursday, November 17. Click here for theater info and to buy tickets.
On November 18, Zoë Vision, a division of the Concord Music Group, in partnership with ole, will release Rush | Time Stand Still, the feature-length documentary film described below. The Blu-ray and DVD have a running time of 1 hour and 37 minutes of documentary footage, with an additional 67 minutes of never-before-released bonus content.
The track listing is as follows:
1. When I Was a Kid (3:05) 2. It's a Really Hard Life (10:46) 3. A Huge Accomplishment (8:26) 4. Building R40 (4:57) 5. Fan-Tastic (18:57) 6. Hello Toronto (9:41) 7. "Ride On" Neil (2:31) 8. Your Weakest Point (6:43) 9. Marathon Not a Sprint (11:04) 10. At Road End's (17:00)
LIVE FROM THE RABBIT HOLE
1. Subdivisions (5:34) 2. Superconductor (5:55) 3. Show Don't Tell (6:19) 4. The Pass (5:14) 5. Closer To The Heart (5:05) 6. Manhattan Project (5:07) 7. Scars (4:49) 8. War Paint (5:50) 9. Tom Sawyer (5:44) 10. 2112: Overture / La Villa Strangiato / In The Mood (11:48) 11. In The Professor's Warmup (5:34)
Related: Rush's 2112 is getting a 40th anniversary release
Following is our original post on the film…
The new documentary Rush | Time Stand Still will be screened at more than 400 U.S. movie theaters for one night only, November 3, at 7:30 pm local time. The event, narrated by Paul Rudd, provides a look into the classic rock band's sold-out final ("R40") tour and the relationship Rush has with their fans.
In addition to the documentary, fans will also view exclusive extras including Rush | A Salute to Kings, a 20-minute in-depth discussion with Gene Simmons (Kiss), Chad Smith (Red Hot Chili Peppers), Taylor Hawkins (Foo Fighters), Ann and Nancy Wilson (Heart), Scott Gorham (Thin Lizzy) and the band's producer Nick Raskulinecz, as they share their stories about Rush at home and away for over 40 years.
Tickets for Rush | Time Stand Still can be purchased online or at participating theater box offices. Fans throughout the U.S. will be able to enjoy the event in more than 430 select movie theaters through Fathom's Digital Broadcast Network. For a complete list of theater locations visit the Fathom Events website (theaters and participants are subject to change).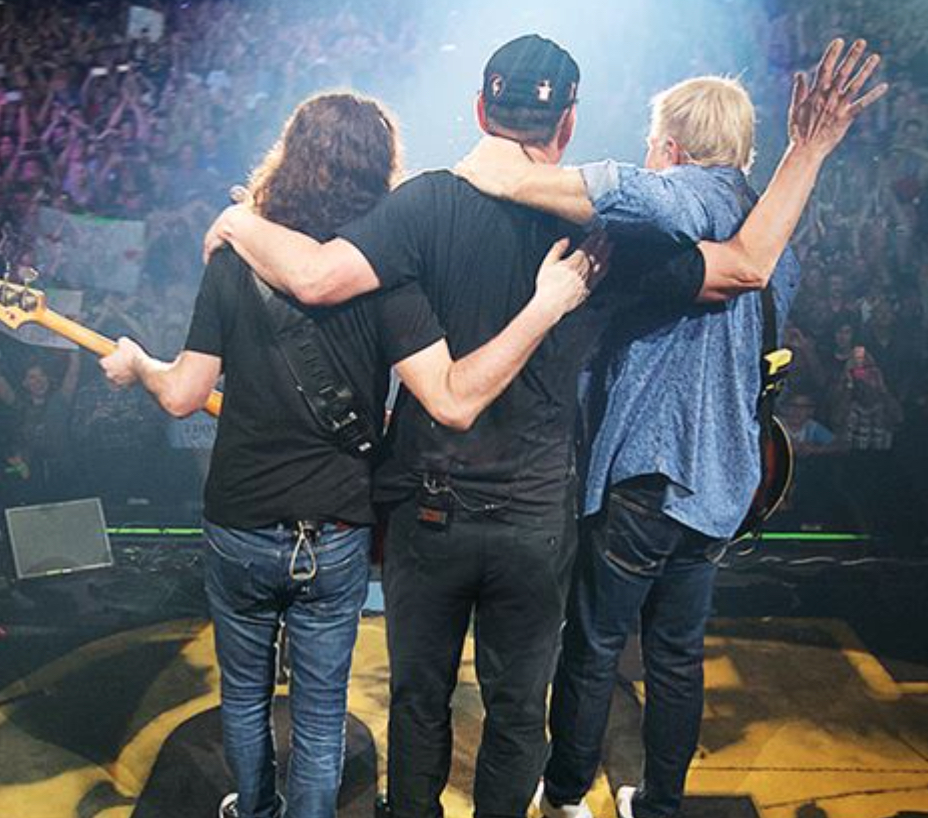 Related: Rush quits touring
According to a press release, "In 2015, Rush went out for a 40th anniversary tour. At the time the R40 tour was rumored to be their last tour—an end to Rush's life on the road together. Rush | Time Stand Still follows this farewell journey. Exclusive behind-the-scenes access to the band and crew throughout the tour provide the raw and vivid emotional undertones of this feature-length film.
Related: 10 great classic rock trios
"At its core are Rush's devoted fans, and their undying devotion and quirky sense of ownership are on full display as the R40 tour comes to a crescendo at the Forum in Los Angeles. Personal stories highlight the importance Rush holds in their lives and the lasting impressions of their extensive catalog. For Rush, they are quick to acknowledge the role their fans have played in their success, which makes the reality that this might be the last so difficult. Candid interviews with Geddy Lee, Alex Lifeson and Neil Peart bring Rush | Time Stand Still to an emotional conclusion for a band who built their career the old-fashioned way; one show at a time."
Watch the Trailer for Rush | Time Stand Still
If you're a new reader of ours, we'd be grateful if you would Like our Facebook page and/or bookmark our Home page.

Latest posts by Best Classic Bands Staff
(see all)