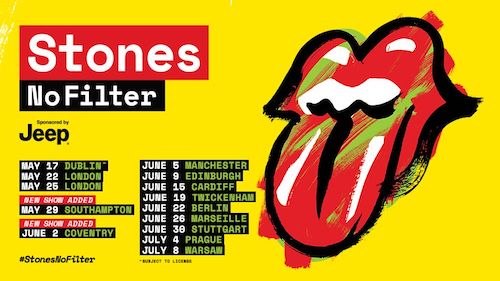 It began in Hamburg, Germany, last September 2017, took a break, continued in Dublin in May, and ended July 8, 2018, at PGE Narodowy (National Stadium) in Warsaw, Poland. The Rolling Stones' final gig of their 2017-18 #NoFilter Tour saw the band of septuagenarians surveying their career, pumping out hit after hit and a handful of surprises, beginning with the now-50-year-old political anthem "Street Fighting Man" and concluding with the two-song encore of "Gimme Shelter" and the inevitable "(I Can't Get No) Satisfaction."
Prior to the 2017-2018 #NoFilter tour, Best Classic Bands reviewed the first of two Stones concerts at Desert Trip in October 2016, noting, "The Stones may not be the baddest band in the land anymore — despite [Mick] Jagger and [Ronnie] Wood's efforts — but they still know how to put on a spectacle. Finishing their set with muscular versions of "Sympathy for the Devil," "Brown Sugar" and "Jumpin' Jack Flash," it was easy to tell with [Keith] Richards' scorching guitar leading the way, that the band was cooking all night."
Watch the opening number, "Street Fighting Man"
Although many of the tunes performed in Warsaw were also played at the beginning of the tour (it's not as if they could get away with skipping "Jumpin' Jack Flash" or "Brown Sugar"), the song order was quite different by the end of the tour. The opening number at that maiden Hamburg gig had been "Sympathy for the Devil" (see show recap here), whereas by the final night's gig that extravaganza had moved down to the 12th position on the setlist. "Street Fighting Man" had occupied a position toward the end of the show at the September gig.
Watch "Sympathy for the Devil" from the Poland gig
Several songs that were included in the early shows, including "Dancing With Mr. D" and the Keith Richards Exile on Main Street showcase "Happy," had been replaced by the end of the tour, which included a cover of Bob Dylan's "Like a Rolling Stone" and Keith's back-to-back "You Got the Silver" and "Before They Make Me Run." Surviving the setlist from #No Filter's beginning to end was "Just Your Fool," the Little Walter cover that opens Blue & Lonesome, the band's 2016 album of blues cover songs. Also, where the tour-opener consisted of 22 songs, by Warsaw they were down to 19 total.
Watch their cover of Dylan's "Like a Rolling Stone"
Watch "Miss You"
Tickets for the Stones' future concerts will be available here and here.
Rolling Stones Warsaw 2018 Setlist
Street Fighting Man
It's Only Rock 'n' Roll (But I Like It)
Tumbling Dice
Just Your Fool
Bitch
Like a Rolling Stone
You Can't Always Get What You Want
Paint It Black
Honky Tonk Women
You Got the Silver
Before They Make Me Run
Sympathy for the Devil
Miss You
Midnight Rambler
Start Me Up
Jumpin' Jack Flash
Brown Sugar
The early hit "Paint It Black," from Warsaw
Watch the two encores, "Gimme Shelter" and "Satisfaction"
Encore:
Gimme Shelter
(I Can't Get No) Satisfaction
Related: Links for 100s of classic rock tours

Latest posts by Best Classic Bands Staff
(see all)