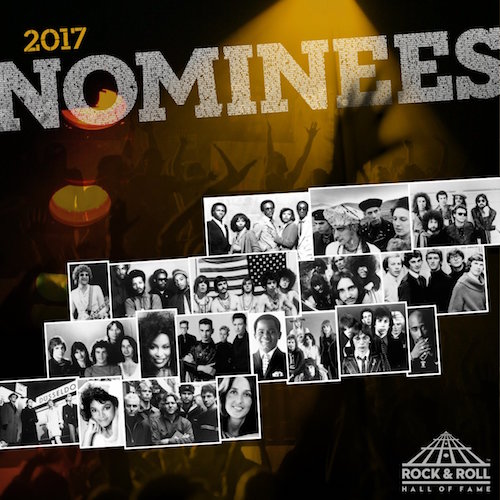 Update (Dec. 20): When the Rock and Roll Hall of Fame announced its nominees for the class of 2017, we made predictions on who would make the cut and who would be left out in the cold (see below). Our predictions were not based on our own favorites but, rather, who we thought the voters would actually choose. Now that the Hall has announced the winners, we can say that we did pretty well!
The Hall will induct six artists in April. In alphabetical order, they are:
Joan Baez
Electric Light Orchestra
Journey
Pearl Jam
Tupac Shakur
Yes 
The Hall is also giving Chic's leader, Nile Rodgers, its Award for Musical Excellence. Chic itself, nominated a record 11 times without any induction love from the voters, will presumably not be nominated again.
Of the six inductees (seven counting Rodgers), we correctly predicted that all but rap icon Tupac and R&B/disco faves Chic would get in this year, but we blew it on two other predictions: We incorrectly guessed that Janet Jackson and Kraftwerk would find their way into the Hall this year, but the voters had other plans.
Here is our original article with our predictions noted at the end of each entry:
Every rock fan's favorite parlor game is to complain about the Rock and Roll Hall of Fame: which artists deserve to be inducted and which don't. Each year, the hall announces its latest nominees and the outcries explode immediately: Why isn't (fill in the blank) in there?!
This year the HoF nominated 19 artists spanning various musical eras and genres, a fairly larger pool than usual. Every fan should find at least a few artists they desperately want to see inducted and probably just as many that trigger a head-scratching: Who the hell is that person and why are they even on this list?
From the annual list of nominees, traditionally the Hall chooses around five to seven new inductees, depending on the percentage of votes the artist receives. (The nominations are made by a committee of a few dozen music industry folks, artists and critics; a ballot is then sent out to several hundred voters, also involved in the music biz.)
What that means is that some of these people are going to be in the Hall of Fame's class of 2017, and many more won't be. But which ones will make it and which ones will be shunned?
Your guess is as good as ours (it really is—we have no spies inside the Hall), but each year we like to look at the overall list and try to determine who we think will be celebrating and who will be bummed. The winners are usually announced in December. We'll return to this list after the announcement and see how we fared.
We welcome your comments, whether you agree or disagree.
We've divided the 2017 nominees into three categories: "Welcome to the Hall!," "Soon, But Not This Time" and "Not a Chance."
Bad Brains—To anyone who was a fan of hardcore punk, the Bad Brains are gods. That they seamlessly fused this nascent subgenre with reggae was just brilliant. They really were an exciting, innovative band. But we're guessing that 99 percent of the fans who follow the Rock Hall's inductions said to themselves, "Who?" as soon as the Bad Brains' nomination was announced. And that most of the folks who actually vote on these nominees couldn't name a single song of theirs. Odds: Not a chance.
Joan Baez—You can argue all you want that Baez was never a rocker, that she belongs in the Folk Music Hall of Fame (if there was one), but not the Rock Hall. We disagree. She was a huge social and musical force, an inspiration to many others who are already in, including her old buddy Dylan, Joni Mitchell and others. She was a mover and shaker who helped usher in the troubadour era and furthered the notion that music really could be used to jumpstart change. Now 75 she's still an activist and a living legend. Odds: Welcome to the Hall!
The Cars—They really were such a likable band. I mean, who doesn't like the Cars?! But as we said last year, "The new wave band from Boston burst onto the scene in 1978 and made an instant impact with their self-titled debut and numerous follow-ups. However, they were essentially done by the mid-1980s. They achieved plenty of radio hits, but one might say The Cars were more influenced than particularly influential." Odds: Soon, But Not This Time.
Related: How did we do last year? Check out our 2016 handicaps
Chic—Whatever you think of them, you really have to feel sorry for them. This marks their 11th nomination! Eleventh! The Hall's nominating committee obviously thinks they deserve the nod. They really, really want them in. But the voters keep saying no thank you. As we noted last year, "They've certainly had hits, most notably 'Le Freak' and 'Good Times.' They're influential. But are you voting for a riff?" We thought they'd finally get picked last year, but now we wonder if they ever will. Why? Who knows? Perhaps some lingering resentment over disco (although Donna Summer is in). For now, we'll just give them a minor downgrade. Odds: Soon, But Not This Time.
Depeche Mode—Among the initial slew of British post-punk bands that figured out how to incorporate electronic instruments into the popular dance music of the day and sell it in massive quantities, Depeche Mode was unquestionably one of the best. Some of their early stuff was especially innovative, and good for them for keeping it going for so long. But popularity alone, as Hall watchers know, is never enough of a reason to induct someone, and it's just our gut feeling that the voters are going to pass Depeche Mode over, at least for now, in favor of some of the more noteworthy acts. Odds: Not a chance.
Electric Light Orchestra—ELO is one of those '70s radio-friendly bands that most critics have never had any use for; Jeff Lynne's well-polished symphonic-pop songs lack the edge that they crave. Classic rock fans have a different point of view though, which is why the recent tour by the revived ELO sold out everywhere: Their catalog is filled with earworm after earworm, well-crafted and brilliantly executed tunes like "Evil Woman," "Livin' Thing" and "Can't Get it Out of My Head." We'd be surprised if the voters give ELO a pass. Odds: Welcome to the Hall!
J. Geils Band—If you were fortunate enough to witness a J. Geils Band performance in the '70s, then you already know just how amazing they were. These guys kicked some serious ass and singer Peter Wolf was such a dynamo! If you don't know what they were capable of onstage, go find a live video or two and check them out. In the studio, they produced consistently stellar albums and even had a few massive hits in the '80s MTV era. But we wonder if there are enough voters left who remember. Odds: Soon, But Not This Time.
Jane's Addiction—Talk about a stretch. Look, we agree that Jane's Addiction had their moments, that they're really a damn good alt-rock band with a harder edge than most. And Perry Farrell definitely gets props for coming up with Lollapalooza. But there are dozens of other bands that contributed more to rock, that were at least as important and/or innovative. Maybe some day for them, but for now… Odds: Not a chance.
Janet Jackson—Last year we placed her in the "Eventually but not yet" column. This year might be her "yet." When the 2015 nominations were announced, her Unbreakable album was only a week old. It debuted at #1, received glowing reviews, and made dozens of "best of 2015" lists, reminding us that she's always been much more than just Michael's little sis. She's been on fire since her 1986 Control album hit #1 (the first of several to do so). That album alone produced five Top 5 singles and she's had more than 25 others since. Janet Jackson deserves her own spot so we're giving her status an upgrade. Odds: Welcome to the Hall!
Journey—One of the most divisive bands in rock for the past four decades, Journey represents what critics like to call "corporate rock": they create unabashedly slick, mainstream productions that to some non-fans sound like they were conceived in a record company's marketing division. There's even a Facebook page called "There aren't enough Journey (the band) Sucks pages." But once again we're reminded that critics don't buy records; music fans do, and Journey has been mega-successful for good reasons: First of all, there's some quality musicianship at work here (they did, after all, start as a Santana spinoff band), a lot of people really like Steve Perry's singing and, well, some of their songs are just really catchy. Their music resonates with millions of people. Including Tony Soprano, who chose to play their "Don't Stop Believin'" on a diner jukebox during the final scene of The Sopranos. You gonna tell Tony Soprano he has bad taste? Odds: Welcome to the Hall!
Chaka Khan—We were so sure last year that she would get in. We wrote, "Long career? Check. Sales galore? Some 70 million. Awards? Ten Grammys. Crossover appeal? From the start. Household name? Your Mom probably digs her. And when it comes to influence, we can't blame Chaka for all the over-singers who followed." But, um, we were wrong, and compared to the other acts on the list this year, we just don't think she's going to get enough love. Sorry, Chaka. Odds: Not a chance.
Related: Here's our list of 100 artists the Hall hasn't gotten around to inducting yet
Kraftwerk—These German electro-pioneers are a good example of what often causes divisiveness among fans. Let's see, they had one top 5 album, their debut, then never came near the top again, and the closest they came to a hit single was the #25 title track from that first album. If you're going by chart performance alone, then, Kraftwerk might elicit a big "Huh?" from you. But there's no way around it—their influence has been enormous; it's impossible to imagine where synth-pop/electronica would have gone without them leading the way. So let's do it already! Odds: Welcome to the Hall!
MC5—These Detroit wildmen came about as close as any rock band could to being real revolutionaries. It was built into their music, which itself went against the prevailing peace-and-love grain of the day. They've been tremendously influential, beloved by punks, especially. But even today, they're more rock critics' darlings than fan favorites. We wonder how many of the Hall's voters even own an MC5 album. They deserve to get in due to their impact alone, but we're not so sure that'll happen too quickly. Odds: Soon, But Not This Time.
Pearl Jam—Eddie Vedder and his pals are an easy shoo-in. They were not only one of the most successful bands to emerge from the '90s but they're still going strong and—most remarkably—have never lost any of their creativity, power or integrity. They've had their ups and downs, for sure, but in the end Pearl Jam is someone we can point to when we want to make a case for classic rock being alive and well. Beside, their scene-mates Nirvana got in on first ballot, and they only lasted seven years. If we were betting men, we'd stake it all on Pearl Jam's 2017 induction chances. Odds: Welcome to the Hall!
Tupac Shakur—The Hall of Fame has been very agreeable to the hip-hop acts that have been nominated. Already in are Grandmaster Flash and the Furious Five, Run-D.M.C., Public Enemy, Beastie Boys and N.W.A. That's some serious representation, and Tupac (a.k.a. 2Pac) might be even more beloved than any of them—Bob Marley level beloved. But Tupac's up against a lot of other big names this year and it wouldn't be surprising to see him get glossed over. He's definitely on his way in, but perhaps not quite yet. Odds: Soon, But Not This Time.
Steppenwolf—If they'd recorded nothing other than "Born to Be Wild," this great Canadian classic rock band would still—in our opinion, at least—be worthy of consideration. I mean, the term "heavy metal" was first heard in that song, and who can forget its brilliant use in the film Easy Rider? But they also had the equally great "Magic Carpet Ride," "Rock Me" and a bunch of fine album tracks, like "The Pusher" and "Sookie Sookie." Here's the problem though: they're up against 18 other contenders this year, of which only around five to seven will be picked. So, sorry Steppenwolf, we love you but we think you're going to be disappointed this year. Odds: Soon, But Not This Time.
Joe Tex—What a great soul singer! Three top 10 hits including our favorite, "Skinny Legs and All." And since so many other great soul singers of the '60s are in, including Otis Redding, Ben E. King, Solomon Burke, etc., it stands to reason that Joe belongs in there too. But sadly, he's basically been forgotten, and we'd be surprised if many of today's Hall voters even have a clue who he was. Odds: Not a chance.
Yes—Last year we predicted correctly that it wasn't time yet for this pioneering English prog-rock group. This year just feels different, as if something in the air shifted to allow more of an open mind toward what they did. Last year we said that Yes was "so distinctive they weren't as much an influence as inspiration." This year we're saying yes to Yes. Odds: Welcome to the Hall!
The Zombies—Truly one of the greatest bands to emerge during the British Invasion, and as good today as they ever were. Singer Colin Blunstone's voice is a thing of beauty, and keyboardist Rod Argent is a gifted musician and songwriter. Even if just for their three big hits—"She's Not There," "Tell Her No" and "Time of the Season"—they deserve the nod. And their album Odessey and Oracle (from which "Season" was pulled as a single) remains one of the most perfect albums ever created. But as with Steppenwolf above, we just think there's too much competition this year for the Zombies to rise above. We do hope they make it in some day though, because they are one hell of a band. Odds: Soon, But Not This Time.
Don't miss a post! Sign up for Best Classic Bands' Newsletter; form is on every page.

Latest posts by Best Classic Bands Staff
(see all)