Ringo Starr–A Star Among All-Starrs: NYC Review
by Greg Brodsky
Ringo Starr has led his All-Starr Band for years, with a collection of stars–or at least individual members of some of classic rock's top bands–taking part in the revolving lineup. So when the 2018 edition was announced, the names piqued interest.
Coming back from last year were 2x Rock Hall inductee (Santana, Journey) Gregg Rolie on keyboards and guitarist Steve Lukather (a founding member of Toto and a performer on countless recordings for others). New for 2018 was Colin Hay (of '80s Australian export Men at Work) and Graham Gouldman (a co-founder of 10cc and songwriter of British Invasion hits for the Hollies, the Yardbirds and Herman's Hermits).
The result? With outstanding contributions from multi-instrumentalist/vocalist Warren Ham and drummer Gregg Bissonette, the All-Starr Band's performance at New York's magnificent Radio City Music Hall on Thursday night (September 13) was as exuberant and polished a concert as an audience could hope for.
The beloved, 78-year-old Starr sings half of the songs on the 24-song set, mostly from the front of the stage. And he happily sits behind his drum kit–with the familiar Ludwig logo, emblazoned with a star (get it?)–performing as one of the guys, on the songs led by the All-Starrs. Early on, Ringo introduced the Beatles' "What Goes On" as the "only song written by Lennon, McCartney and Starkey"–who knew?–and the audience offered its lusty approval.
Ringo urged the band to play the riff from a well known Rolling Stones song before singing "Yellow Submarine."
Watch the audience spontaneously singalong to the Beatles' 1968 smash
For this tour, each of the four All-Starrs gets to lead the band on three of their familiar hits.
Rolie's songs were all ones that he performed with Santana, including "Black Magic Woman." This edition featured an extended jam with a super drum solo by Bissonette and was one of the evening's highlights.
Watch them perform "Black Magic Woman"
Watch "Evil Ways" with Rolie's trademark keyboard swirls and a great guitar solo from Lukather
Related: Rolie talked to us about Santana, Journey and Ringo
Luke later introduced "one of new best pals." Watch Hay lead the band on Men at Work's "Down Under," a 1983 #1 hit
Watch Gouldman lead the others on a 10cc song that was "a hit all over the world except America"
Related: Our interview with Gouldman
Another highlight this evening was the Lukather-led "Africa," a #1 hit for Toto in 1983 (and a surprise #1 Alternative hit this year when it was covered by Weezer, after a fan urged them via social media to do so). Watch them perform it during the tour.
2018 has been quite a year for Starr. On March 20, he was knighted in a ceremony at London's Buckingham Palace.
The evening ended with one of his best-loved performances.
Watch "With a Little Help From My Friends"
This year's edition of the All-Starr Band tour is drawing to a close. (Earlier this year, the band played 21 shows in Europe for the first time since 2011.) The last of 20 dates in the U.S. is September 29. (Tickets are available here and here.)
Related: Listings for 100s of classic rock tours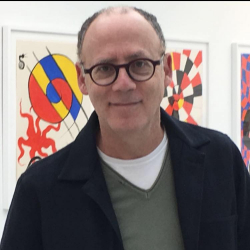 Latest posts by Greg Brodsky
(see all)