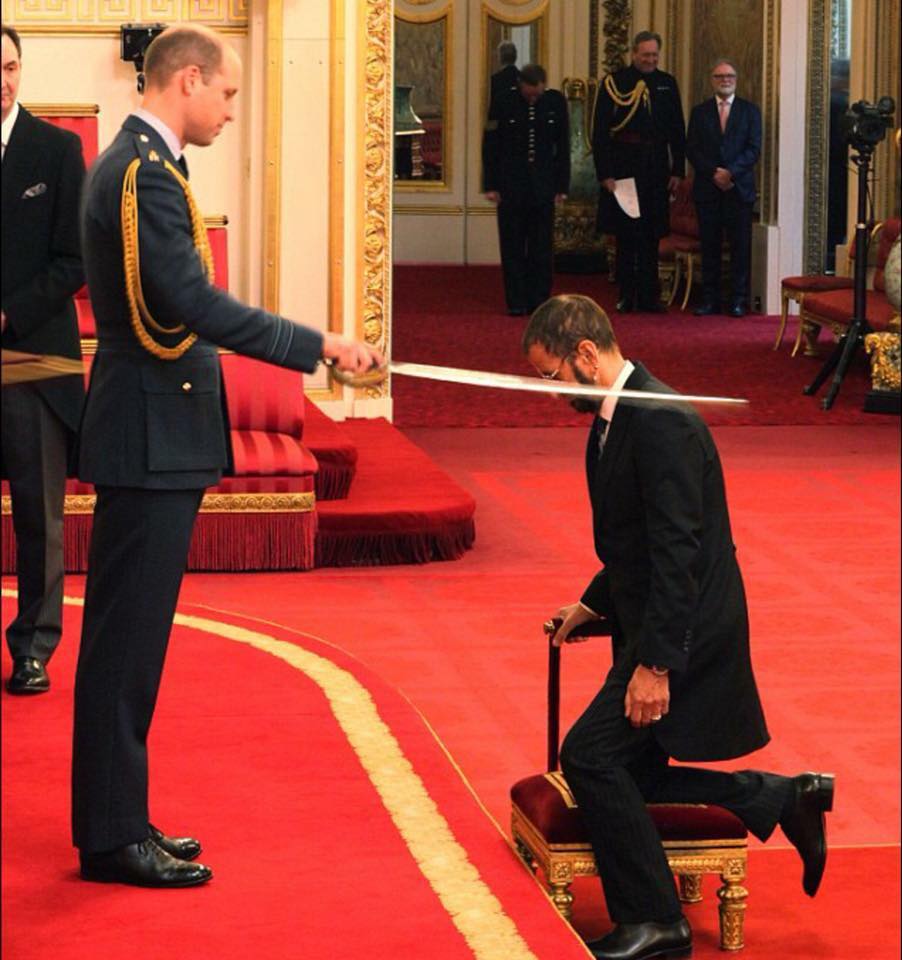 More than 20 years after his former bandmate Paul McCartney received the honor, Ringo Starr has been knighted. The ceremony took place this morning (March 20) at Buckingham Palace, where Prince William, the Duke of Cambridge, did the honors.
"It means a lot actually," the musician told the BBC. "It means recognition for the things we've done. I was really pleased to accept this."
The award comes 53 years after the Beatles received an MBE (officially, Member of the Most Excellent Order of the British Empire).
Reports from London did not indicate why it took so many years for the 77-year-old singer and drummer to receive the knighthood. Nor was there any mention whether he will henceforth be known as Sir Ringo Starr or whether the designation will be given under his original name, Richard Starkey.
Starr and Barry Gibb were among those on the Queen's New Year's Honours List 2018, announced Dec. 29. News of the former Beatle's status had been leaked on Dec. 24 by several U.K. newspapers.
Starr and his wife, the former actress Barbara Bach, were all smiles today…
Another day in the life peace and love. 😎✌🌟💖🎶🐘🎵🍒🌺🙏🏽☮ pic.twitter.com/7rKcIYjmLw

— #RingoStarr (@ringostarrmusic) March 20, 2018
When the original news of the honor was announced, Starr wrote: "It's great! It's an honour and a pleasure to be considered and acknowledged for my music and my charity work, both of which I love. Peace and love."
At the time, McCartney wrote: "Huge congrats Sir Ringo! Sir Richard Starkey has a nice ring to it. Best drummer best pal. X Paul"
Huge congrats Sir Ringo! Sir Richard Starkey has a nice ring to it. Best drummer best pal! X Paul pic.twitter.com/ew5PuxhEv1

— Paul McCartney (@PaulMcCartney) December 30, 2017
Other British music stars who have been knighted over the years include Elton John, Mick Jagger, Tom Jones, Van Morrison, Rod Stewart (in a 2016 ceremony) and the Kinks' Ray Davies, who received the formal honors in 2017.
Starr sang lead vocals on such Beatles recordings as "Octopus's Garden," "Matchbox," "I Wanna Be Your Man," "With a Little Help From My Friends" and "Boys," among others. His five U.K. Top 10 solo hits include "Photograph," "It Don't Come Easy" and "You're Sixteen."
He is gearing up for a busy 2018. On Nov. 29, he announced a European tour with his All Starr Band, his first dates on the continent since 2011. Continuing with the All Starr Band are Santana/Journey star Gregg Rolie, Toto's Steve Lukather, Warren Ham and Gregg Bissonette. Also joining is 10cc co-founder Graham Gouldman and former Men At Work frontman Colin Hay.
There's no truth to the rumor that two well known Gibb and Starr works will be renamed Saturday Knight Fever and A Hard Day's Knight.
Watch footage of that 1965 day that The Beatles received their MBE

Latest posts by Best Classic Bands Staff
(see all)