Interview: British Invasion Songwriter Graham Gouldman on His Yardbirds, Hollies Hits
by Greg Brodsky
This interview first appeared here in 2015.
Though the name Graham Gouldman may not be instantly familiar to classic rock fans, the list of hit songs that he wrote will be. As will the band he co-founded. And on the eve of his receiving BMI's annual Icon award – the equivalent of a lifetime achievement honor – it seemed only fitting to arrive to my interview at the songwriter's London home via an English double-decker bus.
After all, most prominent in his catalog are "For Your Love" recorded by the Yardbirds and "Bus Stop" for the Hollies. That he wrote these mid-1960s gems at age 19 and 20, respectively, is remarkable. But we're getting ahead of ourselves.
"When I was seven years old, I started listening to the radio and fell in love with music," says Gouldman, born May 10, 1946, of his childhood in Manchester in northern England. "Dance band music, early crooners. Then during the mid-to-late '50s, rock 'n' roll: Elvis Presley, Little Richard, The Everly Brothers, Buddy Holly, Eddie Cochran. They are still in my DNA and always will be. They helped to form me musically – as they did for thousands of people including The Beatles, The Hollies, The Animals.
"I used to listen to Radio Luxembourg – the pirate radio station – while falling to sleep in bed and I think it was subliminal teaching. I got a guitar as a gift as an 11 year old. I started forming bands after school. No one was any good. We had a guy who played the guitar. He couldn't play but he had a guitar," Gouldman recounts with a laugh.
"And then of course, the most important thing happened… The Beatles. That's when I – and many others like me – were given confidence to start writing. We all wanted to be The Beatles.
"Mix that with other things that are almost as important: writers like (Burt) Bacharach and (Hal) David. Jimmy Webb," Gouldman adds. "In the U.K., you had bands like The Kinks, The Animals. Really inventive, fantastic bands. The Stones and The Beatles, of course. It couldn't have been more perfect."
But certainly not every young Beatles fan converted that enthusiasm into a catalog of their own legendary songs?
"I had a gift in that I could write. I had encouragement from my parents as well, which is really important. My dad helped me with my lyrics. Not only was he approving, he was working with me.
"A combination of things happened. I met Harvey [Lisberg, who managed Herman's Hermits during their heyday]. We just hit a lucky… I say lucky… You've got to have a gift. That's one thing. The fact that Harvey was so pushy and came out with such outrageous ideas at times… some of them worked and that's his genius.
"I'd met Harvey a few months' before. I was working in an outfitters' shop and got the sack. My parents were freaking out. Harvey was the only person who said, 'This is great. I'll pay you a retainer to write songs' and within six months I had a record with the Yardbirds."
Gouldman is referring to "For Your Love," which he wrote while still a teenager. "Harvey wanted The Beatles to record 'For Your Love'. I said: 'The Beatles don't record other peoples' songs.' He said, 'Yes they do.. And I said, 'Yeah but those are established songs [like "Twist And Shout" and "Long Tall Sally"].' They were doing those in their act for years.
"Fact was, the Yardbirds were doing a Christmas show with the Beatles, supporting them at Hammersmith Odeon at the end of '64. And Harvey sent the song to the publisher. He knew the Yardbirds were looking for material and he played them 'For Your Love' and that was it."
To the understated Gouldman, "it," in fact, was an instant smash. The Yardbirds recorded it immediately; the song was released in February 1965 and sold a million copies, catapulting the Yardbirds to huge success. The song reached #3 on the British charts and #6 in the U.S.
I ask him if he was there when the song was recorded. "Remember, I was in Manchester and the bands were recording in London." So he wasn't consulted if they chose to change things around? "'For Your Love' was quite different in the instrumentation. But I love what they did! The only similarity… on the original demo, it had bongos on it. But it had no harpsichord; it was just acoustic guitar. That was a touch of genius having the harpsichord on that. It was revolutionary in those days."
That same spring when the band was riding high with "For Your Love," Gouldman delivered the Yardbirds the second in a one-two punch: "Heart Full Of Soul." It was another smash, reaching #2 in the U.K. and #9 in America.
"In '66, there was 'Bus Stop' for the (Manchester-based) Hollies, which I had written expressly for them. The middle part, 'Every morning I could see…' I got the words and music for that in my head in one go… unbelievable… without a guitar as well. I remember [that] I had the first part of the song – I couldn't wait to get home to slot this bit in. I knew it was going to work. It's so instinctive.
"For those two years, I was just writing – I was in Manchester, I wasn't in London – I was just writing and really happy with everything that was going on."
Lisberg had Herman's Hermits record several of his songs including "Listen People" and "No Milk Today."
"'No Milk Today' was my dad's idea. My dad went to see a friend of his and his friend wasn't in. And as he turned on the doorstep, he saw a note [for the milkman]: 'No Milk Today.' My dad said, 'What about "No Milk Today" as an idea for a song'. I said 'Who cares about the part that you don't want milk that day?' He said, 'The empty bottles, that there's no milk today, everyone has gone. Love has left the house." One bit his father said became part of the song: "'The bottle stands forlorn, a symbol of the dawn' – that was his line, it was just beautiful. A song that was written really quickly, as all the best ones are."
I ask Gouldman if he'd never witnessed these songs being recorded, was the thrill in hearing them on the radio, hanging on every word the disc jockey said? He says the joy was more like receiving a report card in school: "Getting the charts on a Thursday, I think it was. We used to get the sales figures every day as well. You could sell 100,000 records a day at the peak."
Gouldman would go on to co-found 10cc in the early 1970s with three longtime friends: Kevin Godley, Lol Crème and Eric Stewart. And he co-wrote many of their biggest hits: "I'm Not In Love," "The Things We Do For Love," "Dreadlock Holiday" and "The Wall Street Shuffle." As he recalls, "That was great for 10cc. We loved making albums."
Related: How Neil Sedaka helped create 10cc
He's toured as 10cc without the other three, backed by, among others, drummer Paul Burgess, who joined the band in 1973, and lead guitarist Rick Fenn who arrived in 1976." I'd love to come back [to the States] but it's always to do with money," Gouldman bemoans.
So what does it mean to receive BMI's Icon award? "It means I'm an icon!" Gouldman exclaims, laughing.
Gouldman joined Ringo Starr's All-Starr Band for their 2018 tour. In 2020, he released a solo album, Modesty Forbids.
Listen to "Standing Next to Me" about his experience on the Starr tour
Goulman has 2023 dates with 10cc and for his own Heart Full of Songs tour.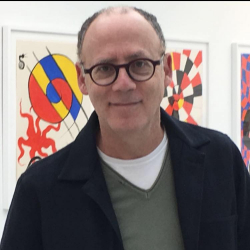 Latest posts by Greg Brodsky
(see all)