It's been more than five decades since Jim Morrison passed away and the surviving Doors went their separate ways.
Author Harvey Kubernik has put together the following interview with Ray Manzarek discussing all six of the Doors' studio LPs, culled from a series of dialogues they had between 1974 and 2013.
Manzarek died on May 20, 2013.
Best Classic Bands: What was your earliest encounter with Jim Morrison like?
Ray Manzarek: When I first heard Jim sing in Venice [Calif.], I thought he had it. "Moonlight Drive" was the first song Jim Morrison sang to me. It had been after we graduated UCLA and I ran into him on the beach. "What have you been doing?" "I've been writing songs." "Sing me a song." "I'm shy." "You're not shy. Stop it. There's nobody here. Just you and me. I'm not judging your voice. I just want to hear the song."
How was Morrison on stage then?
It took a while to work it out on stage at the London Fog and Whisky a Go Go. But by God, he sure did scream a lot and sure had a willing injection of energy into rock 'n' roll.
The debut LP The Doors was done at Sunset Sound with producer Paul Rothchild and engineer Bruce Botnick.
Sunset Sound was a very hip recording studio on Sunset Blvd. The Beach Boys had been there, Herb Alpert, Love. It was owned by a trumpet player, (Salvador) Tutti Camarata. Rothchild and Botnick are Door number five and Door number six. There's four Doors in the band and two Doors in the control room. They were always there, always twisting the knobs and really on top of it. A couple of high-IQ, very intelligent guys. We couldn't have done it without them.
On this album, and subsequent sessions, you were joined by a studio bassist.
I was the bass player of the Doors. When it came to recording, I played a keyboard bass. The instrument was great in person because it had a deep, rich sound and moved a lot of air. But in the recording studio it lacked a pluck. It did not have the attack that a bass guitar would have, especially if you played a bass guitar with a pick. So, on some of the songs we brought in an actual bass player, one of the Los Angeles cats, Larry Knechtel, who played the same bass line that I played on "Light My Fire." He doubled my bass line. They could then get rid of my bass part and use the nice sound that Larry Knechtel could get.
How long did the first album take to record?
The whole thing took 10 days. Boom! We're done. We're out of here. "Light My Fire" was two takes. "The End" was two takes.
Album two is recorded on an eight-track. The first album was four-track. We now had four more tracks left over for overdubs, for experimentation. So we experimented in and out of the universe. I actually played one of the songs backwards. The song was played to me backwards and I had each bar written out with the chord change that went along with it and I started reading the music on the lower right hand side and read right to left across the bottom line, and then jumped to the next line. When I got to the end of the previous line, I jumped to the next line up on the right-hand side, reading everything backwards, bottom to top. I was following [John] Densmore's beat on the bass drum, not knowing what's going to happen. And sure enough, I got to the last measure and there are four more beats! I stopped and the music stopped. It was a miracle. And everyone went, "You did it, Ray!" I went to the guys and said to them in the control room, "Please, whatever you do, never let me do this ever again." And they collectively said, "That's a deal, Ray."
Related: Our Album Rewind of Strange Days
You saw the studio becoming a laboratory.
Exactly. It was a place where we could really experiment. We could put on our lab tech coats rather than coming in with our "Mod" outfits. And we were preparing this strange concoction called Strange Days. Jim got his chops together. And by then, he could sing, man. That throat had opened up and that man was singing.
On Strange Days your organ work offers a tiny tip of the hat to Herbie Hancock and his composition "Watermelon Man," just at the conclusion of "When The Music's Over."
Oh, absolutely. That's Herbie Hancock, man. I'm borrowing a little bit of Herbie's piano line.
Jim's lyrics to "When The Music's Over" detailed ecological concerns and environmental chaos.
I knew Jim was a great poet. There's no doubt about that. See, that's why we put the band together in the first place. It was going to be poetry together with rock 'n' roll—our version of rock 'n' roll was whatever you could bring to the table. Robby, bring your flamenco guitar. Robby, bring that bottleneck guitar, bring that sitar tuning. John, bring your marching drums and your snares and your four on the floor. Ray, bring your classical training and your blues training and your jazz training. Jim, bring your Southern gothic poetry, your Arthur Rimbaud poetry. It all works in rock 'n' roll. Jim was a magnificent poet. I loved his poetry. He was doing ecological poetry: "What have they done to the earth?" The words were well edited. Jim was good that way when it came to songs. He put his words into an entirely different context, a musical context, a hit single in a three-minute context.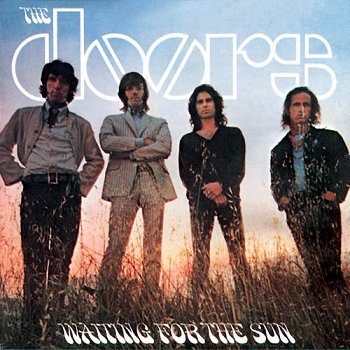 With the Waiting For the Sun album, some songs already existed in raw form but a lot of new material was written for this endeavor.
You know it's time to do a record when you have 10 or 12 songs together. When it hits a dozen it's time to enter the recording studio. When we would get together in the rehearsal studio, they were polished, they were changed, they were adapted. Somebody, invariably Robby or Jim, would come up with the original idea. But boy, the four of us would get together, change and modify and polish the songs.
"Hello, I Love You" from Waiting for the Sun had been around for a while.
Yes. It was a song Jim wrote on the beach when we used to live down in Venice. [Ray's wife] Dorothy would go off to work and Jim and I would go off to the beach and get ourselves into physical shape. He was gorgeous. Man, he was perfect. He was a guy who had opened the doors of perception and made a blend of the American Indian and the American cowboy. He was the white Anglo Saxon Protestant, the WASP who had taken on the mantle of the American Indian. He now was no longer a fighter of Indians. He was a lover of American Indians. That guy would have been a great president—pre-alcohol, would have been a great president.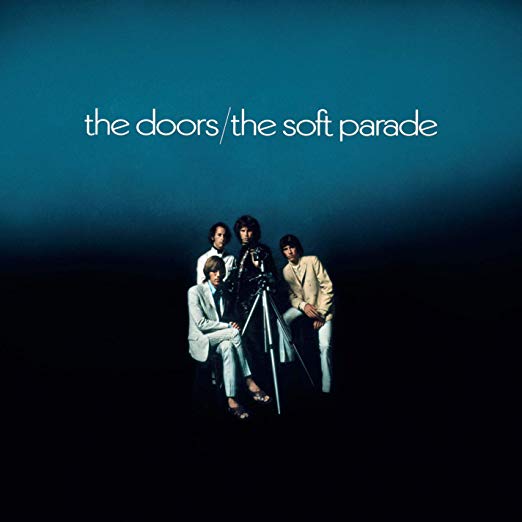 We are then led into The Soft Parade. Was there a pre-production meeting where everyone voted to include the use of strings and horns on the album?
We had made three albums with the same formation and at some point or another, when you make albums, you want to do an album with expanded sound. You want to have some horns and strings. My God, everybody did it, and we were gonna do it too. I want some strings. I want some jazz arrangements. I want some classical arrangements. And everyone said yes. Great idea. And the record label said it was fine. What was great about the record label was that [Elektra Records president] Jac Holzman said, "Boys, do whatever you want. Just don't use the seven illegal words." And Paul Rothchild encouraged it.
Related: Our Album Rewind of The Soft Parade
George Harrison dropped by one of your Soft Parade sessions. He was visiting the Elektra studios. He mentioned that your date reminded him of Sgt. Pepper because of the orchestra.
Yes. A Beatle in the room. A very charming guy, very low-key. I'm surprised John Densmore didn't become good friends with him.
Once again, Morrison's vocals are potent, distinctive and his voice more confident than ever.
He's no longer a blues singer. He's added Frank Sinatra crooning to his voice and did an absolutely brilliant job. Terrific. Girls loved it. "Touch Me" was a number one song.
You also had individual writing credits for the first time on the album sleeve.
That's a great story, because of "Touch Me." The song was initially called "Hit Me," and Jim was gonna say "hit me," like in poker. And Jim said, 'No, it's not like poker. It's like someone is gonna walk up to me and hit me. You gotta change the line." "To what?" "'Touch Me.'" Beautiful.
Robby penned a lot of the popular radio hits and chart singles: "Love Me Two Times," the lyrics to "Tell All the People," "Touch Me," "Love Her Madly," and co-wrote "Light My Fire" with Morrison.
Robby was a different sort of lyric writer. He might be the secret weapon of the Doors. We get this great guitar player who plays bottleneck, and all of a sudden, he comes in and plays "Light My Fire," the first song he ever co-wrote with Jim.
The Doors then arrive at Morrison Hotel. Why this direction?
Well, we had done our horns and strings experimentation. We had had a great time. It was our least acclaimed album. However, it has stood the test of time and there are many great songs on there. We've done that experimentation. Let's go back to the blues. Let's get dark and funky. Let's go downtown for the album cover. We went to the Hard Rock Café on skid row with [photographer] Henry Diltz. And we went to a flophouse called the Morrison Hotel. It was supposed to be a funky album and you can see that on the inside photo and the front and back cover. Album covers were always important. We were involved heavily in that process. You could never just turn it over to the record company. Everything that the Doors turned out had to be stamped by the Doors.
There's a song called "Waiting for the Sun" on Morrison Hotel.
We loved the title, but the song had not come together earlier. Sometimes Doors songs came out of the collective conscious whole. Others needed to cook and they needed be worked on. "Waiting for the Sun' was one of those songs with a great title but the song took a while to jell.
It's a hard, mean album. Morrison's voice lends itself to this specific material.
It was a barrelhouse album and barrelhouse singing. He's smoking cigarettes. "Jesus Christ, Jim. Do you have to smoke cigarettes and drink booze?" He didn't say it but it was like, "This is what a bluesman does." Oh, fuck. That's right. You're an old blues man. He says that in one of his lines. 'I've been singing the blues since the world began."
Lonnie Mack plays bass on a couple of tracks on Morrison Hotel. He'd had an instrumental hit with a version of Chuck Berry's "Memphis."
He was great, man. He was either recording in the next studio or working around us or came down; I can't remember why he appears. Paul Rothchild said, "Hey, this is Lonnie Mack." He introduced him to Robby. "Hey, you wanna play some bass?" "I'd love to, guys." Simple as that.
Just before the album L.A. Woman formally began, Paul Rothchild left the project.
Yes. He did a great service to us. We played the songs in the studio so Paul could hear what the songs were. We were bored. He was bored. We played badly. And Paul said, "You know what, guys? There's nothing here I can do. I'm done. You're gonna have to do it yourselves." And he walked out the door. We looked at each other and said, "Shit. Bummer.' And Bruce [Botnick] said, "Hey, I'll do it! I'll be the producer." John [Densmore] said, "We'll co-produce with you." Bruce said, "That's a deal. Let's all do it together." And then Jim said, "Can we record at our rehearsal studio?" And we all said, "Hey, we play great at our rehearsal studio. Let's do it. Can it be done?" And Bruce said, "Of course I can do it there. I'll set the board up and a studio upstairs. You guys record downstairs. That's where we make the album and it will be virtually live." And we got excited like Mickey Rooney and Judy Garland. "Let's put on a show!" The only thing with Bruce that was really different than working with Paul was that we didn't do as many takes. We knew when we had it.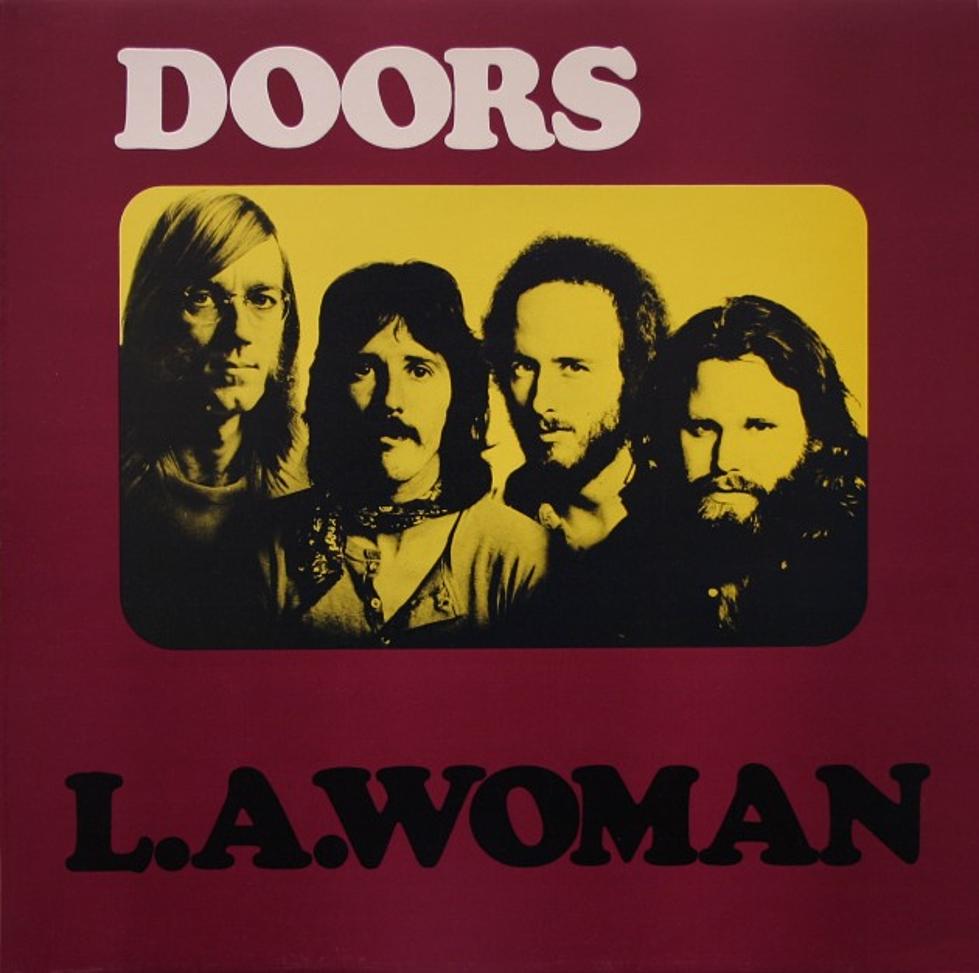 L.A. Woman was a logical step from Morrison Hotel.
I think it's the same Doors but a continual growth, continual evolution of the Doors. Continual revolution of the Doors.
The title track "L.A. Woman" embodies movement, freedom, lust and dust.
"L.A. Woman" is just a fast, L.A. kickass, freeway driving song in the key of A with barely any chord changes at all. And it just goes. It's like Neal Cassady, Jack Kerouac and Allen Ginsberg heading from L.A. up to Bakersfield on the 5 Freeway. Let's go, man.
"Riders on the Storm" is haunting.
It's the final classic, man. Interestingly, Robby and Jim came in and were working on "Riders on the Storm.' They started to play it and it sounded like an old cowpoke riding out one dark and misty day. It was like "Ghost Riders in the Sky." No. We don't do anything like "Ghost Riders in the Sky." Doors don't do that. Let's make this hip. We're going to go out on the desert. "There's a killer on the road." This has got to be dark, strange and moody. Let me see what I can do here. It was like "Light My Fire." It just came to me. I got it. It became this dark, moody Sunset Strip 1948 jazz joint.
Every Doors concert was unique. Some specific songs in the set but lots of improv and no set order, every night.
The concerts were an extension of the audio document. It was not yin and yang. One was an extension of the other. There were improvisations in the recording studio but within their soloing sections. And quite frankly, I never knew what I was going to play. I knew the chord changes but there was major improvisation live. That's the whole point of live. You have the record as your foundation and then you build upon that in the live performance.
Latest posts by Harvey Kubernik
(see all)