Procol Harum's 'Whiter Shade of Pale': That Melody!
by Jeff Tamarkin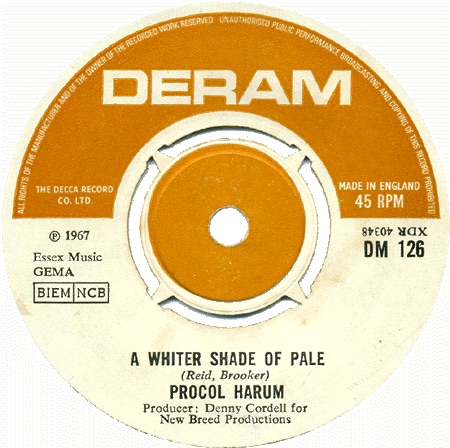 If you were a regular radio listener in the heady spring/summer of 1967, it was yet another revelation, a song that grabbed your attention the very first time. Perhaps, its churchy organ line and the midtempo pace reminded you of Percy Sledge's #1 soul ballad of the year before, "When a Man Loves a Woman." But that's where any resemblance ended. "When a Man Loves a Woman" was plainspoken; the singer of this new song, "A Whiter Shade of Pale"—by a British group calling itself Procol Harum—wasn't making it quite so easy:
"We skipped the light fandango
Turned cartwheels 'cross the floor
I was feeling kinda seasick
But the crowd called out for more
The room was humming harder
As the ceiling flew away
When we called out for another drink
The waiter brought a tray"
That was only the first verse. It did not get any less opaque as it moved along.
"And so it was that later
As the miller told his tale
That her face, at first just ghostly,
Turned a whiter shade of pale
She said, 'There is no reason
And the truth is plain to see.'
But I wandered through my playing cards
And would not let her be
One of sixteen vestal virgins
Who were leaving for the coast
And although my eyes were open
They might have just as well've been closed
And so it was that later
As the miller told his tale
That her face, at first just ghostly,
Turned a whiter shade of pale"
To this day—more than 55 years following its release—folks are still debating what it was all about. Keith Reid, who wrote the lyrics (and continued to write all of the group's lyrics throughout its history, until recently), told Uncut magazine, "I had the phrase 'a whiter shade of pale.' That was the start, and I knew it was a song. It's like a jigsaw where you've got one piece, then you make up all the others to fit in. I was trying to conjure a mood as much as tell a straightforward, girl-leaves-boy story. With the ceiling flying away and room humming harder, I wanted to paint an image of a scene…I wasn't trying to be mysterious with those images, I was trying to be evocative," Reid continued. "I suppose it seems like a decadent scene I'm describing. But I was too young to have experienced any decadence then. I might have been smoking [marijuana] when I conceived it, but not when I wrote. It was influenced by books, not drugs."
So much for the words. You are, of course, welcome to your own interpretation. As for that evocative melody, those with a classical music background knew where it really came from: Johann Sebastian Bach's "Ich steh mit einem Fuß im Grabe, BWV 156." Procol Harum was among the first rock groups to openly turn to classical music for inspiration, and that device sure paid off well on this first-time effort.
So, what is a "Procol Harum," anyway? The origin of the band name, like their hit, is shrouded in mystery. Says Wikipedia: "In the absence of a definitive origin, the name attracted various interpretations, being said to be Latin for 'beyond these things' (but the correct Latin translation of 'beyond these things' is 'Procul his' or translated as 'of these far off things,' the genitive plural 'harum' perhaps agreeing with an understood 'rerum,' 'things.'"
Whatever—Procol Harum it was. And even if it remains one of the most misspelled band names in history (it is not Procul Harem!), it's a name that is still fondly remembered today by many.
Some parts of the story are, thankfully, more definitive. The great voice you hear on "A Whiter Shade of Pale" is that of Gary Brooker—born May 29, 1945 in East London. He had been in an R&B band called the Paramounts since the early '60s, along with the guitarist Robin Trower, multi-instrumentalist Chris Copping and drummer B.J. Wilson. When that band split in 1966, Brooker and Reid began writing songs together; among their first efforts was was "A Whiter Shade of Pale," which was recorded at Olympic Studios with Brooker on piano and vocals, Matthew Fisher playing the signature organ line (decades later he would sue for royalties on the song, winning the case and nabbing a co-authorship credit), David Knights on bass, Ray Royer on guitar and a session drummer, Bill Eyden. Denny Cordell served as the producer, and the song was issued in the U.K. on Deram Records on May 12, 1967, climbing to #1 in the band's homeland in only two weeks. (It was released on the same label in the U.S., making its way to #5 on the Hot 100, and #3 in Record World on Aug. 12.)
Among the biggest fans of "A Whiter Shade of Pale" was John Lennon, who was said to be so obsessed with it in the summer of '67 that he played it incessantly.
By the time Procol Harum's self-titled debut album was released in September 1967, the membership of the band had already shifted somewhat. Brooker, Fisher and Knight remained from the single, but now holding the lead guitar and drum spots were, respectively, Trower and Wilson from the Paramounts.
It quickly became apparent to rock fans on both sides of the Atlantic that this was not going to be a one-hit-wonder band: Procol Harum became a headlining concert draw for the next several years, as well as selling a respectable quantity of albums. Their self-titled debut landed at #47 in the U.S., followed in 1968 by Shine on Brightly (#24), 1969's A Salty Dog (#32), 1970's Home (#34—with Copping now handling both bass and organ, replacing Fisher on the latter) and 1971's Broken Barricades. The group's highest-charting album came in 1972, the #5 Procol Harum Live in Concert with the Edmonton Symphony Orchestra, which yielded the #16 single "Conquistador," a song that had been featured in its original studio version on the band's debut. That was followed by four other charting albums into 1977, with various personnel shifts (Trower went on to launch a successful solo career).
Watch the video for "A Whiter Shade of Pale"
Related: Brooker died in 2022
For most rock fans, Procol Harum will forever remain indelibly associated with that first single. "A Whiter Shade of Pale" is said to have sold over 10 million copies worldwide, officially named the most played recording of the past 70 years on the BBC. Along with Queen's "Bohemian Rhapsody," it was also named the Best British Pop Single of 1952–1977 at the Brit Awards and has reportedly been covered by more than 1,000 artists. The Procol Harum original has appeared on numerous compilation albums and in many films and TV programs, one of the most enduring songs of the Summer of Love. In 1998, "A Whiter Shade of Pale" was inducted into the Grammy Hall of Fame. (Astoundingly, the Rock and Roll Hall of Fame has yet to induct Procol Harum.)
Whatever it's about, more than half a century after its release, the popularity of this landmark of '67 refuses to subside.
Related: 1967 in rock music

Latest posts by Jeff Tamarkin
(see all)