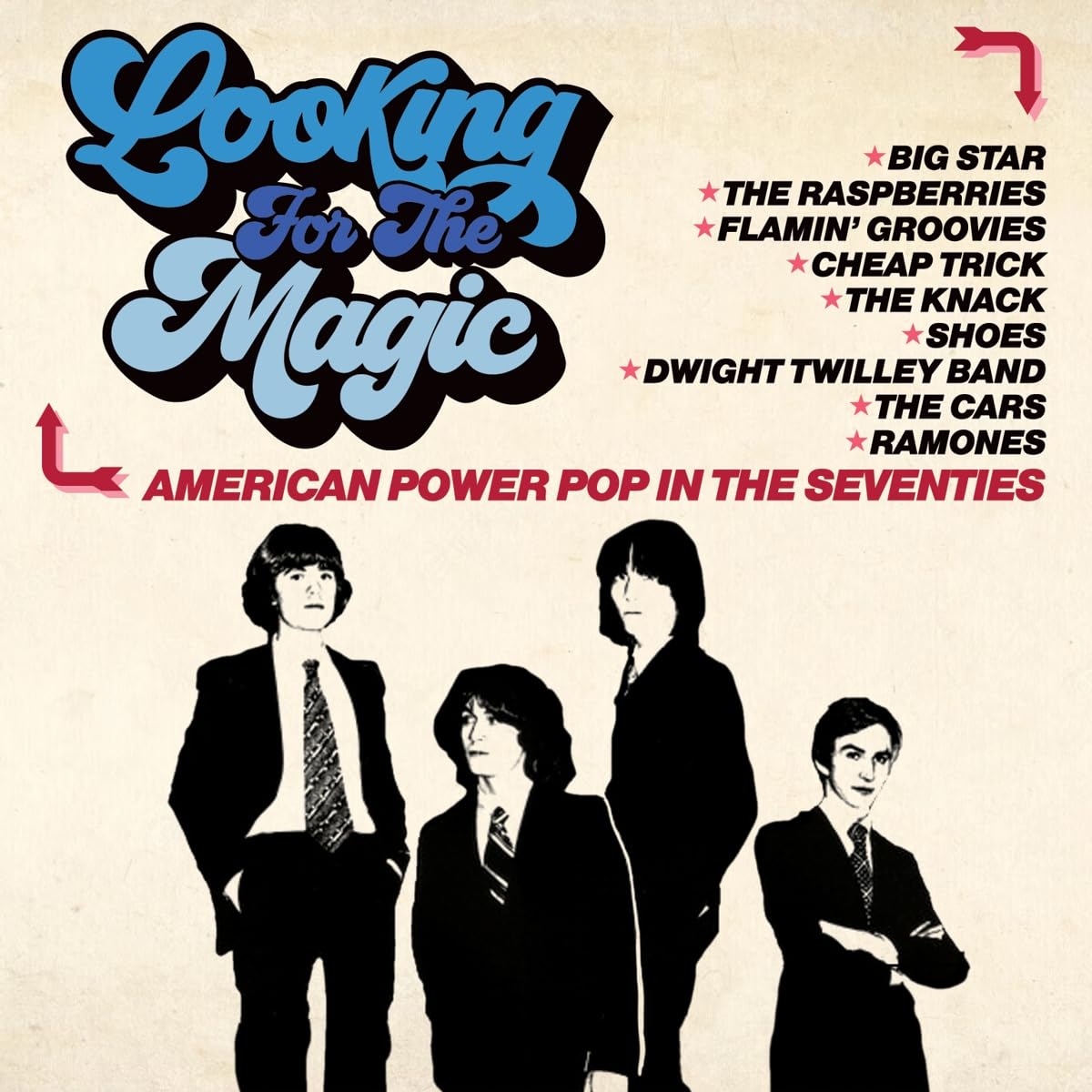 A new compilation is celebrating power pop with tunes from such leading acts of the genre as Raspberries, Dwight Twilley, Todd Rundgren, Cheap Trick, Andrew Gold, the Cars, the Knack, and dozens more. Looking For the Magic – American Power Pop in the Seventies arrived November 17, 2023, from Cherry Red Records' Grapefruit imprint, with 76 tracks across its 3-CDs. It's available for order in the U.S. and the U.K.
From the label's announcement: Although the power pop genre wasn't named and codified until late 1977, the sound and spirit had been slowly gathering steam throughout the decade. Surrounded by heavy metal and introverted singer/songwriters, the likes of Raspberries, Big Star, and the Wackers spearheaded an early '70s return to the spiky, three-minute pop urgency of the mid-60s British Invasion bands.
The bands established a musical template that was adopted by a new raft of slightly younger acts including the Dwight Twilley Band (the set is named for their "Looking For the Magic"), the Rubinoos and Shoes. The tide had turned by the late 70s, with such names as Cheap Trick and the Cars achieving success as the American music industry embraced power pop as a radio-friendly alternative to punk.
[Dwight Twilley died Oct. 18, 2023, one month before the collection was released.]
When The Knack emerged from nowhere to dominate the summer of 1979 with the single 'My Sharona' and the album Get the Knack, it was clear that the decade was ending with power pop established as a significant commercial proposition. The band is represented here with "Your Number or Your Name."
A chronologically arranged set, Looking For the Magic traces power pop's development throughout the Seventies as largely unsuccessful bands were afforded cult status by the burgeoning grass-roots fanzine network that nurtured them.
The collection also includes Flamin' Groovies, Sparks, Ramones, the Greg Kihn Band, and the U.S.-based 1979 revamp of Badfinger, one of the seminal power pop bands at the start of the decade, as well as a huge number of cult names and little-known acts, showcasing many tracks that were unissued at the time and even several cuts now gaining a first-ever release.
Housed in a clamshell box that includes a heavily annotated and illustrated 48-page booklet, Looking For the Magic celebrates a genre that went under the radar for most of its formative years.
The complete track listing appears below the Amazon links.
Looking For the Magic – American Power Pop in the Seventies Track Listing
DISC ONE
1 SHAKIN' STREET – MC5
2 GO BACK – Crabby Appleton
3 EGG CARTON WALL – The American Dream
4 WE GOTTA GET YOU A WOMAN – Todd Rundgren
5 MOON TEARS – Grin
6 DOWN ON MY KNEES – Bread
7 YOU TORE MY DOWN – Flamin' Groovies
8 TO BE YOUR FRIEND – Sid Bradley (Erik)
9 WHEN MY BABY'S BESIDE ME (alternative mix) – Big Star
10 TOP OF THE CITY – Stories
11 IT'S MY LIFE – The Wackers
12 I LIKE GIRLS (Bearsville version) – Sparks
13 ABRACADABRA (HAVE YOU SEEN HER?) – Blue Ash
14 MUST BE LOVE – Bang
15 FRIDAY ON MY MIND – Earth Quake
16 PLAY ON – The Raspberries
17 I DON'T MIND – Athanor
18 SOME KIND OF JERK* – Fox Pass
19 AHEAD OF MY TIME – The Droogs
20 I DON'T WANT TO KNOW – Nils Lofgren
21 LITTLE LOST AND INNOCENT – Milk 'n' Cookies
22 ROCK AND ROLL LOVE LETTER – Tim Moore
23 GOVERNMENT CENTER – Jonathan Richman
24 SHE MIGHT LOOK MY WAY (take 2) – Alex Chilton
25 FAMILIAR FACES – Target
26 LAST NIGHT – Eric Carmen
DISC TWO
1 AMERICAN NIGHTS – The Runaways
2 (DON'T FEAR) THE REAPER (single edit) – Blue Öyster Cult
3 DOWNTOWN MENAGERIE – Hollins Ferry
4 ALL IN ALL* – Just Boys
5 WHEN YOU FIND OUT – The Nerves
6 IF YOU'VE GOT THE TIME – The Babys
7 LONELY BOY – Andrew Gold
8 TO STAY – John Scoggins
9 SEE NO EVIL – Television
10 I TRUST YOU* – The Meyce
11 OH, CANDY (single mix) – Cheap Trick
12 RIDIN' IN MY CAR – NRBQ
13 BOYS DON'T LIE – Shoes
14 SHE SAY YEA – The Scruffs
15 SHE'S THE ONE – The Marshalls
16 LOVE IN ACTION – Utopia
17 ALRIGHT YOU BOYS – Venus & The Razorblades
18 LOOKING FOR THE MAGIC – Dwight Twilley Band
19 ECSTASY – Paley Brothers
20 FORGIVE AND FORGET – Marbles
21 ALL FOR THE LOVE OF ROCK AND ROLL – Tuff Darts
22 YOU, YEAH YOU – The Quick
23 NEW YEAR'S EVE – Van Duren
24 MIND OF MY OWN – The Leopards
25 WALK IN THE RAIN – The Pop
26 DECLINE AND FALL – Sneakers
DISC THREE
1 MY BEST FRIEND'S GIRL – The Cars
2 LOSING YOU TO SLEEP – Tommy Hoehn
3 THE FIRST ONE – Gary Valentine
4 LEAVE THE PAST BEHIND – The Moberlys
5 I WANNA BE SEDATED – Ramones
6 LET HER DANCE – Spitballs
7 YOU JUST DON'T WANNA KNOW – Jules & The Polar Bears
8 GOTTA HAVE POP – Segarini
9 SAY GIRL – Robert Johnson
10 COME BACK – Fotomaker
11 DON'T LISTEN TO THEM – Bill Kern
12 LOVE IS GONNA COME AT LAST – Badfinger
13 DRIVIN' MUSIC – Rubinoos
14 RENDEZVOUS – The Greg Kihn Band
15 YOUR NUMBER OR YOUR NAME – The Knack
16 POLY VINYL – The Mumbles
17 ROLENE – Moon Martin
18 GET 'IM OUTA TOWN – The Laughing Dogs
19 SHE DON'T KNOW WHY I'M HERE (album version) – The Last
20 SLIP AWAY – Ian Lloyd
21 SHOULD HAVE KNOWN BETTER – Richard Lloyd
22 NO MORE HEARTBREAKS* – The Names
23 SHE SAID – Cheese
24 CHERI – 20/20
*previously unreleased
Related: A veteran music journalist picked 10 great power pop songs for us

Latest posts by Best Classic Bands Staff
(see all)