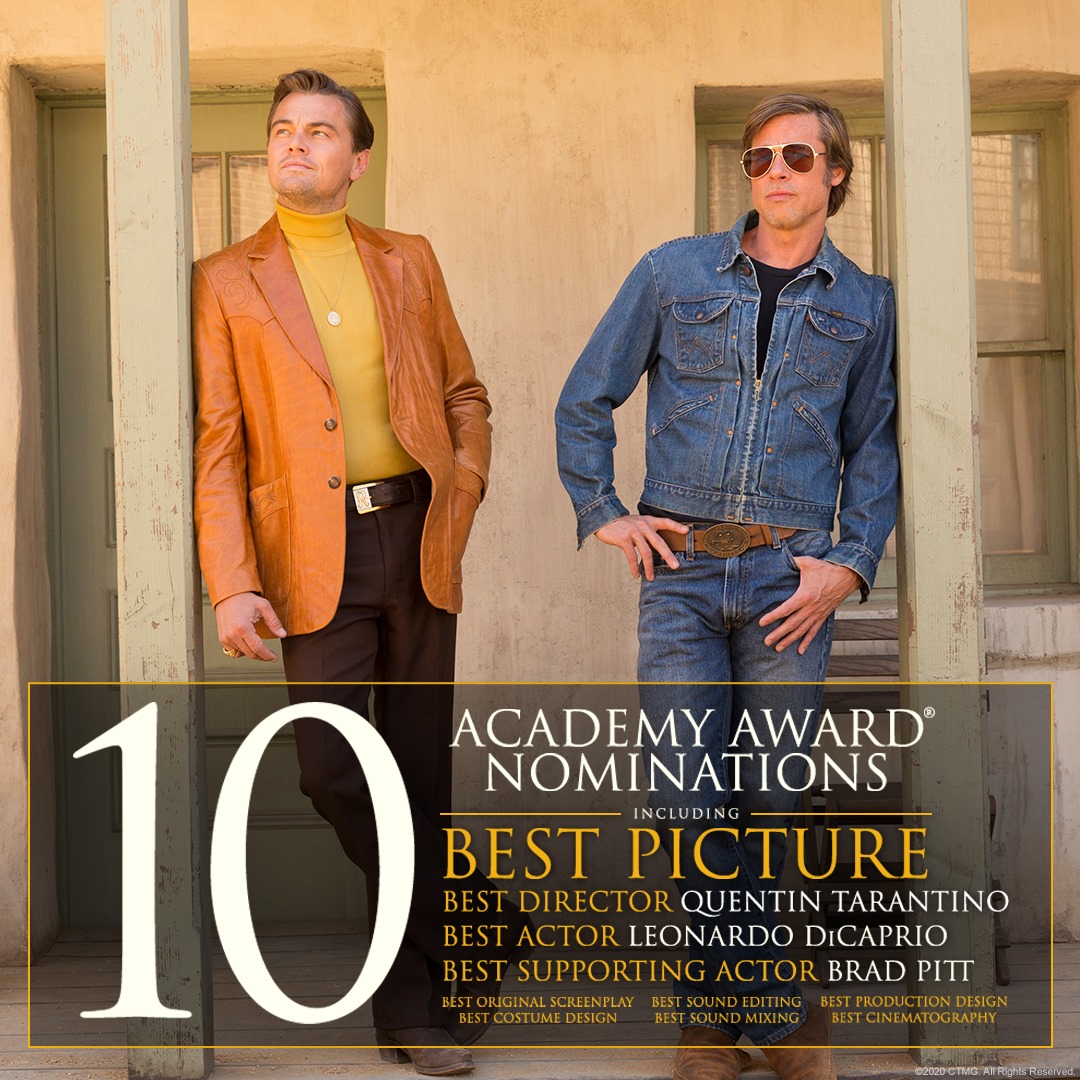 Quentin Tarantino's Once Upon a Time in… Hollywood has earned 10 Oscar nominations. The announcement, on Jan. 13, includes Best Picture, Director for Quentin Tarantino, Lead Actor for Leonardo DiCaprio, and Supporting Actor for Brad Pitt. The 92nd Academy Awards will be held on Feb. 9.
The film got an elaborate Special Collector's Blu-ray edition with plenty of extra scenes and other goodies. The title, also available on DVD and as a traditional Blu-ray, arrived in stores on Dec. 10 via Sony Pictures Home Entertainment.
Filmmaker Tarantino made his directorial debut with 1992's Reservoir Dogs. Since then, he's been sparing in his releases, which includes such films as Pulp Fiction (1994), the back-to-back Kill Bill movies (2003-04) and Inglorious Basterds (2009). He has earned Oscars for Best Original Screenplay for Pulp Fiction and 2012's Django Unchained.
2019's Once Upon a Time in… Hollywood – starring Tarantino veterans DiCaprio and Pitt – is described as a visit to "1969 Los Angeles, where everything is changing, as TV star Rick Dalton (DiCaprio) and his longtime stunt double Cliff Booth (Pitt) make their way around an industry they hardly recognize anymore. The ninth film from the writer-director features multiple storylines in a tribute to the final moments of Hollywood's golden age."
The film is Tarantino's second biggest of his career, with a dynamic $372 million at the worldwide box-office, behind his 2012 picture, Django Unchained ($425 million).
The 2-disc 4K Ultra HD/Blu-ray Collector's Edition includes seven additional scenes, an all-new, exclusive mini edition of MAD Magazine – inspired by the film – a 45 rpm vinyl record with two of the soundtrack's tunes (complete with a turntable adaptor), a collectible vintage poster from the film, and more. Order it here.
While the Dalton and Booth characters are fictitious, among the real-life characters in the film are Steve McQueen and Bruce Lee. Oh, and Sharon Tate, Roman Polanski and Charles Manson.
The film also stars Al Pacino, Kurt Russell, Margot Robbie, Damian Lewis, Bruce Dern, Dakota Fanning, and Luke Perry (in his final film; he died March 4).
"I love that stuff… you know… the killing," says Pacino, who plays a film producer. "Lot of killing," agrees DiCaprio's character.
Once Upon a Time in… Hollywood opened July 26 in the U.S. where it performed solidly at the box office. As of October 27, it had earned $141 million in North America, placing it at #16 overall for 2019. It opened internationally on August 8 where it's picked up another $231 million. The combined total of $372 million, as of Jan. 13, places it at #19 overall for the year.
Its Rotten Tomatoes score is a robust 85% positive. The Los Angeles Times called it "[A] richly evocative, excessively foot-fetishizing, inescapably terrifying and unexpectedly poignant movie."
New York Magazine wrote: "It's the most fun the director seems to have had in years, but it's also, oddly, his most compassionate picture in more than a decade."
Without giving anything away to those who haven't seen it yet, the film packs plenty of tension.
And like any Tarantino film, moviegoers are enjoying its soundtrack – from Columbia Records – with classic rock favorites that are expertly weaved in. The trailer for Once Upon a Time includes Paul Revere & the Raiders' "Good Thing."
Watch the Once Upon a Time in… Hollywood trailer
The soundtrack also includes the Bob Seger System's "Ramblin' Gamblin Man," Mitch Ryder and the Detroit Wheels' "Jenny Take a Ride," Deep Purple's "Kentucky Woman" and the Box Tops' "Choo Choo Train." See the complete listing below.
Watch a brief clip with Pitt, Russell and DiCaprio
And if you've got the Raiders' "Good Thing" stuck in your head…
Related: We talked to the Raiders' Mark Lindsay about the making of the song and those wild times
Related: The dance scene from Pulp Fiction

Latest posts by Best Classic Bands Staff
(see all)