Michael Nesmith, who first came to widespread acclaim as one of the four members of The Monkees, died December 10, 2021. The 78-year-old died of a heart ailment at his home in Carmel Valley, Calif.
On Nov. 14, at the Greek Theatre in Los Angeles, he and bandmate Micky Dolenz had completed what was billed as the Monkees' Farewell Tour. The run was supposed to begin in April 2020 but the shows were postponed, twice, due to the pandemic. Nesmith's death leaves Dolenz, 76, as the lone surviving member. Peter Tork died in 2019 at age 77. Davy Jones was the first to pass. He died in 2012 at age 66.
"I'm heartbroken," wrote Dolenz on his social media pages. "I've lost a dear friend and partner. I'm so grateful that we could spend the last couple of months together doing what we loved best – singing, laughing, and doing shtick."
Related: Other tributes to Nesmith
On the first anniversary of his friend's passing, Dolenz paid tribute.
December 10

Miss you terribly, Nez. I'll try to make you proud as I forge ahead sharing your amazing legacy of music and poetry with the world."
Micky #michaelnesmith #TheMonkees pic.twitter.com/ziKQK5b4HW

— Micky Dolenz (@TheMickyDolenz1) December 10, 2022
In 2018, Nez, as he was called, underwent quadruple bypass heart surgery after he was hospitalized with four dates remaining of his and Dolenz's "The Mike and Micky Show."
"I love being on stage with Micky," he said in a press release prior to the launch of the 2018 tour. "We've been collaborating for over 50 years, so it's hard to believe it's never been just the two of us."
Watch the last performances of the duo's final concert
Related: Our review of Nesmith and Dolenz' 2021 farewell tour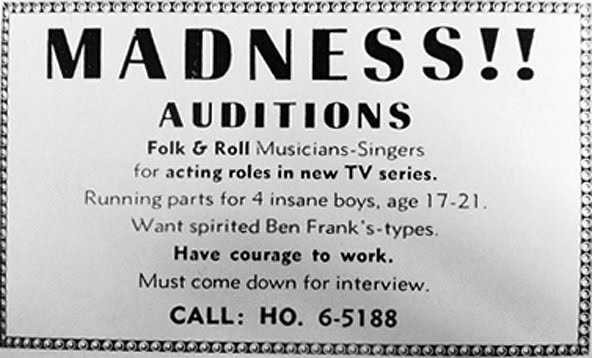 Nesmith, born in Houston, Tex., on Dec. 30, 1942, was already an established singer and songwriter on the burgeoning Los Angeles folk scene when he auditioned for, and got, a spot in the made-for-TV band after answering an ad in the Hollywood trade paper Variety for "4 insane boys."
Related: Musician deaths of 2021
His songwriting accomplishments include "Different Drum," a 1967 hit for Linda Ronstadt and her singing group at the time, the Stone Poneys. The Monkees recorded many of Nesmith's compositions including "Mary, Mary," "The Girl I Knew Somewhere" and "Papa Gene's Blues."
He was frequently pictured wearing his trademark wool cap, even in the TV sitcom's intro.
As the Monkees wound down in the late '60s, Nesmith formed the pioneering country-rock group The First National Band, which scored a #21 single in 1970 with "Joanne."
Listen to Nesmith's alternate version of "Different Drum" with The First National Band
In 1974, he started the multimedia company Pacific Arts, which released both audio and groundbreaking video projects. He won the first Grammy Award given for long-form music video in 1982, for his hour-long Elephant Parts. Following that, he launched a series on NBC called Michael Nesmith in Television Parts. Nesmith also served as the executive producer of several films, including Repo Man.
During his career, he released more than a dozen solo studio albums and a half dozen live albums.
Related: Links to 100s of current classic rock tours
Through 2021, The Monkees have been continued to be overlooked for induction to the Rock and Roll Hall of Fame. In 2016, Best Classic Bands asked Nesmith to comment. Ever gracious, he said, "I appreciate the bands they have acknowledged but no, I'm not bothered about the Rock and Roll Hall of Fame. It's more of a business than a museum, more about ticket sales and TV shows than anything else. I count it as no great loss to the world that they don't acknowledge the Monkees. It's their call, not the public's."
Related: Here We Come… Our look back at The Monkees' spectacular first year

Latest posts by Best Classic Bands Staff
(see all)