While many of the best classic rock acts have embarked on "final" tours, only to reappear on the road a year or two later, it appears that the current "Monkees Farewell Tour" will indeed be the last go-round by Micky Dolenz and Michael Nesmith, the 1960s band's last two surviving members.
Both are now in their late 70s, and the poignancy and passion of their Sept. 18, 2021, concert at the Magnolia, a 1,200-seat venue in the East San Diego County suburb of El Cajon, had an air of finality to it.
Watch the Monkees' show-ending "Listen to the Band" and "I'm a Believer" from the Magnolia
More than half a century has passed since the Monkees' meteoric rise as a sunshine pop alternative to the heavier sounds of the day. Their first album came out in 1966, the same year that brought us the Beach Boys' Pet Sounds, the Beatles' Revolver, the Kinks' Face to Face and the debut LP by Jefferson Airplane.  Their big hits have aged remarkably well; as Glen Campbell once said, "A good song is a good song." But more significantly, their show at the Magnolia was a reminder of the wealth of great material on their albums, which some did not take seriously at the time. Although those albums sold millions of copies, the Monkees were dismissed in some quarters as manufactured teen idols, despite the incredible musical talents of both Dolenz, as a singer, and Nesmith, as a writer.
Related: How it all began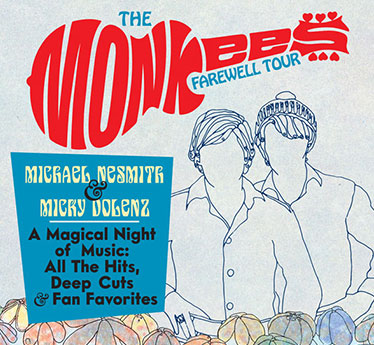 True, their biggest hits were written by others, and at their show at the Magnolia these were faithfully performed and welcomed by the older, and predominantly female, audience members, many of whom sang, shook and screamed the way they must have when these songs were new. Neil Diamond's "I'm a Believer," Gerry Goffin and Carole King's "Pleasant Valley Sunday" and "Last Train to Clarksville," by the band's primary songwriting team of Tommy Boyce and Bobby Hart, all sounded record-perfect and were performed with genuine enthusiasm by Dolenz and Nesmith.
Watch them perform "Last Train to Clarksville"
A high point was John Stewart's "Daydream Believer," one of the few big Monkees hits on which the late Davy Jones sang lead. Dolenz's remarkable voice made the switchover hardly noticeable, and the crowd responded with beams of light from their iPhones directed toward the stage—the modern equivalent of flashing a lighter.
Watch them perform "(I'm Not Your) Steppin' Stone" and "Daydream Believer" at a concert one month later
But beyond the hits, the Monkees produced a remarkable catalog of music that went beyond the hook-laden mega-hits and embraced a variety of styles and genres, from psychedelia to the country-rock Nesmith later refined in his solo career.
Related: Nesmith died less than one month after the tour ended
The band opened with "Good Clean Fun," a country-tinged tune written and sung by Nesmith that first appeared on the group's 1969 album The Monkees Present, the second LP without Peter Tork and the final one with Nesmith. "Porpoise Song," the theme from the band's movie Head, is a psychedelic anthem by Goffin and King that the Monkees recorded in 1968, perhaps as a nod to the Beatles' move into psychedelia two years earlier. And "While I Cry," another late-stage Monkees song written and sung by Nesmith, is a tender ballad that was preceded by "Nez" talking about how, when he wrote it, "I thought about a young woman or man absorbing what the song meant and relating it to their life and making it something of their life…It's deeply touching to me." The house grew still as he proceeded to sing, "They told me what you'd do/If I ever stayed with you/They told me that you'd laugh while I cried/They told me what you'd say/That you'd turn and walk away/And find another place to play/While I cried…They told me what you'd do/If I ever stayed with you/And sure enough/It all came true."
Shaking the notion of being merely a legacy band, Dolenz and Nesmith also performed a healthy selection of newer material. "Me & Magdalena," an infectious ballad off their 2016 Good Times album, written by Death Cab for Cutie's Ben Gibbard, found the pair engaged in some mesmerizing two-part harmonies. Also from that album came the anthem-like "Birth of an Accidental Hipster," written expressly for them by The Jam's Paul Weller and Oasis frontman Noel Gallagher.
Related: When Johnny Cash sang with the Monkees
Appropriately, the duo also performed several tracks off Dolenz's newly released solo album, Dolenz Sings Nesmith, including a reimagined "Circle Sky" and "Different Drum," a song Nesmith wrote in 1964 that was first recorded by the bluegrass band the Greenbriar Boys. Nez then offered it to the Monkees, but it was rejected; it later became a big hit in 1967 for the Stone Poneys with Linda Ronstadt.
Watch the Monkees perform "Different Drum" at an earlier show on the tour
Credit is due Dolenz and Nesmith for keeping alive the spirit, as well as the sound, of the Monkees. Davy Jones was the one the young girls at the time all fell in love with, but it was Dolenz and Nesmith who were the clear leaders, and whose comic interplay on the TV show was a key ingredient to its success. This televised impishness continues to translate well on the stage 55 years later, and brought an element of fun and frivolity into a concert appearance that was very likely one of their very last. (The tour began Sept. 10 in Spokane, Wash., and continued through October and November, ending Nov. 14 in Los Angeles with a show at the famed Greek Theater.) Dolenz still prances around the stage like a young showman, but Nesmith has clearly aged since the Monkees last appeared in San Diego in June 2018, just days before the tour was abruptly called off so Nesmith could undergo quadruple bypass surgery. His hair is now snow white, and he uses a cane to walk.
And yet if you closed your eyes and raised your head just slightly you'd swear it was 1966 all over again.
Related: Listings for 100s of classic rock tours
Latest posts by Thomas K. Arnold
(see all)