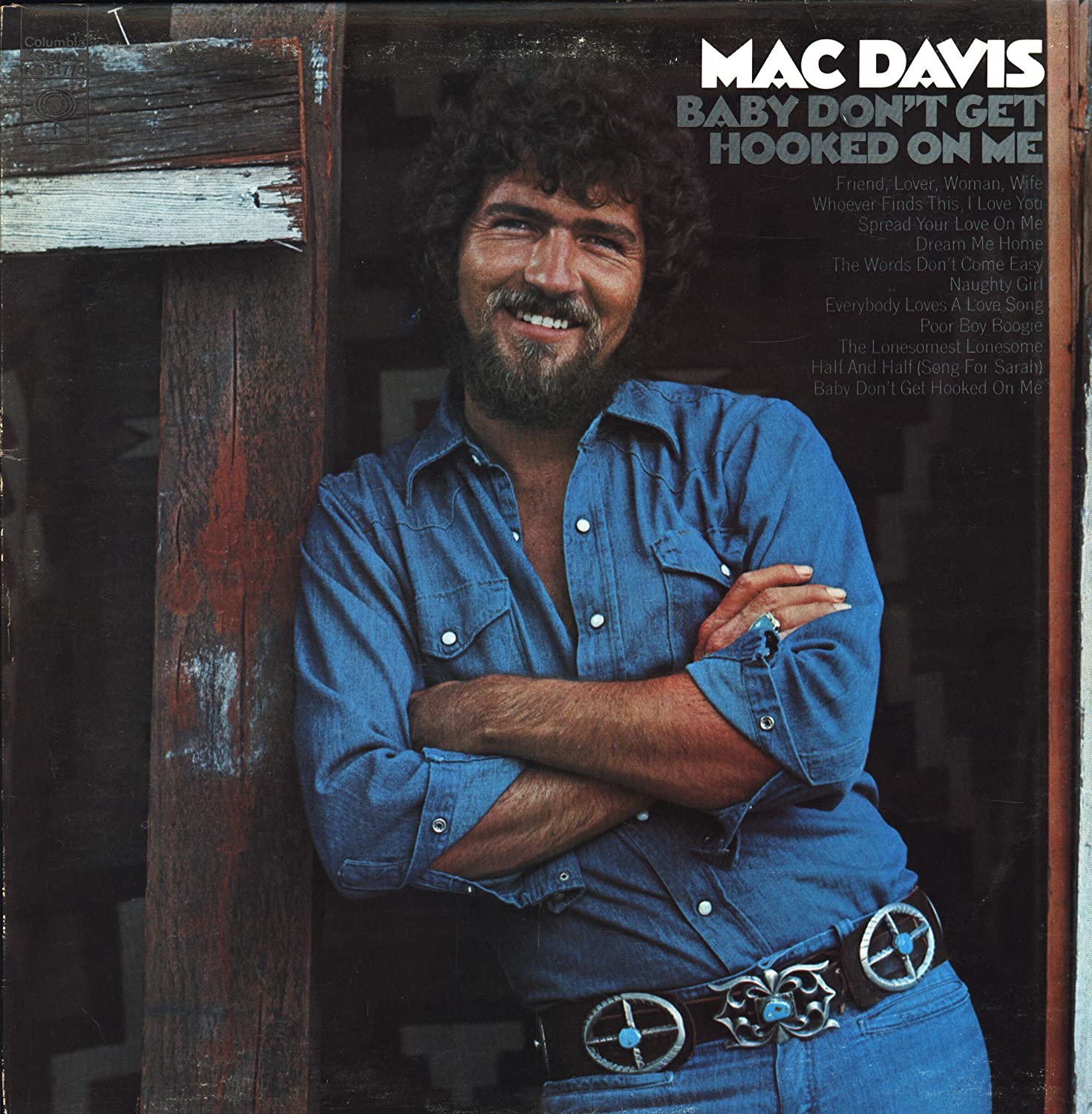 Mac Davis, the country-pop performer who wrote such hits as "In the Ghetto," "Memories" and "A Little Less Conversation" for Elvis Presley, and later recorded his own #1 pop hit in 1972 with "Baby Don't Get Hooked On Me," died September 29, 2020, at age 78. The news was announced just before midnight by Davis' longtime manager, Jim Morey. One day earlier, Morey shared the news that Davis was critically ill following heart surgery in Nashville.
Morey's statement:
It's with a heavy heart that I announce the passing of Mac Davis. He was surrounded by the love of his life and wife of 38 years, Lise, and his sons Scott, Noah and Cody.
Mac has been my client for over 40 years, and more importantly.. my best friend.
He was a music legend but his most important work was that as a loving husband, father, grandfather and friend.
I will miss laughing about our many adventures on the road and his insightful sense of humor.
When there was a tough decision to be made he often told me "You decide.. I'm going to the golf course!"
To quote from his song I Believe in Music..
"I could just sit around making music all day long
As long as I'm making my music ain't gonna do nobody no harm
And who knows maybe I'll come up with a song"
And he did…time after time.
Davis parlayed his good looks, smooth voice and easygoing image into a significant presence on television, with his own primetime variety series, and the Broadway stage.
Davis' first success was as a songwriter. Besides the songs recorded by Presley from 1968-1970, he wrote "I Believe in Music," which he and many other artists recorded.
The song, often considered his signature tune, became a pop hit for Gallery in 1972. Kenny Rogers and the First Edition recorded Davis' "Something's Burning" in 1970, which became a #11 pop hit.
Related: Fellow '70s hitmaker, Helen Reddy, also died on Sept. 29, 2020
Davis scored his own #1 pop single with his song, "Baby Don't Get Hooked on Me," which topped the chart on September 23, 1972, ahead of such songs as the O'Jays "Backstabbers," Three Dog Night's "Black and White" and Chicago's "Saturday in the Park."
Watch Davis perform the song on The Midnight Special in 1973
Related: The #1 singles of 1972
Over the next several years, he reached the pop charts with such self-penned efforts as 1974's "One Hell of a Woman" (co-written with Mark James and a #11 success) and the #9 hit, "Stop and Smell the Roses" (co-written with "Doc" Severinsen. That same year, Davis was named the Academy of Country Music's Entertainer of the Year.
It wasn't until the 1980s that Davis reached the Top 10 of the country singles chart, which he did on six occasions, most notably with "Hooked on Music," which reached #2 in 1981.
From 1974-76, he hosted and starred in his own musical variety TV series on NBC. He also acted in such movies as North Dallas Forty (1979), Cheaper to Keep Her (1980) and The Sting II (1983). He played the title role in the Broadway production of The Will Rogers Follies.
If you're a new Best Classic Bands reader, we'd be grateful if you would Like our Facebook page and/or bookmark our Home page.
Scott "Mac" Davis was born Jan. 21, 1942 in Lubbock, Tex. During his early years in the music business, he lived in Atlanta, where he played in a rock and roll band and worked as a regional manager for Vee-Jay Records. Although he had enjoyed a measure of songwriting achievement before, his big breakthrough occurred in 1969-70 when Elvis Presley turned three of his songs–"In the Ghetto," "Memories" and "A Little Less Conversation" (both written with Billy Strange) and "Don't Cry Daddy"–into pop hits.
Watch Davis perform "Memories" on a 2019 Elvis tribute special
Davis followed these successes with "Everything a Man Could Ever Need" (a hit for Glen Campbell) and "Watching Scotty Grow" (Bobby Goldsboro).
Upon the news of his passing, Dolly Parton wrote: "Many hearts are broken today, including my own, with the death of one of my dearest friends, Mac Davis. We lost one of the world's greatest writers, singers, and entertainers. My love and sympathy goes out to Lisë, his precious wife, his children, and his grandchildren.
Rest in peace, my friend.
I will always love you"
Related: Many more of Davis' contemporaries paid tribute

Latest posts by Best Classic Bands Staff
(see all)