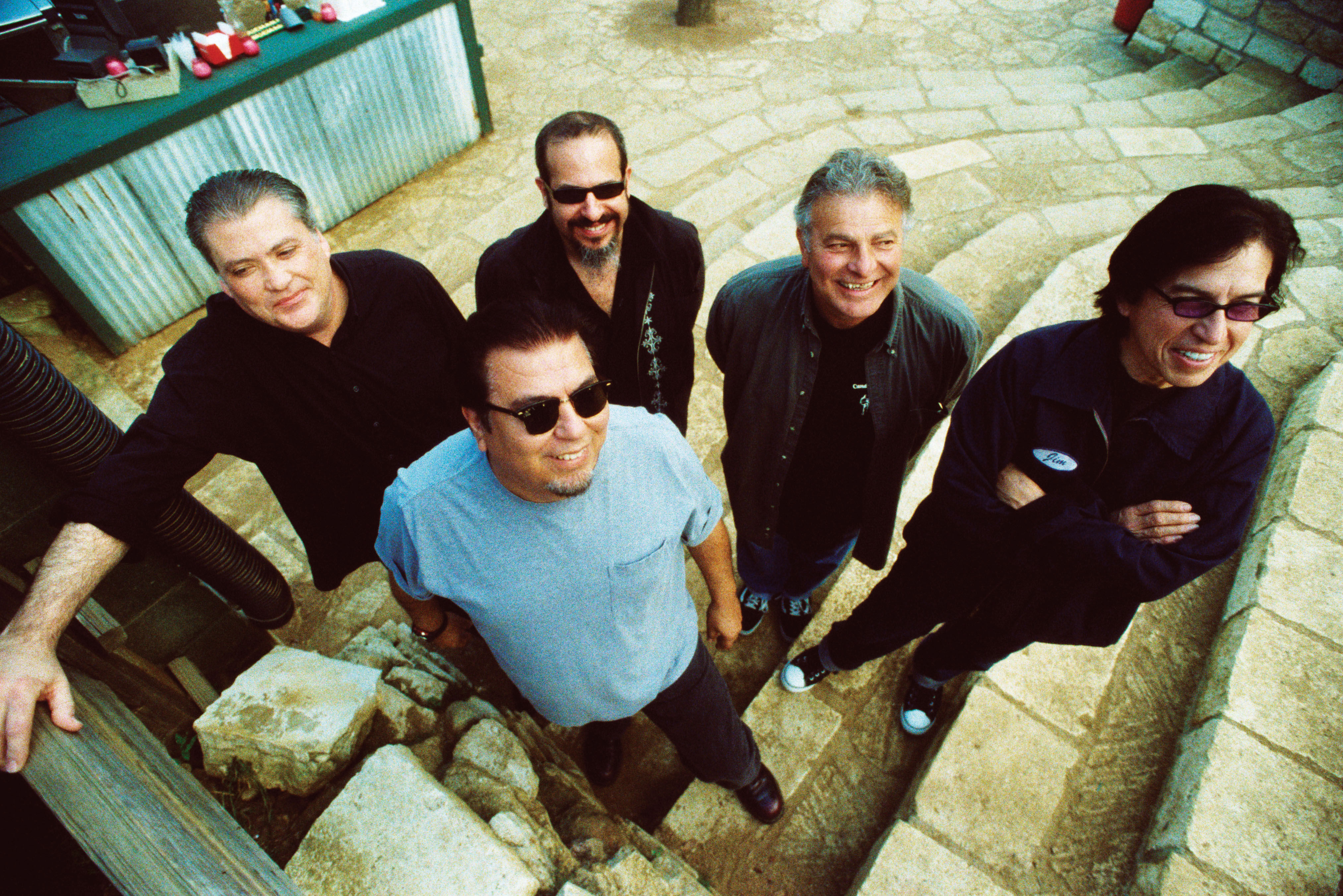 They're hardly just another band from East L.A. Los Lobos – Spanish for "The Wolves" – were something of an anomaly when they emerged onto the early 1980s Los Angeles punk/new wave scene. David Hidalgo, Louie Perez, Conrad Lozano and Cesar Rosas all played in garage bands during the early 1970s while students at Garfield High School. When they came together as a band following graduation, the foursome brought a deep and broad collective grounding in rock, pop, soul, blues and jazz to the table.
And an interest in traditional Mexican-American music, stoked by the La Raza movement of the 1960s. Turning to their roots, Los Lobos began their career playing the music of their forebears at weddings, fiestas, quinceañeras, backyard parties, Mexican restaurants, cantinas, clubs… whatever gigs they could find in their Chicano community. Their 1978 independent debut album, Just Another Band From East L.A. (a later compilation bears the same name), starts to get the Lobos attention in local Anglo music and media circles. During a residency at the Las Lomas restaurant in Anaheim Hills, the band begins to plug in and amp back up, creating their own distinctive take on Chicano rock.
Related: Our interview with Los Lobos' Louie Perez
By the dawn of the '80s they are gigging at L.A.'s punk venues and even open a concert for Public Image, Ltd. Two indie singles lead to a deal with Slash Records, the label that the group's friends The Blasters work with. By 1984, Los Lobos have won a Grammy for their song "Anselma" and released their first full LP for Slash, How Will The Wolf Survive? The album's co-producer, saxophonist Steve Berlin of The Blasters, leaves that group to join the Lobos.
In 1987, the band is established as critical favorites and one of the most dynamic live acts in the nation. Then their single of Ritchie Valens' version of "La Bamba" from the Valens biopic of the same name reaches #1 on the Hot 100 on this day in 1987, and remains there for three weeks, bringing the Wolves into the mainstream.
Los Lobos have become both a premier American and Latino roots (but sometimes rather progressive) rock band whose varied body of work commands affection and respect from a substantial cadre of followers. A biography, Dream in Blue, written by veteran L.A. music journalist Chris Morris, was published in 2015 and was joined by their first new album in five years, Gates of Gold.
When Los Lobos tour, tickets are available here and here.

Latest posts by Best Classic Bands Staff
(see all)