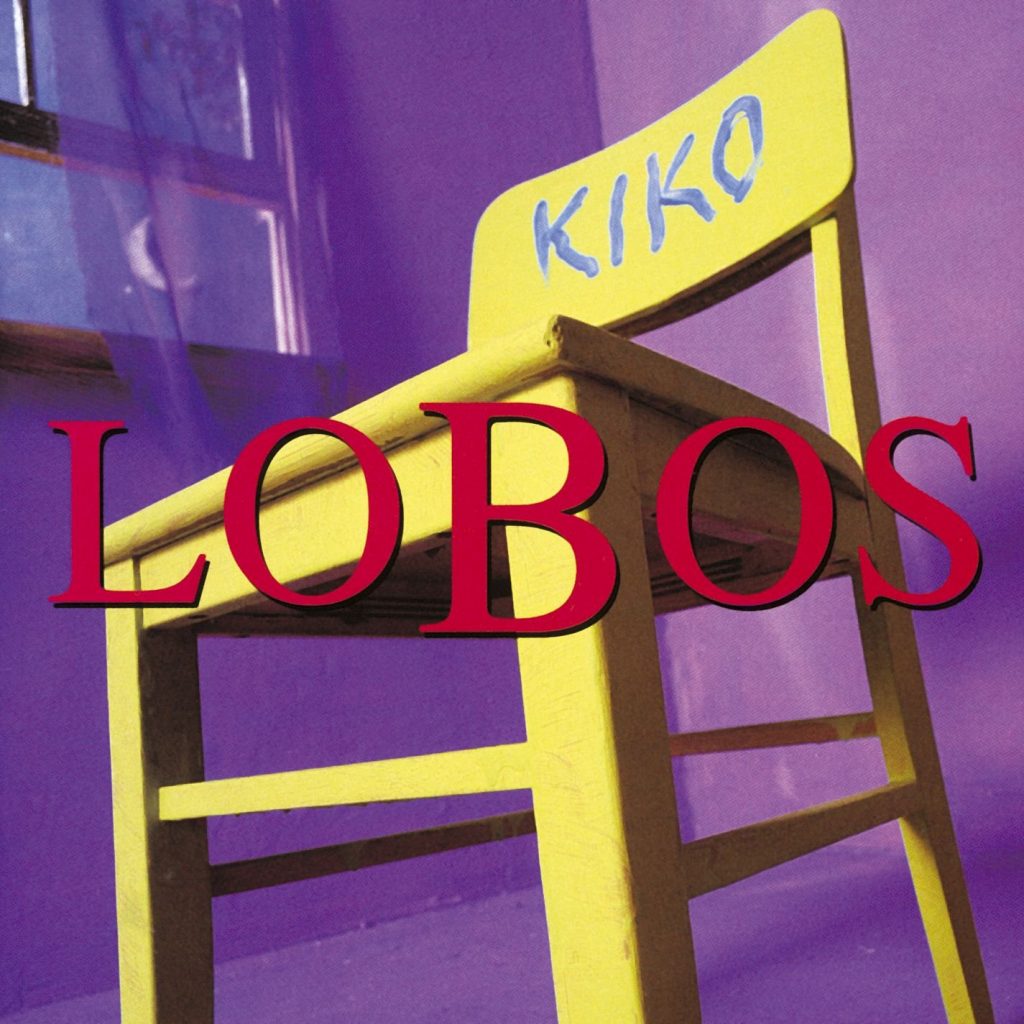 On their sixth album, 1992's Kiko, Los Lobos alternately distilled and deconstructed their music by embracing studio experimentation. After two decades together, the East Los Angeles band's multicultural influences remained audible, crossing state lines and national borders to draw from regional Mexican and American styles: mariachi, ranchera, and Norteño music, Chicano rock 'n' roll and R&B, Tex-Mex and zydeco, electric blues and country percolated through their playing. New to the equation were raw sonic textures, layered overdubs and outboard studio effects that reflected their sound in funhouse mirrors. Mood and musical color brought wonder as well as menace to fables, dreams and visions evoking the magical realism of 20th century Latin-American literature with a hallucinatory glow.
Up to that point, their records had hewed to the scale of their live performances, documenting an ensemble honed since high school garage band adventures. For David Hidalgo and Louie Peréz, later to emerge as the band's primary songwriters, the gateway into traditional Mexican folk styles came not from the neighborhood but from American and British folk-rock records by Ry Cooder, the Band, and Fairport Convention. Just as the Band had inspired Fairport to explore traditional British music, Hidalgo and Peréz immersed themselves in traditional regional styles and Mexican stringed instruments.
Together with guitarist Cesar Rosas, bassist Conrad Lozano, and mandolinist Frank Gonzaléz, multi-instrumentalist Hidalgo and percussionist Peréz launched Los Lobos del Este de Los Angeles in 1973, winning eastside audiences with their authentic mix of Mexican styles. Following Gonzaléz's departure, the surviving quartet built a home turf audience before turning their sights to Los Angeles' burgeoning punk and roots rock scene, culminating in their triumphant debut at the Whisky a Go Go in January 1982, opening for the Blasters, who quickly became crucial allies, sharing stages and lobbying their label, Slash Records, to sign Los Lobos.
Blasters saxophonist Steve Berlin then teamed with T Bone Burnett to co-produce the quartet's label debut EP and the full-length that followed in 1984 before leaving the Blasters to join Los Lobos full-time. By 1987, the band seemed at a commercial tipping point, thanks to their faithful covers of Chicano rock 'n' roll pioneer Ritchie Valens' hits for the soundtrack to La Bamba, the Valens biopic that scored at the box office as well as on album charts where the soundtrack album reached #1.
By 1991, however, Los Lobos was grappling with frustration over disappointing album sales and an ambitious tour's cost overruns. Refocusing their creative process, Hidalgo and Peréz rented an office for songwriting sessions, with the band demoing new songs at a small studio near downtown Los Angeles' Skid Row. When Lenny Waronker, president of Slash's distributor, Warner Bros. Records, heard the new songs, he recommended they reunite with Mitchell Froom, who had produced their hit single of "La Bamba" as well as a standout track from their most recent album, 1990's The Neighborhood.
Related: Read our interview with Los Lobos' Louie Peréz
In Froom and engineer Tchad Blake the band found hands-on partners whose recent clients included Crowded House, Paul McCartney, Elvis Costello and Richard Thompson. The duo was at a turning point in using the studio to actively shape the music rather than merely document it. Waronker's instinct that they would push the envelope was on target.
That the band and Froom were unlocking a new sonic palette was apparent from the opening track, "Dream in Blue." Rattling percussion, terse bass pulses, handclaps and jangling guitar bob and weave beneath Hidalgo's giddy vocal as he recounts a dream where "I flew around with shiny things, when I spoke I seemed to sing, high above, floating far away…" Steve Berlin overdubs octave choruses and single lines on multiple reeds while electric guitars respond to Hidalgo's playful command to "sock it to me one time" with blasts of distortion. The track's raw edges and hurtling momentum are part of a conscious design that Froom and Los Lobos, sharing production credit, devised to preserve the gritty, abstracted feel of their demos, five of which would be kept for the finished album. Leaning into studio manipulation, they elevated noise and distortion from sonic taboos to creative tools.
Thematically, dreams and visions generate moments of mood-altering surrealism. "Wake Up Dolores" is a brooding lament for travelers on a stony, endless trail, haunted by ancient Aztec images of "quetzal plums, of dying suns, and purple moons," set to a nervous, syncopated arrangement in which guitars and voices answer the lead vocal like chanting supplicants as Hidalgo lapses into the pre-colonial Nahuatl tongue. (The album's focus on percussion is bootstrapped by a strong cohort of guest percussionists to buttress an already full court press by all five members of the band.)
"Angels With Dirty Faces" slows to a methodical pace, suspending Hidalgo's voice in a percussive clockwork haze as he bears witness to homelessness: As biographer Chris Morris would later report, the song was inspired by the band's experiences during its demo sessions near Skid Row, translating to images of the "broken window smile, weeds for hair" of one lost soul and a brief elegy for a brother lost "to the howling wind."
The atmospheric sound treatments and off-centered meter of these tracks give Kiko a mesmerizing impact without entirely eclipsing Los Lobos' earlier instincts. Cesar Rosas animates an easy blues shuffle in "That Train Don't Stop Here," handily working a time-honored erotic metaphor in a lament for a lover who's abandoned him for another, delivered with sly humor and a simmering arrangement warmed by soulful organ accents, darting rhythm guitar and Rosas' taut, blues-drenched electric guitar. Rosas' spry vocal and two lively instrumental breaks reinforce the suspicion that however heartbroken he is, he's having a good time.
Mitchell Froom's role in enabling Los Lobos to shift sonic shape isn't confined to the control room and the toy box of technical effects at hand. He augments Steve Berlin and David Hidalgo's keyboards and accordion with his own array of vintage keyboards, including Chamberlin and Optigon, both distant, pre-digital cousins of the Mellotron. Credit him with the distinctive "horn chorus" that serves the album's most enchanted piece, "Kiko and the Lavender Moon," a dream that creeps into view against a three-chord vamp that suggests an Ellingtonian riff on "Three Blind Mice," easily mistaken for a cluster of Berlin sax overdubs—a Froom emulation on Chamberlin conjuring the retro glow of an old radio. In its title character, a dreaming child, the song achieves a bewitched, playful gleam cast by its fanciful imagery and a spare, circular conversation between "horns," Hidalgo's button accordion and a doubled guitar and piano phrase.
Los Lobos taps into traditional folk textures and a spirit realm tagged in Catholic imagery on "Saint Behind the Glass," a rare solo vocal by Louie Peréz set against a lacy backdrop of guitarron, acoustic guitars and Veracruz harp that brings a religious relic to life, if only in the singer's mind. Elsewhere among the set's generous 16 songs, they echo early heroes: "Arizona Skies" is a lush acoustic border serenade on stringed instruments underpinned by rippling, treated percussion and slide guitar figures worthy of Ry Cooder, while "When the Circus Comes" is a rustic ballad that evokes the Band.
Kiko, released on May 26, 1992, was rightly acclaimed as the band's studio pinnacle for its thematic breadth and sonic innovation, but commercially it fared no better than its predecessors. However discouraged they might have been, the five veterans in Los Lobos would persevere to survive intact as one of the longest-running American rock band sextant as of May 2022, touring constantly and releasing 18 more albums and compilations to date.
Watch Los Lobos perform "Kiko and the Lavender Moon" live
Tickets to see Los Lobos are available here and here.

Latest posts by Sam Sutherland
(see all)