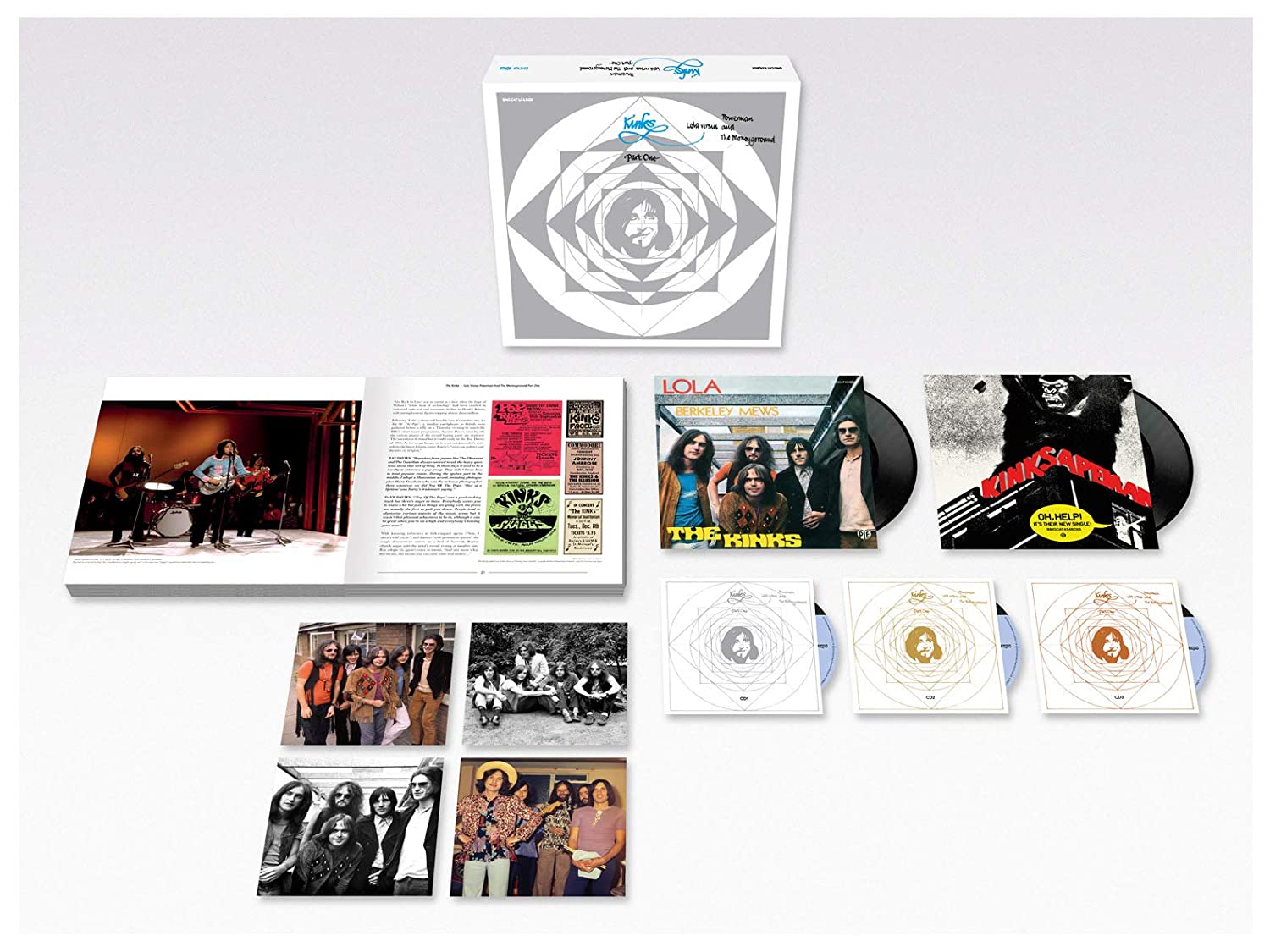 The Kinks are continuing the 50th anniversary celebration of their studio albums with various new editions of 1970's Lola Versus Powerman and the Moneygoround, Pt 1. The Dec. 18 release via Sanctuary Records is produced in association with The Kinks, with audio and visual content curated by Ray Davies. The original album, released on Nov. 27, 1970, included the worldwide hit single, "Lola," as well as "Apeman," a top 5 record in many markets.
On Nov. 25, the band premiered an animated video of "Lola," telling the story of a romantic encounter between a young man and a possible trans-gender person whom he meets in a club in Soho, London.
[The brilliant artwork is by Chris Garratt and Mick Kidd. Video direction and creative direction/animation are from John Paveley and Andy Galloway.]
From the new collection's Oct. 14 announcement: The concept album, their eighth studio release, is a satirical appraisal of the music industry, including song publishers, unions, the press, accountants, business managers, and life on the road. This classic album appeared during a transitional period for the Kinks, and was a critical and commercial success.
Listen to "The Follower / "Any Time" 2020 from the new release
The limited deluxe edition is lavishly packaged, with a 50th anniversary deluxe 10" book-pack of that album, containing many previously unreleased tracks and versions.
The package includes a matt laminated rigid slipcase featuring the original LP cover reproduced with foil and metallic silver finishes. Three CDs contain: The original album new remaster from original HD master tapes, singles (stereo and mono mixes), B-sides, alternate original mixes, new medleys with Ray and Dave Davies conversations, new Ray Davies remixes and original session out-takes, previously unreleased session and live tape audio, instrumental & acoustic versions, previously unreleased demos and BBC material.
Watch the official unboxing video
Also included are two reproduced original 7" picture bag singles, a 60-page hardback book with extensive notes, new band quotes, a Kinks' 1970 diary, rare photos and memorabilia.
The 50th anniversary LP release features the newly remastered original stereo album on heavyweight vinyl in a carefully restored and replicated original gatefold sleeve.
The package includes a 12" booklet with comprehensive notes, new band quotes, rare photos and memorabilia.
A 50th anniversary Digipack CD release contains the new remaster of the original album from original HD master tapes plus an alternate version of "Apeman," a mono single mix of "Lola" and two new Ray Davies mixes.
The 2020 mix of "Powerman" was released on Nov. 11.
Related: Our Album Rewind of a Kinks Klassic
See the complete track listing and listen to many more of the tracks below the links.
Related: Our recap of 2020's best boxed sets
Listen to an alternate take of "This Time Tomorrow"
Lola Versus Powerman and the Moneygoround, Pt 1 50th Anniv. Edition Track Listing
1. The Contenders
2. Strangers
3. Denmark Street
4. Get Back In Line
5. Lola
6. Top Of The Pops
7. The Moneygoround
8. This Time Tomorrow
9. A Long Way From Home
10. Rats
11. Apeman
12. Powerman
13. Got To Be Free
14. Lola (Mono Single Mix)
15. Apeman (UK Mono Single Mix)
16. Rats (Mono Single Mix)
17. Powerman (Mono Mix)
18. Apeman (Alternate Version, Stereo)
19. The Moneygoround (Alternate Version, Mono)
20. This Time Tomorrow (Alternate Take, 2020 Mix)
21. Top Of The Pops (2020 Mix)
22. Lola/Radio Spot, Edit (Ray's Kitchen Sink)
23. Got To Be Free (Ray's Kitchen Sink)
24. The Contenders (Ray's Kitchen Sink)
25. The Good Life (2020 Mix)
26. Apeman (Unplugged Live Version)
27. Get Back In Line (Live Version)
28. Marathon (Edit, from The Long Distance Piano Player)
29. Got To Be Free (Edit, from The Long Distance Piano Player)
30. Lola (Ray Davies & Band with The Danish National Chamber Orchestra & The Danish National Vocal Ensemble)
31. The Good Life (2012 Alternate Mix)
32. Apeman (US Mono Single Mix)
33. Moments (2020 Mix)
34. This Time Tomorrow & Cassette Demos Medley (Ray's Kitchen Sink)
35. Get Back In Line (Ray's Kitchen Sink)
36. Rats (Ray's Kitchen Sink)
37. Rats (2020 Mix)
38. Powerman (Ray's Kitchen Sink)
39. Powerman (2020 Mix)
40. The Contenders (Instrumental Demo)
41. Anytime
42. A Long Way From Home (Ray's Kitchen Sink)
43. A Long Way From Home (Live, Austin City Limits, 2006)
44. Strangers (Ray's Kitchen Sink)
45. Strangers (2020 Stereo Mix)
46. The Way Love Used To Be (2020 Monitor Mix)
47. Apeman (Morgan Studios Run-Through)
48. Radio Spot/Live, Queens College, Flushing, NY, 1971
49. The Follower – Any Time 2020 (featuring Anytime by The Kinks)
Listen to a 2006 live performance of "A Long Way From Home"

Latest posts by Best Classic Bands Staff
(see all)