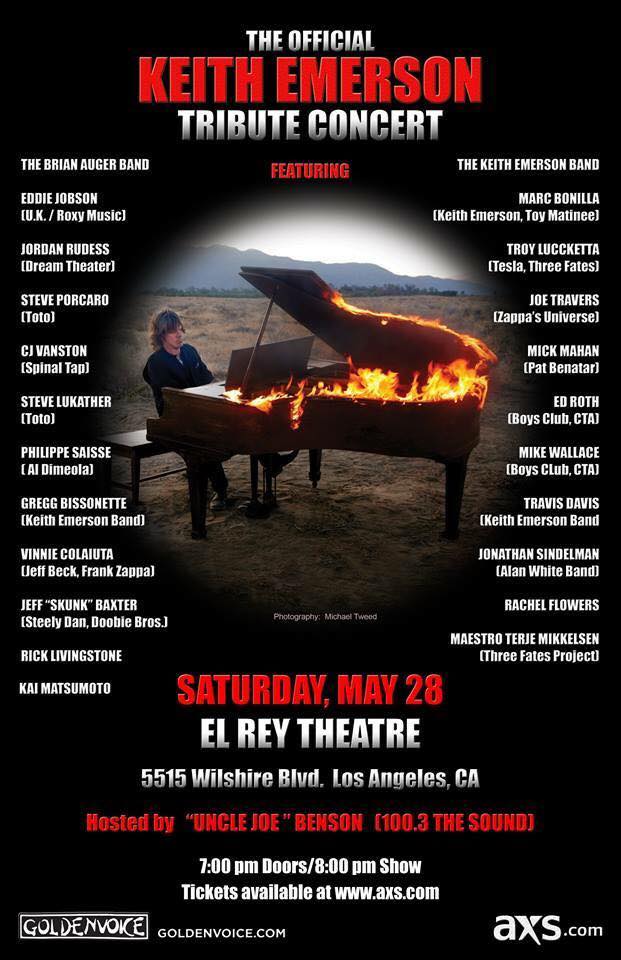 Musicians who played with, knew and admired the late Keith Emerson will gather on May 28th in Los Angeles to salute the keyboard genius who died in March (see our story here). The Official Keith Emerson Tribute Concert will take place at the El Rey Theatre, and will be a retrospective of Keith's entire career from The Nice to Emerson, Lake & Palmer to the Keith Emerson Band and Three Fates Project. Many of the artists who were close friends and have worked with Keith will be performing some of his most famous works.
The show's lineup includes a number of noted fellow keyboard players: Veteran English Hammond B3 organ legend Brian Auger and his band; British keyboard player and violinist Eddie Jobson, who, like Emerson, was a synthesizer pioneer, and has played with Curved Air, Roxy Music, UK, Jethro Tull, Yes and Frank Zappa; and Steve Porcaro, Toto founding keyboard player and another synthesizer expert who currently composes music for the FX series Justified.
Other noted players on the show include drummers Gregg Bissonette (Ringo Starr's All-Starr Band) and Vinnie Colaiuta (known for his work with Jeff Beck and Frank Zappa), guitarists Steve Lukather of Toto and Jeff "Skunk" Baxter of Steely Dan and Doobie Brothers fame, the members of the Keith Emerson Band and more. The event will be hosted by radio air personality "Uncle Joe" Benson of 100.3 The Sound.
It appears that the event has the approval of Emerson's girlfriend Mari Kawaguchi. In a talk with England's Daily Mail she confirmed that his diminishing agility on keyboards was a likely factor in Emerson's decision to take his own life. "His right hand and arm had given him problems for years," she said. "He had an operation a few years ago to take out a bad muscle but the pain and nerve issues in his right hand were getting worse. He had concerts coming up in Japan and even though they hired a back-up keyboard player to support him, Keith was worried."
"He read all the criticism online and was a sensitive soul," Kawaguchi points out. "Last year he played concerts and people posted mean comments such as, 'I wish he would stop playing.'"
Read here about the tribute tour and multimedia salute to Emerson in Miami, FL being put together by Emerson's ELP bandmate Carl Palmer.
Click here to purchase tickets for the L.A. Emerson tribute.
(If you're a new reader of ours, we'd be grateful if you would Like our Facebook page and/or bookmark our Home page.)

Latest posts by Best Classic Bands Staff
(see all)