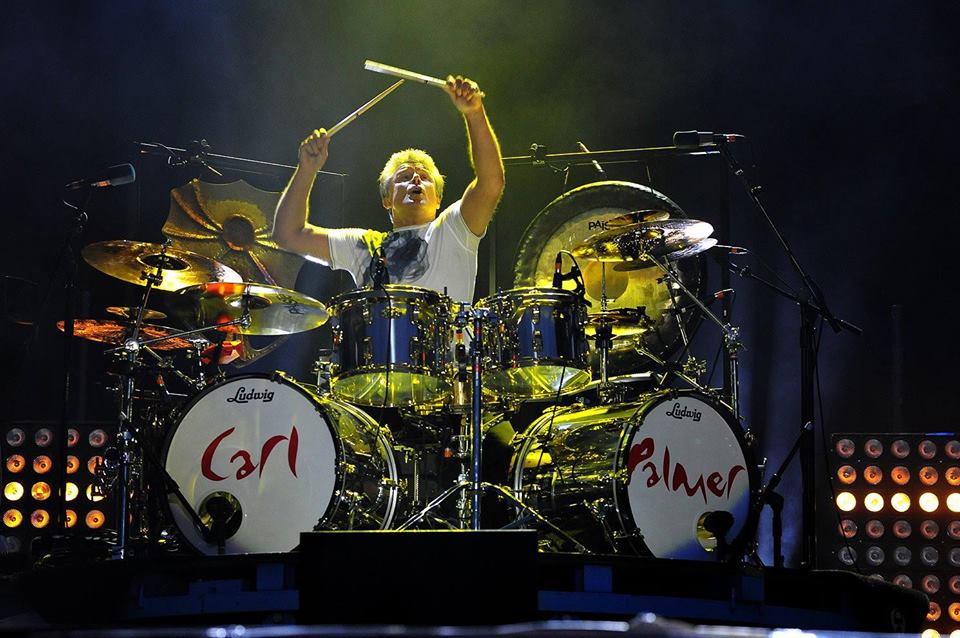 Emerson, Lake & Palmer drummer, Carl Palmer, will pay tribute to his longtime bandmate, Keith Emerson, with a North American tour. The cumbersomely named – but certainly well-meaning – tour is formally billed as "The 2016 Remembering Keith and the Music of Emerson Lake & Palmer Tour."
Originally designed to be a celebration of the renowned drummer's 50th year in music – possibly with Emerson's participation – the focus and name of the tour was changed in light of the tragic death of Emerson on March 11.
"I will deeply miss Keith and I want you all to know I will carry on flying the ELP banner and playing the great music with my band for many years to come," said Palmer in a statement.
The "Remembering Keith" tour features his popular ELP Legacy band and will also highlight his collection of fine art, recently done in conjunction with California's Scene Four Art Studios. (View the Palmer art collections here.) Carl Palmer ELP Legacy is a power trio that features Palmer on drums and percussion; guitarist Paul Bielatowicz and bassist Simon Fitzpatrick.
To honor his late friend and former band mate, Palmer, in association with Audio One, will present a special show: "Pictures At An Exhibition- A Tribute To Keith Emerson" which will feature music by Carl Palmer's ELP Legacy band with special guests, cinematic images, and performances by The Center For Contemporary Dance, who will interpret the music of Emerson Lake & Palmer in contemporary dance segments combined with backing from Palmer and his band.
The tribute show, which will also include other guest musicians yet to be announced, will be staged one night only, June 24th, at Miami, Florida's historic and intimate Olympia Theater. (Click here for tickets.)
Adds Palmer: "I hope this is something all fans of ELP and Keith Emerson will all want to come along and see to help celebrate his music. I had wanted to marry the music of ELP with a contemporary dance interpretation for quite a while. I had invited Keith to come and participate in this, but sadly, fate intercepted these plans."
Carl Palmer's ELP Legacy Tour 2016 Dates (click here for tickets):
June 02 – New York, NY – BB King Blues Club
June 03 – Sellersville, PA – Sellersville Theatre
June 05 – Londonderry, NH – Tupelo Music Hall
June 06 – Wilmington, DE – World Café
June 07 – Arlington, MA – Regent Theatre
June 08 – Hamilton, ON – Studio in Hamilton Canada
June 09 – Jim Thorpe, PA – Penn's Peak
June 10 – Bay Shore, NY – YMCA Boulton PAC
June 11 – Syracuse, NY – Benefit for Crouse Health Foundation – Palace Theater
June 12 – Ferndale, MI – The Magic Bag
June 15 – Ridgefield, CT – Ridgefield Playhouse
June 16 – Peekskill, NY – Paramount Hudson Valley Theater
June 17 – Lexington, MI – Lexington Village Theater
June 24 – Miami, FL – Pictures at an Exhibition – Olympia Theater
July 07 – Las Vegas, NV – TBA
July 08 – Agoura Hills, CA – The Canyon Club
July 09 – Indio, CA – The Rock Yard Casino
July 12 – Dallas, TX – Poor David's
(If you're a new Best Classic Bands reader, we'd be grateful if you would Like our Facebook page and/or bookmark our Home page.)

Latest posts by Best Classic Bands Staff
(see all)