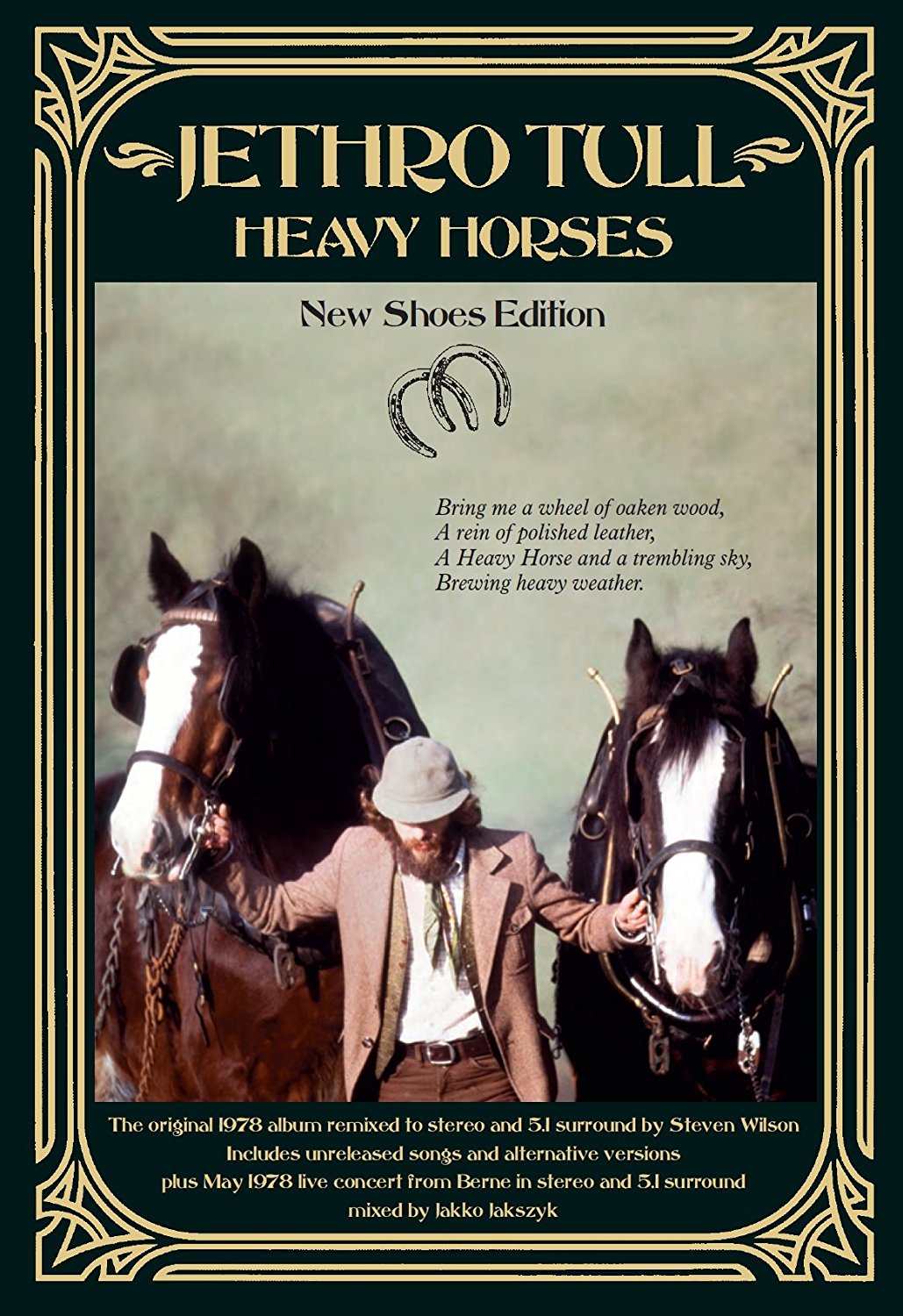 It was on Feb. 2, 1968, at the Marquee Club on London's Wardour Street, that Jethro Tull first performed under that name. To celebrate their golden anniversary, founder/bandleader Ian Anderson will present "50 years of Jethro Tull" throughout 2018. (Details here.)
And to kick off the celebratory year, Parlophone Records, with Rhino Entertainment, announced today (Dec. 11) a 40th anniversary of 1978's Heavy Horses, with a New Shoes Edition, a 3-CD/2-DVD box set. The limited edition collection, due Feb. 9, will feature a stereo remix by Steven Wilson of the original album, plus additional studio recordings, live material featuring band favorites "Aqualung" and "Locomotive Breath," and an extensive new booklet. Pre-order is available here.
Highlights from the set include:
– 3CDs and 2 DVDs of studio and live recordings
– Extensive notes about the writing, recording and touring of the album
– Track by track annotation by Ian Anderson
– Lyrics for the album and bonus tracks
– Interviews with musicians Maddy Prior, Darryl Way, and studio engineer Colin Leggett
– A recording and touring chronology from January 1977 to November 1978
Released between 1977's Songs From The Wood (1977) and 1979's Stormwatch, Heavy Horses was the second in a trilogy of folk rock albums. The band's lead singer and flautist explained its particular focus on horses and agricultural life: "As a child, my big passion was to get off the leash and explore the local wooded and leafy suburbs. So it didn't suddenly become new in 1977, it was just that the subject matter fitted what I wanted to write about at the time."
Related: BCB's interview with Ian Anderson
This anniversary edition features the original album with nine additional bonus tracks, seven of which are previously unreleased. The set also contains a live concert from May 1978, and two DVDs which feature the original, bonus, and live tracks all mixed to surround sound by Steven Wilson and Jakko Jakszyk. (See the complete track listings below.) A 96-page booklet covers a history of the album and corresponding tour, complete lyrics, rare photos and exclusive interviews.
Heavy Horses: New Shoes Edition – Complete Track Listing
CD1 [A Steven Wilson Stereo Remix]
1. …And The Mouse Police Never Sleeps
2. Acres Wild
3. No Lullaby
4. Moths
5. Journeyman
6. Rover
7. One Brown Mouse
8. Heavy Horses
9. Weathercock
Associated Recordings:
10. Living In These Hard Times (Version Two)*
11. Everything In Our Lives*
12. Jack A Lynn* (Early Version)
13. Quatrain* (Studio Version)
14. Horse-Hoeing Husbandry*
15. Beltane
16. Botanic Man*
17. Living In These Hard Times (Version One)
18. Botanic Man Theme*
* Previously unreleased material
CD2: Live In Concert In Berne, Switzerland, May 1978 – Part One
[A Jacko Jakszyk Stereo Remix]
1. Opening Music (Quartet)
2. Introduction by Claude Nobs
3. No Lullaby
4. Sweet Dream
5. Skating Away On The Thin Ice Of The New Day
6. Jack In The Green
7. One Brown Mouse
8. Heavy Horses
9. A New Day Yesterday
10. Flute Solo Improvisation / God Rest Ye Merry Gentlemen / Bouree
11. Living In The Past / A New Day Yesterday (Reprise)
12. Songs From The Wood
CD3: Live In Concert In Berne, Switzerland, May 1978 – Part Two
1. Thick As A Brick
2. Hunting Girl
3. Too Old To Rock 'n' Roll
4. Conundrum
5. Minstrel In The Gallery
6. Cross-Eyed Mary
7. Quatrain
8. Aqualung
9. Locomotive Breath
10. Dambusters March / Aqualung (Reprise)
DVD 1 [Audio/Video]
Heavy Horses full album plus the additional:
Living In These Hard Times (Versions 1 & 2)
Everything In Our Lives
Jack-A-Lynn
Horse-Hoeing Husbandry
Beltane
Botanic Man & Botanic Man
Quatrain (Stereo Only)
Mixed 5.1 DTS & DD surround sound and 96/24 LPCM stereo.
DVD 2 [Audio]
Jethro Tull recorded live to 24 track at The Festhalle, Berne, Switzerland by The Maison Rouge Mobile mixed to 5.1 DTS & DD surround sound and 48/24 LPCM stereo
Promotional video footage for the tracks "Heavy Horses" and "Moths" and two period TV ads

Latest posts by Best Classic Bands Staff
(see all)