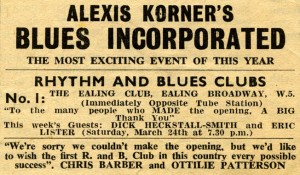 So many things could have gone differently. Mick Jagger and Keith Richards might not have run into each other on a Dartford train platform on Oct. 17, 1961. They might not have discovered a mutual love for American blues music. They might not have decided to give it a try themselves, forming a band they called Little Boy Blue and the Blue Boys (thankfully, they didn't keep that one very long!).
And, on this date in 1962, the two friends and now bandmates might not have traveled, in a car borrowed from a friend's father, to the Ealing Club, to see Alexis Korner's Blues Incorporated, one of the hottest rising British blues bands.
Had even one of those events not taken place, it's possible there may never have been a Rolling Stones. But had those two kids not met another young blues fan and musician at the club that night, a blond-haired boy named Brian Jones, there would definitely not have been a Rolling Stones—at least not a recognizable Rolling Stones.
The club had only opened a few weeks earlier, on March 17, but it had already become the go-to destination for fans of the music. Blues Incorporated was the must-see band, featuring later-to-be-legendary musicians such as bassist Jack Bruce and singer Long John Baldry. The Jones kid wasn't a member but—using the faux blues-guy name of Elmo Lewis—he'd been sitting in with them on weekends, peeling out slide licks on his Hofner Committee guitar.
Jagger and Richards chatted him up – though there's no confirmation that Mick said to Brian, "Please allow me to introduce myself… " Before long they too began sitting in with Blues Inc. Slowly the band that would first be called the Rollin' Stones took shape. Jones recruited a boogie-obsessed pianist, Ian Stewart, and on July 12, they made their debut at the Marquee Club, another venue that opened to support the new blues boom. Additional members—Bill Wyman on bass and Charlie Watts on drums—would be recruited over the next year, and they'd do quite well for themselves.
But it all started for real that night at the Ealing. Rock 'n' roll would never be the same from that day on.
Listen to the Rolling Stones perform their first single, "Come On"
Related: Bill Wyman on the birth of the Stones

Latest posts by Best Classic Bands Staff
(see all)