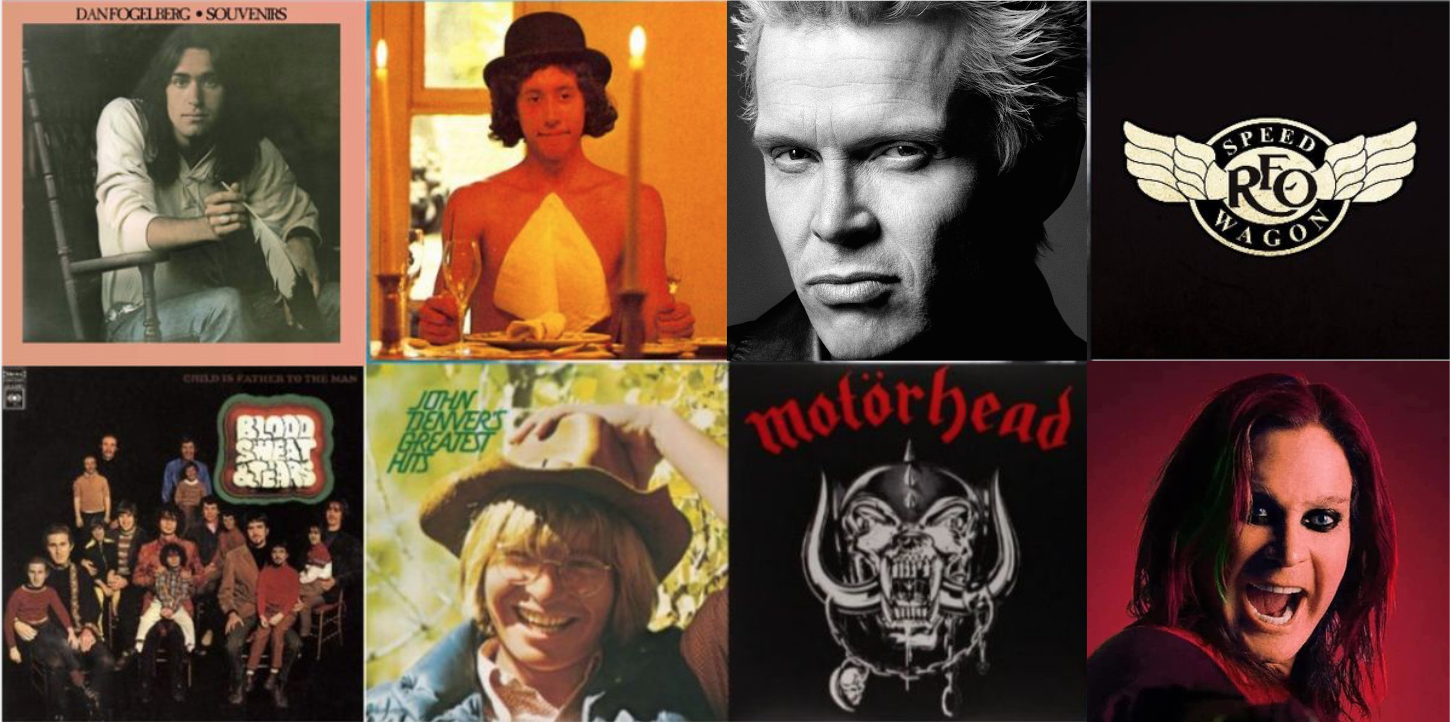 On May 4, 2022, the Rock and Roll Hall of Fame announced the nominations for its Class of 2022.
In Fall 2016, we put together a list of artists that we feel deserve consideration for induction. Since then, many of the artists on the original list of 100 omissions have since been inducted. We update the list each year, deleting those that have made the cut and replacing them with other deserving names.
But, as many readers let us know, even our first list of 100 omissions—which includes Bad Company, Jethro Tull, and Peter Frampton—barely scratched the surface. So we went back to work and compiled this followup list of 100 more omissions by the Hall!
We could probably put together a third list but we're going to leave it at 200. If we've forgotten someone you feel is worthy of inclusion in the Rock Hall, we'd love to know about it! (But please check the first half of the list before you give us hell about leaving out your favorites!)
Our reasons for selecting the artists we did vary. One factor we considered in particular is whether they were important in their own time, not only how they are regarded today. Some of these artists will eventually make the Hall's cut, others never will, and that's just how it is.
In order to be eligible, an artist must have made their first recording 25 years prior to the current year (for the 2022 class, that meant 1997).
One other note: This list considers only artists who recorded primarily under their own names. This is the only category that is submitted to the voting body each year. Thus it does not include musicians who have served primarily as "sidemen" or "sidewomen." Some of the greatest musicians in rock history have never received the recognition they deserve because they contribute mostly to others' recordings. The Hall of Fame has a separate sideman category (which seems to be known now as the Award for Musical Excellence), to which it occasionally appoints names its executives deem worthy. As those artists are not submitted for consideration to voters, we are not concerning ourselves with them here.
Names are listed alphabetically
Alice in Chains—Part of the Seattle grunge movement, they were hugely popular in the '90s, and remain so today.
America—Many fans of harder rock may cringe at the kind of soft-rock America delivered, but there is no denying their contribution to that genre with hits like "A Horse With No Name" and "Sister Golden Hair."
B-52's—One of the most danceable of the American post-punk bands, their tunes like "Love Shack" and "Rock Lobster" were a whole lot of fun.
Brook Benton—One of the most popular R&B singers of the late '50s and '60s, he deserves to be remembered, especially for his ballads. And 1970's "Rainy Night in Georgia" still sounds gorgeous.
Big Star—A classic example of a cult favorite, this '70s Memphis band led by Alex Chilton (ex-Box Tops) had no real hits but has been enormously influential posthumously.
Blue Cheer—Although known mainly for their cover of Eddie Cochran's "Summertime Blues," this San Francisco trio was one of the prototypes of heavy metal.
Roy Buchanan—The blues-rocker exerted enormous influence on many other guitarists but is sadly overlooked today.
Tim Buckley—With his ethereal voice and complex compositions and arrangements, the late singer-songwriter (father of Jeff Buckley) left behind a body of work that's still being discovered by many.
Jimmy Buffett—Some listeners may only know his ubiquitous "Margaritaville" from 1977, but he has a huge, devoted following that savors his live performances.
Johnny Burnette—Before he had soft-pop hits like "You're Sixteen" and "Dreamin'," the late singer and his Rock & Roll Trio were a sizzling rockabilly outfit.
The Cadillacs—From uptempo R&B novelty hits like "Speedoo" and "Peek-A-Boo" to their exquisite ballad "Gloria," this doo-wop group was one of the finest of the 1950s.
Freddy Cannon—Talk about rock 'n' roll, this wild singer did nothing but. His turbo-charged hits included "Palisades Park," "Tallahassee Lassie" and "Action."
The Chambers Brothers—They started out as a gospel group and then, as their signature tune "Time Has Come Today" put it, their souls became psychedelicized.
Related: When the Chambers Brothers' "Time" had come
The Chantels—One of the first black girl groups, their hits of the '50s, among them "Maybe" and "Look in My Eyes," featured the soaring vocals of Arlene Smith.
Petula Clark—Although a bit older than the other British invasion chanteuses, she rode that wave to the Top 10 with "Downtown," "My Love," "I Know a Place" and others.
Albert Collins—Many of the great bluesmen of the past century have been inducted but this omission remains a glaring one.
Related: Many of these artists are still touring – Links for 100s of tours
The Cramps—Whatever it is that they did—minimalist rockabilly punk?—they were the first to do it, and they influenced many other bands.
John Denver—The Hall has been somewhat selective about the singer-songwriters it's chosen, but the late "Rocky Mountain High" man was inarguably one of the most popular.
Devo—They injected a high-art, conceptualist spin into the new wave movement, and gave us at least one classic with "Whip It."
Related: A Rock and Roll Hall of Fame Cynic Visits the Rock and Roll Hall of Fame
The Dominoes—Also known as Billy Ward and the Dominoes, they cut the R&B classic "Sixty Minute Man" and gave us vocal greats Jackie Wilson and Clyde McPhatter.
Brian Eno—After serving as a member of Roxy Music, Eno produced U2, Talking Heads, Coldplay and others, and his own ambient music albums were groundbreaking.
5th Dimension—Popularizing songs by Jimmy Webb, Laura Nyro and others, their mix of soul and R&B was extremely popular in the late '60s/early '70s.
Dan Fogelberg—The beloved singer-songwriter is best remembered for songs like "Part of the Plan," "Same Old Lang Syne" and "Leader of the Band."
Foghat—The British blues-rockers have been purveying the endless boogie for more than four decades, with several gold and platinum albums to their credit.
Connie Francis—By today's standards, the pop singer may not be considered rock, but teens were buying up records like "Lipstick on Your Collar" and "Everybody's Somebody's Fool" in the '50s/'60s.
Free—We listed Bad Company, the other band featuring the soulful frontman Paul Rodgers, in the first volume of our omissions. Free was just as great. You can't not sing along with their "All Right Now."
The Fugs—They never had a hit record, but their over-the-top irreverence inspired many who followed to experiment without fear.
Rory Gallagher—Not everyone knows his name, but ask fans of pure guitar mastery and this late Irish virtuoso is always near the top of the list.
Arlo Guthrie—He could get anything he wanted at Alice's Restaurant, except, it seems, induction into the Rock Hall.
Tim Hardin—The singer-songwriter's tunes, including "Reason to Believe" (Rod Stewart cut a definitive version),were covered by numerous artists. And his own recordings were always honest and insightful.
Slim Harpo—A virtuoso on the blues harmonica, and a dynamic singer, he was a favorite of the Stones and many other blues-rock bands.
Hawkwind—They found a sweet spot where edgy psychedelia, hard rock and space-rock met, plus they gave the world Lemmy. Truly adventurous musicians.
Hot Tuna—When Jefferson Airplane began to crash, guitarist/singer Jorma Kaukonen and bassist Jack Casady explored their love for blues. More than a half-century later, they're still at it.
Billy Idol—From his start with Brit punks Generation X and onward into his high-profile, MTV-era solo years, he delivered a string of high-energy rock tunes and a few memorable ballads.
INXS—Fronted by Michael Hutchence, this Australian band was both phenomenally successful and continually innovative.
Related: The Rock Hall opens in 1995 with a concert for the ages
The Jam—Often compared to the Who and the Kinks, the English trio—led by singer-songwriter-guitarist Paul Weller—incorporated a strong soul influence into their punk/Mod sound.
Rick James—The late funk great was one of the last stars to emerge from the Motown empire; his riffs were sampled by countless rappers.
James Gang—The Cleveland-based hard-rock band is best known for its early incarnation featuring future Eagle Joe Walsh, but continued to make solid music after he left.
Joy Division—Fronted by the charismatic Ian Curtis, who would commit suicide a few years into their run, the British band didn't last long but influenced many with their two brilliant albums.
Chaka Khan—From her early days fronting the R&B/funk band Rufus she's been a versatile, hugely popular singer for four decades.
Kingston Trio—The folkies sold millions of albums and influenced many singer-songwriters and folk-rock groups.
Kool and the Gang—Traversing R&B, funk and disco, their hits like "Jungle Boogie" and, especially, "Celebration" are still considered classics.
Al Kooper—Wrote the #1 "This Diamond Ring." Played the organ on "Like a Rolling Stone." Member of the Blues Project. Started Blood, Sweat and Tears. Cut great albums with guitar whiz Mike Bloomfield. Discovered and produced Lynyrd Skynyrd. And that's just the start.
LaBelle—Originally a '60s girl group called Patti LaBelle and the Blue Belles, they reincarnated in the '70s and tore up the charts with funky hits like "Lady Marmalade."
Cyndi Lauper—One of the biggest stars of the '80s and beyond, her hits like "Girls Just Want to Have Fun," "True Colors" and "Time After Time" are still radio staples today.
Taj Mahal—His top-notch output beginning in the late '60s introduced many rock fans to the more organic acoustic blues, plus he could rock like crazy and he incorporated world music and other elements.
Manfred Mann—From their initial run as an R&B-heavy British Invasion band ("Do Wah Diddy Diddy") into their reconfiguration as Manfred Mann's Earth Band (Springsteen's "Blinded By the Light"), they created a solid string of quality singles and albums.
Related: Our feature story on the mighty Manfred Mann
Marshall Tucker Band—One of the most creative and durable of the Southern Rock bands, their best known tunes include "Can't You See" and "Heard It in a Love Song."
The Marvelettes—One of the few major Motown groups yet to be inducted, they had more than 25 hits, including their #1 Billboard debut, "Please Mr. Postman."
Dave Matthews Band—From the early '90s into the '00s, the Virginia-based band was one of the biggest concert draws in the States, with five chart-topping albums to boot.
Megadeth—Formed in the early '80s and still going strong, they've been one of the most consistently influential and popular metal bands.
Melanie—A star of the Woodstock festival, the singer-songwriter was a radio favorite with hits like "Lay Down (Candles in the Rain)" and "Brand New Key."
Related: We talked to Melanie about both of those songs
George Michael—The late British pop singer first enjoyed 1980s success in the duo Wham! He then established superstar status with his solo debut, Faith. His huge hits include "Careless Whisper," "I Want Your Sex" and "Father Figure."
Moby Grape—Some said that they were the greatest of the '60s San Francisco bands, with a triple-guitar front line and well-crafted songs.
Motörhead—Fronted by the beloved singer-bassist Lemmy Kilmister, they were the quintessential British metal band, spawning subgenres like speed metal and thrash.
The Move—Before there was ELO, there was the Move, featuring Roy Wood and Jeff Lynne. They never caught on in America but their psychedelic sound influenced many.
Related: Many of these artists are still touring – Links for 100s of tours
The Neville Brothers—New Orleans funk royalty, the quartet included singer Aaron Neville, who scored a solo hit with "Tell it Like it Is" and a smash duet, "Don't Know Much," with Linda Ronstadt.
New Order—The English post-punk/dance-pop band organized quickly from the ashes of Joy Division and has been a major creative force ever since.
Nitty Gritty Dirt Band—They started out as a country-rock band in the mid-'60s, then became one of the first to introduce bluegrass and other core Americana to the rock audience.
Ozzy Osbourne—He's already inducted as the leader of Black Sabbath, but his solo career should be acknowledged for its longevity alone—almost no one expected him to live this long!
Peter, Paul and Mary—Amidst the individual singer-songwriters, they were the most popular of the '60s folk revival groups. Their #1 "Leaving on a Jet Plane" was one of several big hits.
Phish—Formed in 1983 in Vermont, the jam-band's unpredictable concerts, based on improvisational segments and complex arrangements, are legendary. They still fill stadiums regularly.
The Pointer Sisters—Their versatility has been proven repeatedly over four-plus decades, resulting in a string of hits including a great cover of Springsteen's "Fire."
Suzi Quatro—One of the first female rock stars who wasn't just a singer but also played an instrument, this glam heroine was an inspiration to Joan Jett and others.
Raspberries—They were one of the bands that invented power pop, and although their only hit single was 1972's "Go All the Way" they inspired many other bands to forego the excess and return to rock and roll basics.
REO Speedwagon—Although they were never a critics' favorite, the Illinois-based rockers have sold tens of millions of records and retain a large fan base.
The Replacements—The Minneapolis quartet came out of the local punk scene and developed its own brand of lovably chaotic, sloppy but often brilliant rock.
Rockpile—The band itself released only one album but it served as temporary home base for guitarist-singer Dave Edmunds and bassist-singer Nick Lowe, two of England's great no-nonsense rockers.
The Runaways—Joan Jett is already inducted as a solo artist but this is where it all began for her, and where it began for women's role in shaping the forthcoming punk deluge.
Otis Rush—The Chicago blues great, now 82, was a major influence on guitarists like Eric Clapton, Michael Bloomfield and Peter Green. How about honoring him while he's still around?
Bobby Rydell—Among the many squeal-inducing '50s/60s pretty-boy pinups, he made some of the best records, all for Philadelphia's storied Cameo label.
Scorpions—They've been called the "Ambassadors of Rock" and "Heroes of Heavy Metal." How about we just go with massively popular and influential and get them into the Hall?
The Searchers—You think there was only one great band to come out of Liverpool? This quartet's harmony-rich tunes like "Needles and Pins" and "Love Potion Number Nine" were keepers too.
Neil Sedaka—After racking up a series of hits in the early '60s, like "Calendar Girl," he returned a decade later with more, this time with major support from Elton John.
Ravi Shankar—No, he wasn't a "rock" artist, but look at all of the ones he influenced. And he played Monterey Pop, Woodstock and the Concert for Bangladesh. Can anyone else claim that?
The Smiths—Led by singer Morrissey, with fine guitar work by Johnny Marr, they were one of the most popular British bands of the early '80s.
Sonny and Cher—Before Cher broke out on her own (and her ex, Sonny, became a U.S. congressman), they were a major success together on radio, television and the stage.
Sonic Youth—The New York post-punk band was relentlessly experimental, using noise and unorthodox tunings, inspiring other indie bands to take their music to the edge.
Joe South—Although mostly known for his biggest hit, 1969's "Games People Play," he was also a prolific songwriter (Deep Purple's "Hush") and session guitarist (Dylan's Blonde on Blonde).
Spirit—One of the most underrated California bands of the '60s, led by guitar whiz Randy California, they created a series of fine albums like The Family That Plays Together.
Status Quo—Another great example of a band that was huge at home—England—but had only minimal impact in the U.S. They're still boogieing after more than five decades.
Styx—When we inadvertently left these Chicago-based prog-rockers off of our initial list, their multitude of fans came after us with torches. But the truth is that the Hall routinely ignores bands of this ilk, and it's time they got over it.
The Sugarhill Gang—The Hall of Fame has been actively inducting rappers but has inexplicably ignored this seminal old-school group.
The 13th Floor Elevators—One of the first bona fide psychedelic bands of the '60s, these Texans, led by the mercurial Roky Erickson, are revered by many for their unique, uncompromising approach.
Carla Thomas—Like her dad Rufus Thomas (also yet to be inducted), this Memphis soul great turned out hit after hit in the '60s.
Irma Thomas—A true legend in New Orleans, this soulful vocalist sounds as great today as when she was turning out hit records like "Time Is on My Side," covered by the Rolling Stones.
Toots and the Maytals—If Bob Marley and Jimmy Cliff can be inducted, then why not this pioneering, dynamic reggae band that openly acknowledged its debt to American R&B?
Peter Tosh—And as long as we're talking reggae, this former Wailers-mate of Marley's made a strong impact with his songs advocating Rastafarianism, equal rights and weed legalization.
Tower of Power—The Bay Area funk organization has been going strong for more than 40 years and includes one of the most in-demand horn sections in all of recorded music.
Pete Townshend—Would this singer-songwriter-guitarist have become a force in rock even if he hadn't been in a certain English band? His solo work suggests that he had the goods.
Luther Vandross—After serving as a backup vocalist for the likes of Bowie and Diana Ross, he went solo and racked up a long string of huge modern R&B hits, plus several Grammys.
Bobby Vee—The now-deceased singer started out as a Buddy Holly protégé and then found his own groove with AM radio classics like "Take Good Care of My Baby" and "Come Back When You Grow Up."
Mary Wells—Another Motown star who's been unjustly ignored by the Hall, her hits included "Two Lovers" and the #1 "My Guy."
Tony Joe White—The late master of swamp-rock had a big hit with "Polk Salad Annie" in 1969 and wrote "Rainy Night in Georgia" for Brook Benton.
Larry Williams—Just ask the Beatles if you don't know who this '50s singer was: they covered his "Dizzy Miss Lizzy," "Bad Boy" and "Slow Down." His other hits included "Short Fat Fannie" and "Bony Moronie."
Sonny Boy Williamson (II)—There were two blues greats with this name. The second—also known as Rice Miller—was a harmonica master and singer who had a huge influence on the Stones, Yardbirds, John Mayall, Animals, etc.
Chuck Willis—This long-gone R&B singer was nominated for five consecutive years by the Hall and then forgotten. He still deserves recognition for "C.C. Rider" and "What Am I Living For," among other sides.
Edgar Winter—Like his late brother Johnny, Edgar Winter has been a favorite of dedicated rockers for 50 years, and his huge hit "Frankenstein" still receives airplay.
X—The U.S. produced dozens of great punk bands and X was one of the most important. Their debut album, Los Angeles, was a landmark of the genre.
The Youngbloods—Worth remembering for their big peace-and-love anthem "Get Together" but more than that too: singer-songwriter Jesse Colin Young was and remains a talented force.
If you're a new Best Classic Bands reader, we'd be grateful if you would Like our Facebook page and/or bookmark our Home page.

Latest posts by Jeff Tamarkin
(see all)