A few weeks ago, we gave you the heads up on some of the special releases that will be available this Friday – Black Friday! – for the holiday season edition of the annual event held in April called Record Store Day.
For the uninitiated, RSD was started in 2007 to bring attention to the diminishing number of independent record shops that every decent-sized town used to have. The consortium was able to convince the record labels to release limited editions of a broad range of titles as exclusives to participating RSD shops.
The initiative has been so successful – not just for the wave of cool product but, more importantly, for the renaissance of these stores, that in 2010, RSD began the Black Friday edition.
"It's kind of like little brother to Record Store Day," says John Kunz, owner of Austin, TX's Waterloo Records. Or as his across town neighbor Dan Plunkett of End of an Ear notes, "It's baby Record Store Day."
So let others go to the malls at 6AM this Friday to hit the big box stores while you visit your local indie for special releases like:
Janis Joplin with Big Brother and the Holding Co.'s Live At Winterland '68 2-LP set;
Queen's "Bohemian Rhapsody" 40th Anniversary 12-inch vinyl single;
John Mellencamp's remastered Scarecrow on gray vinyl; and
The B-52's Live! 8.24.79 on gold vinyl.
Just to name four of the 100 or so exclusive and/or "first release" titles.
Best Classic Bands spoke to the owners of several of these shops as they were getting ready for the holiday weekend. "It's always so exciting when you see the actual pieces," exclaimed Jon Lambert of the Princeton (NJ) Record Exchange (or "Prex" as it's referred to) as he took our call while literally unboxing some of the first arrivals.
He was particularly excited about Two Sides Of John Lee Hooker, the Joplin set ("always nice to see"), a Carl Perkins release featuring "Honey Don't," "Matchbox" and "Blue Suede Shoes" ("one of the underrated heroes
of the era") and a special 7" of "Everyday People" with the Sly and the Family Stone original b/w an unreleased version from Jeff Buckley.
When we asked Paul Epstein, the owner of Twist & Shout, a Denver, CO fixture, which titles stood out for him, he named 20 and would've continued if we hadn't cut him off. He enjoys the day and his 11,000-square-feet of selling space is ideally located next to "one of the great indie book stores," Tattered Cover, giving the two retailers a great one-two punch.
Among those Epstein mentioned were a 2-LP Man In Black Johnny Cash Live In Denmark 1971, The London Howlin' Wolf Sessions featuring Eric Clapton, Steve Winwood, Bill Wyman and Charlie Watts ("a special deluxe gatefold") and the "Bohemian Rhapsody" 12" ("ahead of their time").
Bryan Burkert of The Sound Garden, with locations in Baltimore and Syracuse, always does well "with this stuff because it's collectible." That's the double-edged sword of RSD releases: they're pressed in limited quantities so not everyone who shows up at their local shop can expect to walk out with everything on their wish list.
Burkert's Syracuse store will play host to Metallica bassist Robert Trujillo on Friday. He produced Jaco, the recent documentary about the jazz musician Jaco Pastorius. The DVD comes out that day and Trujillo will be signing copies.
Prex's Lambert is extending the holiday shopping experience beyond just Black Friday. Taking a page from the big box store "doorbusters," he'll be offering discounts on a variety of other products like turntables and if it works, he'll extend it throughout the season.
At this point Kunz sees Black Friday Record Store Day as being less about who's open earliest on Black Friday and more about, "Hey, there are people that don't care if you open up at four o'clock in the morning; they just want to be able to get an old Kinks EP that's been out of print forever on vinyl" – i.e. the core recorded music fans.
However, he notes, "I hear of some people that are opening on Thanksgiving evening." Waterloo opens a mere hour earlier than usual, but has an advantage on this particular day as for 23 years now it's also when local AAA station KGSR-FM releases its annual Broadcasts compilation of in-studio acoustic performances that Waterloo sells exclusively (and benefits a local organization that serves musicians) – the store's biggest seller every year.
But his store still buys in big with the exclusives. "There's about 135 coming out this year. And some are under-pressed, in my opinion. But that's always been the situation. For the exclusive things are coming out there are fans all across the board in all those genres. And it's just a cool, fun day." He's personally excited about the Pastorious documentary.
End of an Ear's Plunkett notes that this year, with the change from a Tuesday release day to the universal Friday release day earlier in the year, "it's just a pretty big release day, with all the goodies [exclusives], which we'll have out, and a lot of other releases. There are certain things coming out Friday, and certain things out Black Friday. But for us it's all just Friday," he says with a chuckle.
At his store, "it's a very busy day for us. But it's not like we have a lot of people lining up, like on Record Store Day. Last year it was maybe six or 10. But it's nothing like Record Store Day where there's usually 12o lined up outside." But of course, it still helps keep the bottom line healthy for all record retailers.
For a full list of releases, click here, but keep in mind that not every store will stock every title. Happy shopping!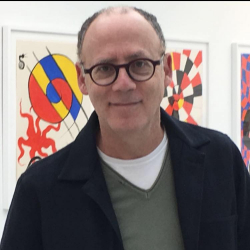 Latest posts by Greg Brodsky
(see all)