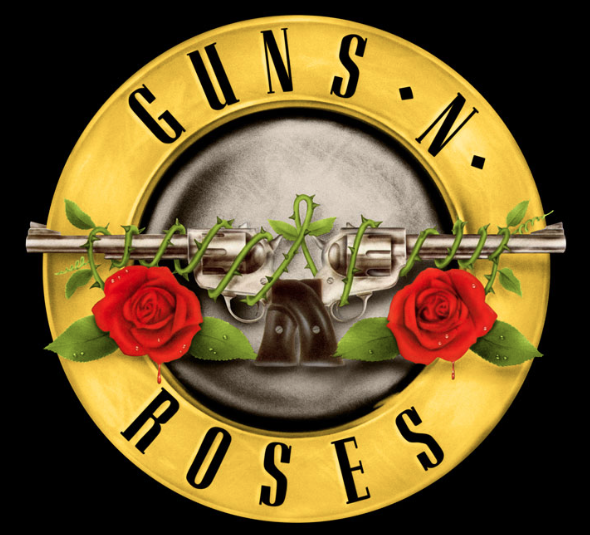 Update (1/19/16 9:45 am ET): Guns N' Roses have just announced two dates at T-­Mobile Arena in Las Vegas April 8-9, one week prior to their Coachella appearance. Tickets go on sale for the first Guns N' Roses 2016 tour dates this Saturday, January 23rd at 10 am here. It's just a matter of time before the reunited band announces a full reunion tour. Best Classic Bands will continue to update the story.
(If you're a new reader of ours, we'd be grateful if you would Like our Facebook page and/or bookmark our Home page.)
Update (1/4/16): It's official; Coachella has posted on its website that Guns N' Roses will be performing on both weekends; specifically April 16th and 23rd. Tickets go on sale this Wednesday, January 6th at 11 am PST. Go to the Coachella website for details and the complete lineup.
Other performers of note to classic rock audiences: Courtney Barnett, James Bay and Gary Clark, Jr. #GNRReunion
Those "Guns N' Roses to reunite" rumors that we shared with you last month? Well, where there's smoke, there's fire.
It appears that an announcement is imminent that Axl Rose, Slash, Duff McKagan and Izzy Stradlin will indeed tour together again.
The band is said to be fully committed to making it happen with reports that they will be headlining Coachella 2016. And if they're gonna go ahead and do that, then hey, why not just book a stadium tour afterwards? Billboard reports that "the reunited band is also negotiating with promoters to play as many as 25 football stadiums in North America in the summer."
The band's website, which is accessible only with a membership fee, indicates "Concert ticket pre-sales and VIP packages are not available for all tour dates. When available, tickets or packages are sold on a first-come, first-serve basis. When a code is needed for a pre-sale, it will be posted in your Account Dashboard up to 10 minutes prior to that pre-sale." So there's that.
A key factor for the November rumor was that Axl and Slash seem to have given up their feud and are talking again. Consequence of Sound writes that Matt Sorum will take the place of original drummer Steven Adler.
The last time GNR lead guitarist Slash and singer Rose shared a stage together was in July of 1993 in Buenos Aires. But now, six years after the lead singer famously called Slash a "cancer" in an interview, the two say they've rekindled their friendship. "It's probably way overdue, you know," the guitarist said in an interview with Aftonbladet TV in Sweden back in August. "But it's… you know, it's very cool at this point… dispel some of that negative stuff that was going on for so long." In a CBS This Morning interview, Slash also gave a somewhat unexpected answer to the question of whether there would be a reunion of the classic line-up. "I've got to be careful what I say there," he said. "I mean, if everyone wanted to do it and do it for the right reasons, I think the fans would love it. I think it might be fun at some point to try and do that."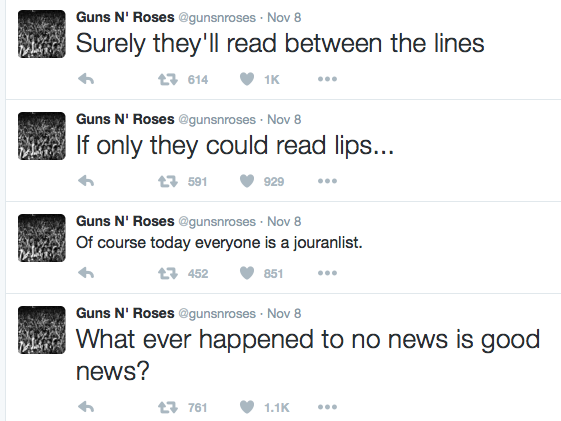 On November 8th, the classic rock band's official Twitter account sent out four cryptic tweets over the course of only a couple of minutes, which have only fueled the speculation that something big will be announced soon.
Coachella 2016 will be held over two weekends: April 15-17 and April 22-24 in Indio, Calif. However, before you book your flights, be aware that the advance sale was held last June and promptly sold-out. Per the festival's website, "you'll have to wait… until after the lineup is announced to try for the remaining passes."
Guns N' Roses' debut album, Appetite For Destruction, reached #1 on the Album Chart a year after it was released in 1987. The album's cumulative worldwide sales have surpassed 30 million copies.

Latest posts by Best Classic Bands Staff
(see all)