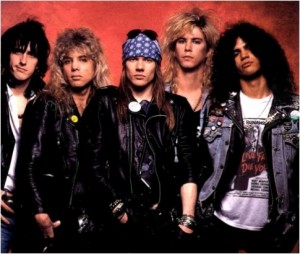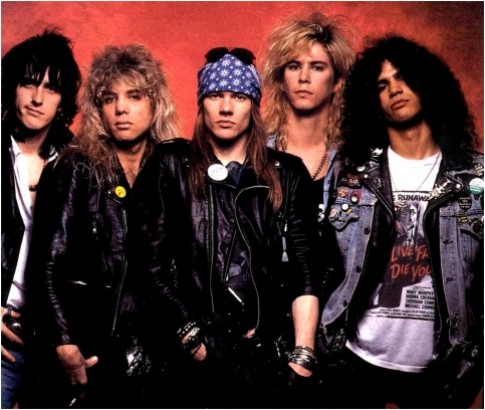 In the wake of their kind-of 30th anniversary, rumors are flying about a reunion of the original line-up of Guns N' Roses – all thanks to some mysterious tweets, offhand comments and a recent report from celeb news program Dish Nation.
If that story is on the money, we are days away from an announcement that Axl Rose, Slash, Duff McKagan, Izzy Stradlin and Steven Adler will tour together again worldwide. The main impetus for the rumor is that Axl and Slash seem to have given up their feud and are talking again.
The last time GNR lead guitarist Slash and singer Rose shared a stage together was in July of 1993 in Buenos Aires. But now, six years after the lead singer famously called Slash a "cancer" in an interview, the two say they've rekindled their friendship. "It's probably way overdue, you know," the guitarist said in an interview with Aftonbladet TV in Sweden back in August. "But it's… you know, it's very cool at this point… dispel some of that negative stuff that was going on for so long." In a CBS This Morning interview, Slash also gave a somewhat unexpected answer to the question of whether there would be a reunion of the classic line-up. "I've got to be careful what I say there," he said. "I mean, if everyone wanted to do it and do it for the right reasons, I think the fans would love it. I think it might be fun at some point to try and do that."
Add to that the fact that a longtime friend of Duff McKagan's wife, Susan Holmes-McKagan, may have spilled the beans while the two were out on the town. Brandi Glanville, who was on The Real Housewives of Beverly Hills, yells, "Guns N' Roses is coming back, motheruckers!" during an interview. It's hard to say whether this exclamation was an accidental slip or just wishful thinking and a nod to the current rumors that are circling.
A Portuguese news outlet also claims that a deal has been signed for the band to play a two-hour show. Meanwhile, the Dish Nation report insists, "It's expected that they will headline several festivals across Europe and the United States before heading out on a staggered world tour that will coincide with their 30th anniversary."
Even if the original GNR reunite for the wrong reasons, experts estimate it could yield a payday of $100 million or more.
A few days ago, the band's official Twitter account sent out four cryptic tweets over the course of only a couple of minutes, which have only fueled the speculation that something big will be announced soon. Together, they read: "What ever happened to no news is good news? Of course today everyone is a journalist. If only they could read lips… Surely they'll read between the lines."
Surely they'll read between the lines. Technically, the rumors have been going on for years, but time will tell if the recent flurry means a reunion tour is indeed imminent.

Latest posts by Best Classic Bands Staff
(see all)